Ted's Picks - Saskatoon, SK
By: Ted Stovin Friday, October 14, 2016 @ 4:31 PM
SASKATOON, Saskatchewan -- On Friday night, 30 bull riders and the top bulls in the country ascend on the Sasktel Centre for the PBR Monster Energy World Finals Qualifier. 
With $20,000 in prize money distributed over two nights, $25,000 to the 2016 top points earner, plus the $20,000 Monster Energy Champion's Challenge on Friday the 14th of October, it's sure to be an exciting weekend. 
My picks in Abbotsford went pretty good, here's to another good weekend to cap off our 2016 PBR Canada season at the most attended event. 
Kurt Shephard vs. 193 Monkey Nuts - Kurt hasn't been in Canada a ton this year but when he's been here he's made it count. Back at the Ranchman's in July he went 88 on Jersey Dip from the Vold crew. Monkey Nuts has a great name that reminds me of "Goldmember" from the last Austin Powers movie. I won't quote the part I remember but if you've watched the movie you'll know. Now I have to ask Lane and Ellie about this name. Ridden four times in 18 outs, most recently for 86.5 points by Cody Coverchuk in Calgary, Shephard needs to do the same if he wants to make the PBR's World Finals. Only 57.5 points out of the top 35 as of today, 80 are available in Saskatoon. Look for at least an 85 with this out.
Brady Oleson vs. 757 Hand Burner - Ridden six times in ten recorded outs, Hand Burner is a big brindle-horned bull that's been consistent and steady for years. Back in 2013 Jared Farley actually won the first round on the Battle River bucker with an 87 point score. Brady won this event last year, will he do it again?
Scott Schiffner vs. L5 Mouse - Scott asked me last night which bull he had and I text him that he had Mouse. It was only one word but he didn't reply. I'm not sure if that meant he was happy with it or not but as my Dad has told me for years, "no news is good news." Mouse isn't a bull Scott is going to win the round on but the two will match up for a score and put Schiffner in good shape for round two and the finals. Mouse, raised by the Skori's has been ridden six times in 22 outs and is now hanging out at the R Saga Ranch.
Dakota Buttar vs. 208 Pretty Rowdy - Raised by the Flying High Rodeo Co. of Elnora, AB Pretty Rowdy is now a part of Cody Strandquist's bull pen of Kyle, SK. According to the stats, 208 has been ridden twice in seven recorded outs for scores of 83 and 83.5. Buttar ranks 44th in the world standings and now third in Canada after Coverchuk passed him in Abbotsford. With as good as Dakota rides, this one should be a day off. 
Cody Coverchuk vs. 212 Mish Mash - Based on the numbers, Mish Mash of the Vold/Prescott ranch has been ridden once in four recorded outs. Coverchuk's name has come up more than anyone else's today due to the success he's seen this year and look for it to come up some more after Saturday. Coverchuk > Mish mash
Ty Pozzobon vs. X02 Border Bound - Here he is again, Coverchuk was 84 on Border Bound in Manor this summer. ridden twice in three outs, Ty is the favorite to win the $25,000 year-end bonus for the top points earner in 2016 in the PBR here in Canada. It's been a goal of Ty's this year and anyone that has seen him ride this year can see the determination he's had. Currently 33rd in the world, Ty is looking for a few more points as insurance to get him to Vegas and the PBR's World Finals. 
The following is the draw for round one of the PBR Monster Energy World Finals Qualifier at the Sasktel Centre in Saskatoon, SK on October 14th, 2016 starting at 7:30pm CST.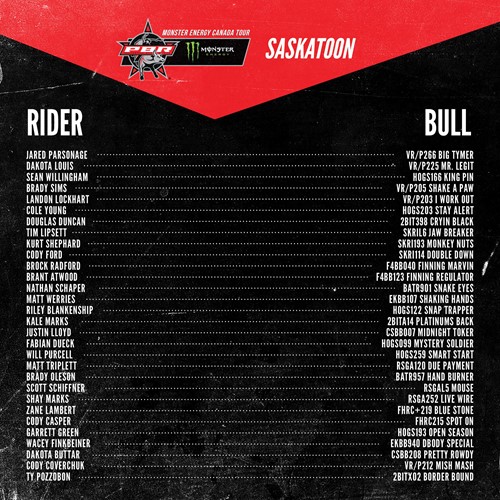 The PBR Monster Energy World Finals Qualifier is the final PBR Canada event of 2016 and runs October 14th and 15th at the Sasktel Centre starting at 7:30pm nightly. Tickets are available at Ticketmaster.