Back to work
By: Kacie Albert Thursday, August 10, 2017 @ 4:03 PM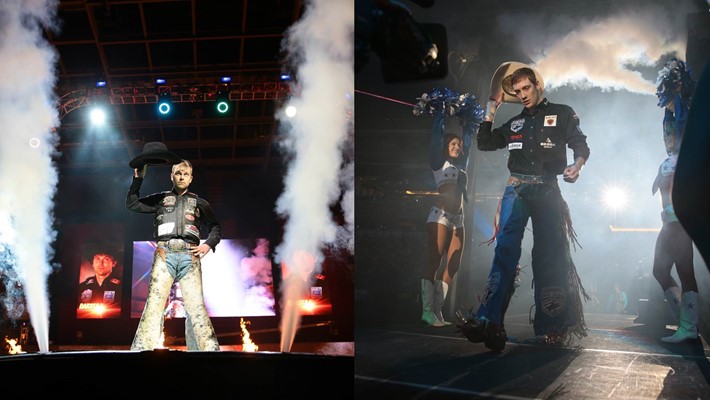 TORONTO – When the PBR's elite Built Ford Tough Series (BFTS) resumes this weekend, the 35-rider draw will feature two Canadians, Tanner Byrne and Dakota Buttar, ready to compete for valuable points towards the world standings, as the tour begins its final 10 event push leading into November's PBR World Finals.
Both Saskatchewan bull riders finished 2016 on a high note, however, have battled injury during the current season.
Despite the setbacks, both are ready to get back to work for the BFTS' 13th consecutive stop in Tulsa, Oklahoma for the Express Employment Professionals Classic, presented by Osage Casino on August 12 and 13.
BYRNE IS BACK
On the heels of a season that saw him finish No.15 in the world rankings, earn his third consecutive Glen Keeley Award, and become the first Canadian in 13 years to win a BFTS event, taking two titles, Prince Albert's Byrne was set to open the 2017 season at Madison Square Garden until he broke his collar bone during a practice out just days prior.
Following eight weeks of recovery he returned for February's Last Cowboy Standing, only to partially tear his groin the next weekend in St. Louis, Missouri.
Four weeks later, his second return of the season came to an abrupt end in Albuquerque, New Mexico at the Ty Murray Invitational when he completely tore two of his groin muscles, and partially tore two others.
With the help of a team of specialists in Calgary, Alberta, Byrne diligently rehabbed the next four months.
"They gave me a full regimen for strengthening my groin," Byrne said earlier this summer. "Two of the muscles were torn straight off the bone, so they're not going to reattach or anything like that. It's all about getting everything else in there stronger so that they'll take over for those two that aren't going to be working anymore."
In June, the 25-year-old began an intense summer schedule of events in an effort to recover ground lost in the standings, beginning with the PBR Canada Touring Pro Division's (TPD) Global Petroleum Show in Calgary, Alberta.
At his second event back, PBR Canada TPD's Wanham Plowing Match PBR Extravaganza, Byrne finished second after riding I Work Out for 83 points. He earned 30 world points for the finish, catapulting Byrne from No.199 to No.119 in the world standings.
Byrne rode in five additional events before making the journey to Alberta for the Calgary Stampede. After finishing second in Pool B, Byrne concluded the famed event eighth, picking up an additional five points towards the world standings.
"When I came back, I felt terrible, to tell you the honest truth," Byrne remarked mid-event. "I couldn't stay on bulls. I felt like I lost my touch to riding bulls. Luckily in the second round, I had a nice spinner that allowed me to slow things down and kick loose a bit and get that feeling back. Now I feel really good, I'm not panicking, just enjoying it again."
To conclude his summer campaign, Byrne competed at six additional Canadian TPD and Real Time Pain Relief Velocity Tour events, earning an additional 70 world points.
Now ranked No.86 in the world standings, Byrne is ready to resume his fourth season on the BFTS this weekend in the Sooner State, set to square off against Church Bells in Round 1.
WHERE IT ALL STARTED
For Kindersley's Buttar, 2016 was a year of BFTS firsts for the 24-year-old, with Tulsa, Oklahoma host to one of those memorable moments.
After a successful campaign at PBR Canada events during the first half of the 2016 season, highlighted by two event wins and 12 Top-5 finishes, Buttar made his BFTS debut at the 2016 installment of the Tulsa event, but went 0-for-2, bucking off Bottoms Up and I'm a Thug.
Returning to PBR Canada and Velocity Tour events, Buttar concluded 2016 runner-up both at the PBR Canada Finals and in the PBR Canada national standings.
After PBR Canada Champion Ty Pozzobon was unable to compete due to injury, Buttar was given a berth to compete at the Velocity Tour Finals, an opportunity he seized.
Finishing sixth, Buttar earned enough points to end the event No.35 in the world standings, qualifying for his first-ever BFTS World Finals.
One of four Canadians competing, the most since 2012, Buttar, who only had two BFTS outs under his belt going into the event, went 2-for-5 and finished 11th, concluding the season No.31 in the world standings, guaranteeing himself events on the BFTS to start the 2017 season.
"This is kind of my goal," Buttar said at the end of 2016. "This is where I would like to be. I want to stay here."
And stay he did.
Riding at 12 of the elite tour's first 16 events, Buttar began 2017 with a 16th place effort at the season opener in New York City at Madison Square Garden, and logged five Top-10 showings before tangling with Smooth Sailing in Tacoma, Washington in April, temporarily halting his first full BFTS season.
After getting hung up and sandwiched between the bull and arena fence, Buttar tore ligaments and broke a bone in his riding arm.
Not only did the injury derail his plans for an event-heavy summer, but it was the first time Buttar was forced to sit-out of competition, a period of time which he called "awkward."
"I'm usually going pretty hard [that] time of the year. It kind of changed my plans," Buttar remarked. "I'm just going to have to work hard the rest of the season."
Buttar returned to competition in June for PBR Canada's Monster Energy Tour stop in Ottawa, Ontario. Buttar then traveled to four more events, accumulating two Top-10 finishes and 15 world points, before he turned his focus, much like Byrne, to the Calgary Stampede.
His event, however, ended abruptly, unlike Byrne's. After bucking off Wyoming Storm, his first draw, Buttar puncture his lung.
After a month of rest, Buttar is set to reignite his BFTS season, returning to action where he made his debut in 2016.
Buttar will face Highway 37 in Round 1 in Tulsa.
The Express Employment Professionals Classic, presented by Osage Casino at the BOK Center gets underway at 6:45 p.m. CT on Saturday, August 12 with Round 1, and 1:45 p.m. CT on Sunday, August 13 for Round 2 and the Built Ford Tough Championship Round.
PBR LIVE will stream the entire event in real time starting at 6:30 p.m. CT on Saturday, and 1:30 p.m. CT on Sunday. PBR LIVE is available at no charge to all fans and media. Visit www.pbrlive.com to view. Fans can also watch all the action live via the PBR LIVE app, available for download now on Google Play and iTunes.