Byrne is back
By: Kacie Albert Wednesday, June 14, 2017 @ 2:43 PM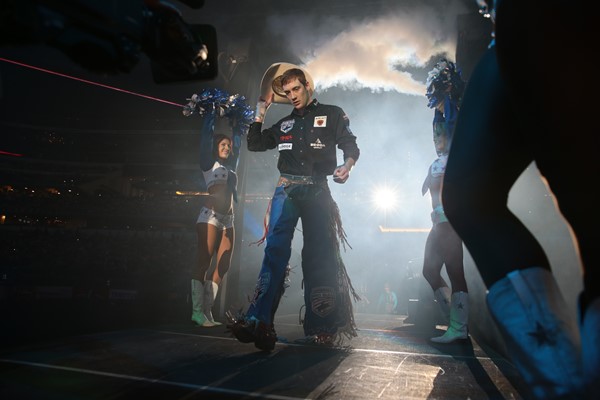 CALGARY, Alberta -- Tanner Byrne ended the 2016 season on a high note, ranked No.15 in the world standings, earning his third consecutive Glen Keeley Award as the Canadian-born rider with the most world points, not to mention two regular season event wins on the elite Built Ford Tough Series, which were the first by a Canadian in 13 years. 
The momentum, however, did not carry over into the current season. The Prince Albert, Saskatchewan bull rider's 2017 campaign has been plagued with injuries, primarily a torn groin, that have relegated him to the sidelines for the majority of this season's events.
At tonight's PBR Canada Touring Pro Division event in Calgary, Alberta, Byrne will compete for the first time since March. Calgary is the first of a slew of events he plans to hit this summer in an effort to better position himself in the points race.
"I got on a practice bull yesterday and I didn't feel any pain with it at all, so I think we're good to go," said Byrne. "We'll see how the next little while goes, but yesterday I put a lot of torque on it and it didn't hurt one bit so hopefully that will keep rolling."
For Byrne, his season came to a halt before it event started, Ahead of the Built Ford Tough Series season opener in New York City, New York at the world-renowned Madison Square Garden, a practice bull stepped on Byrne's shoulder breaking his collar bone and shoulder blade. Byrne faced eight weeks of recovery.
The injury postponed his season-debut until February's Last Cowboy Standing in Arlington, Texas, but Byrne's next roadblock came the following weekend in St. Louis, Missouri during his second event.
After logging a qualified ride aboard Johnny (Broken Arrow Bucking Bulls) for 84.75 points, Byrne was stepped on and hooked by the bull during his buck off.  As a result, he was forced into a split-like position, partially tearing the muscles in his groin.
Byrne took a four week hiatus from competition to recover, and thinking he was good, made his return in Albuquerque, New Mexico at the Ty Murray Invitational.
His second comeback, however, lasted just two bulls and 4.44 seconds. In Albuquerque, Byrne completely tore two of his groin muscles, and partially tore two others.
After sustaining the injury, Byrne flew to Calgary where he met with a team of specialists that work intimately with hockey players who suffer from similar injuries.
"They gave me a full regimen for strengthening my groin," said Byrne. "Two of the muscles were torn straight off the bone, so they're not going to reattach or anything like that. It's all about getting everything else in there stronger so that they'll take over for those two that aren't going to be working anymore."
Over the past four months Byrne has diligently been working through his treatment, which also included riding horses bareback, and feels strong ahead of tonight's return to competition, where he'll face Bondara (Outlaw Buckers Rodeo Corp) in Round 1.
"I'm just going to do what I've been doing and not make a game plan for it, just ride the bull."
Tonight's Touring Pro Division event is just the first of many Byrne will travel to this week and the ensuing summer before the Built Ford Tough Series resumes in August. Following the event in Calgary, Byrne will head to Wanham, Alberta on June 16 and Ponoka, Alberta on June 23 before traveling to Toronto, Ontario for the third Monster Energy Tour event of the season, on June 24th.
"I want to go really hard this summer and get back in motion, get back riding to where I know I'm feeling good going into the Built Ford Toughs again," said Byrne. "I'll be going to all the PBR Canada events and start hitting as many Velocity events as I can. I'm trying to hit a big run here and get some points gathered up to get myself back in the Top 35 and back in the game."
Looking ahead to the rest of the season, the 2015 PBR Canada Champion has his eyes on taking the title for a second time.
"It's been kind of a crazy year with everything that's been going on, but I'd really like to win the Canadian Championship this year."
But for now, he plans to take it one bull at a time.
"I'm not too sure of myself just yet, only being on one bull, so it's going to take a little bit of time, I'm sure, to get that momentum back rolling and we'll just keep going from there."
Tonight's event in Calgary begins at 6:00 p.m. at the Agrium Western Events Center. Fans can purchase tickets online at PBRCanada.com.