Rider on the rise
By: Ted Stovin Wednesday, June 21, 2017 @ 5:01 PM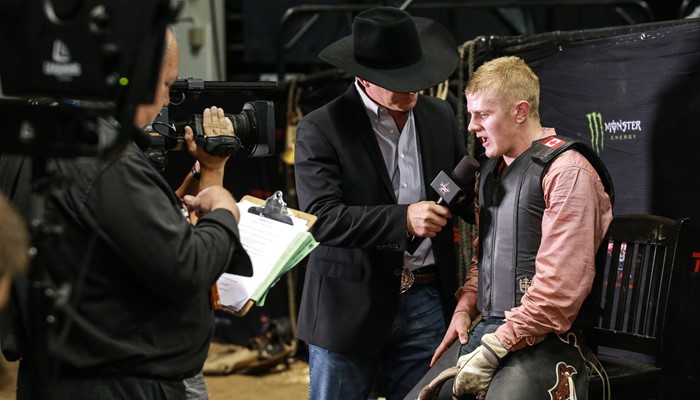 Brock Radford had a breakout season in PBR Canada competition in 2016, logging three Top 5 and eight Top 10 finishes, but for this Alberta rider, the best has yet to come.
"I try not to pay too much attention to the standings and just focus on riding my bulls one at a time and let the rest take care of itself," Radfordsaid.
In 2016, Radford finished his season ranked No.15 in the PBR Canada National Standings, the highlight moment of his season coming at the second Monster Energy Tour stop of the year in London, Ontario.
In the August event's Championship Round, Radford rode Minion Stuart for 88 points, winning the round and securing him a fourth place overall finish. However, the significance of the ride extended beyond the event. For Radford, the 88-point effort marks the high-scored ride of his PBR career so far.
Radford rode the momentum into the 2017 season, and earned his first PBR victory on May 27 in Swift Current, Saskatchewan. As the only rider to go a perfect 2-for-2, Radford rode Dirty Steve for 83 points in Round 1 and logged the lone qualified ride in the short go.
Most recently, Radford finished third at the Global Petroleum Show PBR Canada Touring Pro Division event in Calgary, Alberta on June 14. At the event, he rode Gran Torino for 81.5 points in Round 1, followed by a round-winning 87-point trip aboard Mountain Coils Case Closed in the Championship Round.
The finish for Radford was an improvement over his fifth place effort at the Monster Energy Tour stop in Ottawa, Ontario just five days prior. In the nation's capital, Radford rode Colt .45 for 84.5 points in Round 1 before bucking off Funky Junk in the short go.
"They're great. They give guys a chance to make good money," Radford said of the Monster Energy Tour events. "They're expanding our events and fan base across the country, and any time you can stay close to home and ride for that big of money you can't ask for much more."
But for Radford, there is more he hopes to accomplish. To date, he's earned $10,152.51 and currently ranks No.73 the World Standings, 180.41 points outside of the Top 35 and a place on the elite Built Ford Tough Series.
While Radford is working towards earning a position on the Built Ford Tough Series, his first goal is to qualify for a spot on Team Canada for PBR's Global Cup in Edmonton, Alberta on November 9-11. 
With a robust PBR Canada schedule on the horizon for Radford, 11 events in four provinces during the next five weeks, he says he's feeling good with no major ailments and is more than ready for the multi-event push.
"I'm riding horses, running and going to the gym or yoga a couple times a week," said Radford. "But sometimes I'm home for a day or two before I leave again. In that case I'll just putter around the place and rest my body for the next one."
Action for the PBR Touring Pro Division event at the Ponoka Stampede begins at 7:00pm on Friday, June 23. Fans can purchase tickets online at Ticketmaster.com.
The Monster Energy Tour's final Eastern stop kicks off at 7:30pm on Saturday, June 24, at Ricoh Coliseum in Toronto, Ontario. Tickets start at just $25 and can be purchased online at Ticketmaster.com.