Robbins Prepared to Represent Canada at Global Cup
By: Justin Felisko Friday, November 10, 2017 @ 9:29 AM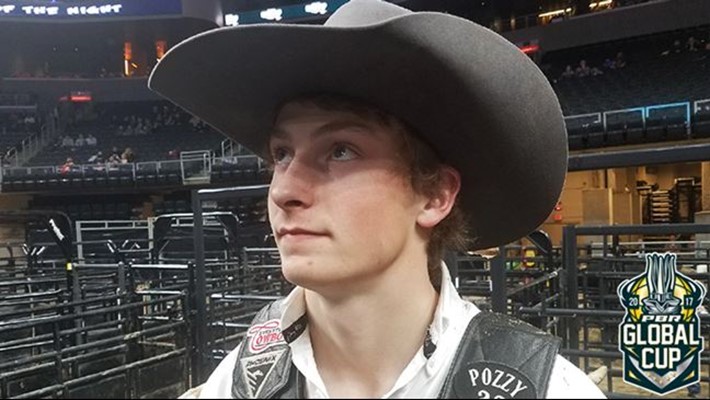 EDMONTON – There is a pretty good chance that following the Monster Energy Team Canada qualifier for the 2017 PBR Global Cup, presented by Encor by EPCOR, on Thursday night at Rogers Place that Coy Robbins returned to his hotel room with one thing on his mind.
Pushups.
The 2017 PBR Canada Rookie of the Year has been doing 150 pushups, sit-ups and squats in the morning and at night ever since he was a struggling 12-year-old steer rider.
Even on nights where things have gone good, the 18-year-old stays grounded with his roots and gets in a sweat before heading to bed.
Thursday was a mixed bag of emotions for Robbins.
Robbins went 0-for-2 during the Team Canada qualifying event, but Robbins still wound up qualifying for Team Canada based on his 7.37-second buckoff against Pound The Alarm in Round 2.
The Top-5 finishers in the event, who had already not qualified for Team Canada earned one of the nine roster spots that were up grabs.
"I have always wanted to represent Canada somehow," Robbins said. "Like watching the Olympics. To be able to represent Canada, and doing something I love, is absolutely phenomenal."
Robbins quickly caught the attention of Team Australia head coach Adriano Moraes on the back of the bucking chutes as he tried to fight to the 8-second mark on Pound The Alarm.
Moraes was left grinning as Robbins got swung off the top of Pound The Alarm and almost took a shot from the bull's big horns.
"That kid has heart," Moraes said. "How old is he? That kid is going to be really good."
Moraes then paused and hollered at Team Canada head coach Aaron Roy.
"Aaron! Is that kid on your team?"
Roy responded with a quick, 'Yes,' and Moraes flipped him a thumbs up.
Robbins was frustrated that he failed to convert on his two bulls – he bucked off the unridden Falling Rock in 3.75 seconds in Round 1 – but he was happy to have left a good impression on the two coaches.
That kind of effort goes back to those early mornings and late night pushups.
"It is just hard work," Robbins said. "I was absolutely terrible when I started. It took me two years to ride something. My dad said, 'If you want to keep doing this, you are going to have to keep working at this.'
"I started working a little harder. When I was 12 years old, I was doing 200 pushups, sit-ups and squats morning and night. I had seen progress from it so I kept at her."
Progress is quite the understatement.
Robbins took the advice of his dad, Derek, a former amateur bareback rider, and turned that into 15 championships at the amateur level in the last 5-plus years before turning pro in July.
"I am almost thankful for how much I struggled before because if I buck off, I don't get down because I was at the absolute lowest I could be in," Robbins said. "It just built me to strive to be better and work harder than that. I am almost grateful for that."
And when he bucks off those 150 pushups, sit-ups and squats can evolve into something else.
Robbins will sometimes run two miles as part of his training. If he bucks off, the next day may involve him sprinting until he is on the verge of puking.
It is a reminder to himself of the pain and disgust he feels when he bucks off.
Robbins only turned 18 years old on June 23. He went 9-for-19 (47.37 percent) at nine PBR Canada events prior to Thursday night.
The Camrose, Alberta, native tied for fifth place at the 2017 PBR Canada Finals last month.
Roy actually first met Robbins at an ABBI Canada event in July.
"He was there and that is when he first cranked out," Roy recalled. "He got on by far the rankest bull there and he tried him pretty good and come off. He came up to me and asked for help right after. I helped him out and since then he has taken off. I keep seeing him improve. I saw him ride at the PBR Canada Finals and he rode outstanding.
"He just has all the try in the world. He wants to go somewhere and he wants to win first every time. Pretty much I have had in my head he is on the team since I had seen him."
During their conversation at the open bull riding, Roy said the first thing Robbins asked him was about how special it was for him to ride at the Built Ford Tough level.
The three-time PBR Canada champion believes Robbins has the potential to be a Top-35 rider by 2019 at the latest.
"He is one of the best riders in Canada going right now," Roy said. "He has it to be on the Built Ford Tough. If he keeps going at it riding and he keeps his attitude, the way he has been, he will be on the Built Ford Tough."
Fans can watch all of the action from the inaugural Global Cup Friday on PBR.com and TSN-2 beginning at 9 p.m. ET.
You can certainly bet on Robbins doing some push-ups before riding for Team Canada at Rogers Place.
Robbins is motivated after getting blanked in the Canadian qualifier.
"It fires me up," Robbins said. "I bucked off these two bulls, but I am going to let it fuel the fire. I am going to go in guns blazing."