Stronger than stone
By: Kacie Albert Monday, June 19, 2017 @ 5:36 PM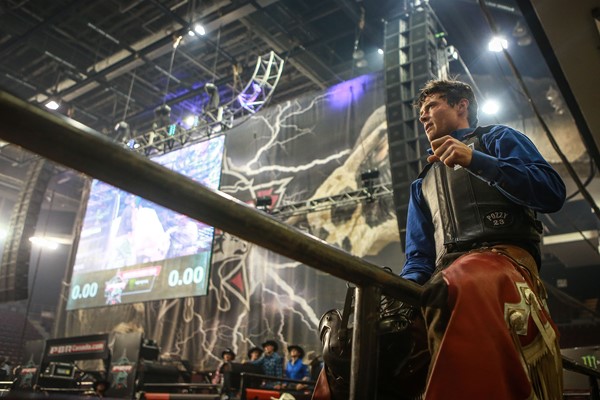 Fresh off a second-place finish in Ottawa, Justin Lloyd (Tisdale, Saskatchewan) headlines the draw for the Monster Energy Tour's third stop of the season in Toronto as the highest-finishing Canadian slated to compete at both events. While the tour may have taken a week hiatus, Lloyd has been hard at work solidifying his place as one of the top Canadians, despite an unforeseen obstacle this past weekend that threatened to derail the fast-rising rider.
At the Monster Energy Tour's second event of the season In Ottawa, Ontario, Lloyd double-entered, setting himself up for a night where he could potentially face four bulls. While Lloyd bucked off his first draw of Round 1, Devil Dog (Mike Miller Bucking Bulls) in 1.20 seconds, his second out resulted in a much different outcome.
Lloyd drew Wild Mexican as his second bull, finding himself in familiar territory, having ridden the Rafter P bovine in Quebec City for 81.5 points. Lloyd again made the eight seconds, but this time earned the round win for his 85-point trip aboard the bull.
In the short go, Lloyd drew Pneu-Dart's Doomsday (Mike Miller Bucking Bulls), the very bull that Derek Kolbaba (Walla Walla, Washington) rode for 88.5 points in Quebec City to win the PBR's first international Major.
While Lloyd didn't make a qualified ride, his performance in Round 1 earned him a second place finish, 240 Canadian points and $4,861.63. The finish, his best so far of the 2017 season, also earned the 29-year-old 50 world points which positioned him as the third highest ranked Canadian in the world standings in the No. 57 spot.
Riding the momentum from Ottawa, just five days later, Lloyd was in Calgary, Alberta for PBR Canada's Touring Pro Division Stop at the Global Petroleum Show.
After riding Free Wheelin (Outlaw Buckers Rodeo Corp) for 75 points and a ninth place finish in Round 1, Lloyd bucked off Packing Heat (Vold Rodeo/ Rafter G Cattle Co.) in the short go, to end the event ninth.
With just one full day before his next event in Wanham, Alberta, Lloyd stopped at his home just north of Edmonton for a rest day. It was then he began to realize something wasn't right.
"Friday morning, the morning of Wanham, I woke up in excruciating pain," said Lloyd. "I couldn't understand why I was in so much pain."
However, the discomfort subside, and he elected to continue on to the event.
"It's kind of crazy, you put things aside," he said. "You've got to do what you've got to do."
At the Wanham Plowing Match PBR Extravaganza, Lloyd again double-entered, but bucked off both of his Round 1 draws, Boogie Woogie (Two Bit Bucking Bulls) and Mish Mash (Vold Rodeo / Prescott).
Due to time, Lloyd earned one bid to the short go, where he faced Johnny Ringo (Vold Rodeo / Prescott). However, his ride, much like the other two, ended before the eight second mark.
Lloyd recalls getting on in Wanham and hearing 3D Bull Riding Founder and PBR personality Jason Davidson ask him what was wrong.
"I [didn't] know," said Lloyd. "[I was] just trying to get by basically, but still trying to get [my] job done."
After returning home, Lloyd found himself in a position much like he did following the event in Calgary.
"Sunday morning, after I had some rest Saturday night, I woke up again in the same excruciating pain," he said.
Lloyd opted to go to emergency room that morning, where doctors informed him he was suffering from a kidney stone.
After a few days of discomfort, Lloyd is now back to fighting shape. 
 "It's good that it's over," he said. "I've never gone through anything like that before."
Lloyd's focus now shifts to the next PBR Canada Touring Pro Division event and the remainder of the season.
Next on his schedule is this Friday's Ponoka PBR where he's competed multiple times, notably finishing second in 2013, and most recently eleventh just last season. 
"For me, now that I'm through this episode of figuring out what was wrong with me, I'm back to my regular routine. I'm trying to get everything right."
In preparation for the event, Lloyd is simplifying his approach.
"[I'll get on] a stationary barrel or a drop barrel, [fit] in a few workouts then obviously just a lot of mental preparation, making sure everything's checked off."
"That's one of the big things about going to these big bull ridings like Ponoka and Toronto is they bring a really good set of bulls, and everything you could potentially be 85 points or more on," said Lloyd. "So you've got to do everything right."
Immediately following the event, Lloyd will board a red-eye flight in order to ride at this weekend's Monster Energy Tour event in Toronto.
"It's something that I've gotten used to over the past year, especially when I've been doing a lot of Velocity Tour events in the United States," he said. "I have a little routine of how I set myself up and get comfortable."
Looking to the remainder of the summer season, Lloyd plans to enter as many of the Real Time Pain Relief Velocity Tour and Touring Pro Division events as possible, along with travel partners Matt Triplett (Columbia Falls, Montana), Cody Casper (Pacific, Washington) and Thor Hoefer II (Priest River, Idaho).
"It's good to have a group of guys like [them] that are really dedicated," said Lloyd. "Their goals fit in line with mine, so it's nice to have a set of guys that all want the same thing." 
And all of his efforts are directed at accomplishing his tri-fold goal.
"My goal is to be a Canadian Champion. My goal is to be at the Global Cup. And my goal is to be at the World Finals," Lloyd said "I just want to ride my bulls and make it happen."
Action for the PBR Touring Pro Division event at the Ponoka Stampede grounds begins at 7:00pm on Friday, June 23. Fans can purchase tickets online at Ticketmaster.com.
The Monster Energy Tour's final Eastern stop kicks off at 7:30pm on Saturday, June 24, at Ricoh Coliseum in Toronto, Ontario. Tickets start at just $25 and can be purchased online at Ticketmaster.com.