The Morning Line: Saskatoon - Day 1
By: Ted Stovin Friday, October 20, 2017 @ 8:56 AM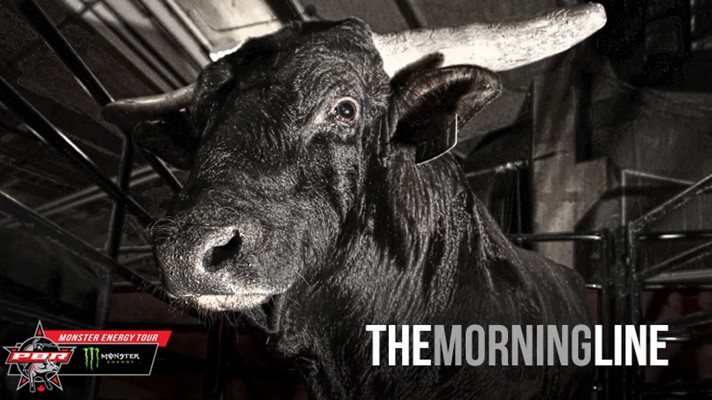 SASKATOON, Saskatchewan – After the last event of the regular season this past Saturday in Abbotsford, PBR Canada's Monster Energy Tour, presented by Mac's and Circle K concludes this Friday and Saturday in Saskatoon, Saskatchewan.
On Saturday night, the 2017 PBR Canada Champion will be crowned, but who that will be has yet to be determined.
Prize $20,000 is on the line at the Sasktel Centre between Friday and Saturday night. Even more important for the top bull riders in the standings battling for a national title are the 2,000 points available.
No.1 Brock Radford enters the event leading No.2 Zane Lambert by 379.16 points and No. 3 Cody Coverchuk by 711.66. No.5 is Abbotsford event winner Lonnie West, trailing No.1 by 751.66 points. My expectation even with as many points that are on the line is that someone in the top seven will walk home with the title.
Why do I say seven? You'll find out below but No.7 Jared Parsonage has only attended ten PBR Canada events in 2017 yet has ridden an astounding 17 of the 23 bulls he's attempted for a riding percentage of 73.91. Heading into the finals he's 909.16 points behind No.1. It would take a few mistakes by the guys at the top of the standings for him to win. Anything can happen.
Since I have been on this side of PBR Canada competition I've never seen a race this close with so many contenders. I am a huge fan of this sport in Canada and excited to watch this unfold Friday and Saturday in Saskatoon. 
RELATED: Click here for the complete Day 1 daysheet from Saskatoon
Lonnie West vs. 32 Night Vision – In that No.5 spot in the standings, Lonnie has been exciting to watch as of late. He and Zane are riding the hottest right now and the guys with the most momentum. Night Vision from the Wild Hoggs was ridden three times in four outs this summer, with the highest score clocking in at 87 points. A left spinning black horned bull, this one is going to be right into West's wheelhouse. Look for a ride here to put the pressure on.
Jared Parsonage vs. 2 Double Major – Ridden five times in 17 outs, scores on this Wild Hoggs bull have been as high as 86 and 87. I may have only been good at math until about grade three but this one adds up perfect. There are a lot of firsts this year but I'm not sure if anyone has ever ridden as high of a percentage as Parsonage has. This bull gives him a shot to be in contention still come Saturday.
Cody Coverchuk vs. 035 Sheep Creek – The other Cody Coverchuk has been in Winnipeg and Abbotsford the past two weeks but I expect the wolf to show up in Saskatoon. On record, Sheep Creek has been ridden six times in 32 outs with the highest score coming from two-time World Champion J.B. Mauney. This bull spent a lot of time on the PBR's Built Ford Tough Series in 2015 and 2016 but made his way home in 2017 to help Brady Oleson win in Prince Albert. Cody has drawn a hell of a bull in a former PBR World Finals Championship Round bull but it's one he can win the round on.
RELATED: Coverchuk Dedicates Pursuit of Canadian Title to Late Father
Zane Lambert vs. 58A Finning Lil' Shortly – Based on the stats, this Flying Four bull has been ridden once in five recorded outs. That one score was here in Saskatoon in Round 2 last year for 85 points in a match with Cody Coverchuk. A black and white bull with horns that should go right around the end of the gate directly into Zane's hand. Advantage Lambert to pour it on Radford and make things even more interesting.
Brock Radford vs. 819 Minion Stuart – I was really surprised to see this bull in the first round in Saskatoon. In four previous attempts, Minion has won three of them with Brock winning once in London, Ontario on the Monster Energy Tour last August for an 88 point score. On the stats, Minion has been ridden 30 times in 65 outs for a huge 13 round wins. Most recently Radford was thrown off Minion in the Championship Round in North Battleford but still wound up winning the event. There's a lot of pressure on him here with this bull but I see Brock rising up to the challenge 
Saskatoon, Saskatchewan and the SaskTel Centre will host PBR Canada for the Canadian Finals on Oct. 20-21 for the twelfth annual season-ending event. Action gets underway at 7:30 p.m. CT on both Friday and Saturday. Tickets are still available at PBRCanada.com or Ticketmaster.ca.
The event will crown the 2017 PBR Canada Champion who will earn a trip to the Real Time Pain Relief Velocity Tour Finals in Las Vegas, Nevada Oct. 28-30 where they will then have the opportunity to qualify for the Built Ford Tough World Finals on Nov. 1-5. 
Be sure to stay tuned to PBRCanada.com and follow the tour on Facebook (PBR Canada), Twitter (@PBRCanada), and Instagram (@PBRCanada) for the latest results.