2006 PBR Canada Champion Schiffner Announces Retirement
By: Justin Felisko Saturday, July 14, 2018 @ 9:55 AM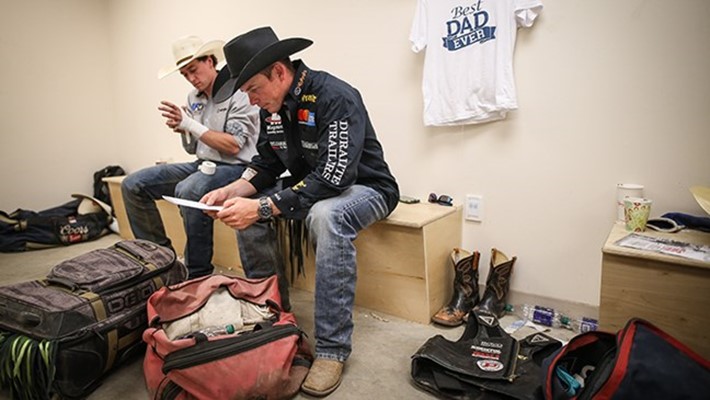 PUEBLO, Colo. – Scott Schiffner is about as decorated of a bull rider you can find when it comes to the sport and the Canadian Maple Leaf.
Schiffner not only won the 2006 PBR Canada championship, but the Strathmore, Alberta, native also won the 2013 PBR Canada Finals event title, is a two-time Canadian Professional Rodeo Association champion and two-time winner of the prestigious Calgary Stampede.
There is nothing like competing outdoors in Calgary at the Greatest Outdoor Show on Earth, and Schiffner decided on Thursday there was no better place to announce his retirement.
The 38-year-old announced via the Calgary Herald that this season will be his last as a professional bull rider following a 20-plus-year career.
"It's been the $1 million question from everybody for the last five years, truthfully, just where I'm at in my career," Schiffner said. "The decision was made in the last couple of days here. My wife, Brandy, and I … we had a real good talk. It was good and it was bad all at once. There were answers and questions, and I always said, in lots of interviews, that I wasn't going to announce my retirement. I was just going to come home and know and I wouldn't go back. 
"But my wife put it into perspective. She said, 'Sometimes, that's being selfish.' There's fans and people I owe my career to that might like the opportunity to shake my hand one more time or get to watch me ride one more time."
Schiffner can further his legacy with a record-setting third Calgary Stampede title this weekend.
However, to do so, Schiffner will need to finish in the Top 2 in the bull riding on Wild Card Saturday after going 0-for-4 in Pool A competition earlier this week.
A wild card spot would allow Schiffner to then compete on Showdown Sunday for the last time.
Schiffner first won the Calgary Stampede at 21 years old in 2001 – the same year he won his first CPRA championship. 
He then took home the Stampede title for a second time 13 years later in 2014.
Schiffner is the only bull rider to win a PBR Canada, CPRA and Calgary Stampede championship.
He also rode for Team Canada at the 2002 Olympic Winter Games in Salt Lake City and won Round 2 of the bull riding with 92 points aboard Just Spoofin'.
Schiffner earned a bronze medal for his performance at the Olympics.
That is quite an impressive record, three-time PBR Canada champion Aaron Roy said on Friday afternoon.
"I couldn't tell you about the CPRA title," said Roy, who never competed full time in rodeo. "I know Calgary is really hard to win. PBR Canada is really hard to win too just because of the amount of guys that go and how you accumulate points. To win all of them, and do it numerous times, is quite the accomplishment."
International fans living outside of Canada can watch the Calgary Stampede on RidePass beginning at 3:15 p.m. ET.
Two-time PBR Canada champion Zane Lambert said, "If you can do that, you have won everything possible. Those are the three biggest events we have in Canada. You are a pretty good bull rider if you cover all three. That is pretty cool that he is the only to ever do it. He has given our local fans something to cheer for and he has helped build our fan base. He was a big part of it.
"It is pretty cool to see his whole career unfold. He was a great competitor that I very much respected in the field. I am sad to see him go."
Schiffner has reached the 8-second mark 216 times in his PBR career at all levels competition, including 17-for-94 (18.09 percent) on the PBR premier series.
He made his premier series debut with an 86.5-point ride on Crown of Thorns in Nampa, Idaho, on April 24, 2004.
Out of his 216 rides, 150 have come at PBR Canada-sanctioned events.
"He is definitely one of the best bull riders in Canada," Roy said. "His consistency to ride in Canada. Back in the day, he was willing to go to everything possible in Canada. He would drive from one side of the country to the other. He would hop on a plane just to get there and get on a bull. It wouldn't really matter what he had. He would get on and stay on."
Schiffner won the inaugural PBR Canada championship in 2006 with five event victories.
He has won 20 PBR Canada events in his career.
One of those victories came in Prince Albert, Saskatchewan, courtesy of a 91.5-point ride.
2015 PBR Canada champion Tanner Byrne was in attendance at his hometown bull riding event, and Schiffner left the 13-year-old kid highly amazed.
"'Wow! I can't believe I just watched that,'" Byrne remembers thinking. "He came here and strapped one on one for 90 points. That is one of my favorite memories of him."
Byrne, who is the highest-finishing Canadian bull rider in PBR history (eighth overall in 2015), said there was no question that Schiffner was one of the Canadian bull riding heroes he grew up admiring.
The two even got to travel together at times during their respective careers, and Byrne has the utmost respect for all Schiffner has accomplished.
"It is awesome to see somebody have so much longevity in their career," Byrne said. "Scott was, and is, a prolific Canadian bull rider. He is a Canadian champion. He is known as the winningest Canadian bull rider there has ever been. He is just a standout guy all around."
Schiffner primarily stayed north of the border in his career, but he did ride at the PBR World Finals four times in his career.
2007 was his best season in the PBR as he finished 50th in the world standings after competing in a career-best 20 premier series events.
Schiffner set a career high on the PBR's premier series with an 88-point ride aboard Rompus at the 2007 PBR World Finals inside the Thomas & Mack Center.
In fact, that was the same year in which Roy made his premier series debut in Dallas at the Dickies Invitational.
Schiffner took the younger Roy under his wing two years earlier in Canada, and he taught Roy the ropes of competing in the United States.
"I actually got started on tour with Scott," Roy said. "That is who I traveled with. He kind of showed me the ins and outs of being on tour. He always made things fun. He never made things too serious. That is kind of how I rolled with it too ever since then. When you take things too seriously, that is when you get into those bad slumps. You just roll with how things go and keep everything right. It is a lot more fun if your career is a lot longer."
And boy, did Schiffner have quite the long career.
Byrne remembers being at bull ridings in the last five years as everyone would be questioning Schiffner as to why he would not just retire already.
The 26-year-old loved when Schiffner would go smoke the doubters in the arena with an 8-second ride.
"The biggest thing that sticks out in my mind is the longevity," Byrne said. "To be 38, and still riding as he good as he was at 37, 36. He looked the same as if he was 18. Everybody shit talking that he is too old and he lost a step. He would throw his head down and ride his bulls. He didn't have to tell everybody how good he was. He let everybody talk and think what they would think. He would then ride for 90 and shut them up.
"That was the best part about watching Scott in the latter part of his career. He would walk out there and show them."
Schiffner said it is now time to trade in his full-time bull riding lifestyle for dad duty. He and his wife, Brandy, have three daughters – Maysa (10), Hadley (8) and Oaklyn (4).
"It is sad he is stepping back," Lambert said. "I know he has lots going on. It is unfortunate we are going to lose a good competitor in our field, but he has a lot of things going on. He is going to be quite fine retiring. He has a big family and lots going on there. When it's time, it is time."
Byrne is hopeful, as well as optimistic, that Schiffner will remain involved in the bull riding world in some new way, shape or form.
"It was a great career and I am just really proud to have been able to witness it and get to travel with him a little bit," Byrne said. "He is a great ambassador for the sport and the country of Canada. We are going to miss him, but I am sure he won't be far away and he will find some other avenue or aspect in the sport of bull riding and be around."