Buttar Breaks Through Slump, Sets Career Highs in Milwaukee
By: Kacie Albert Wednesday, October 10, 2018 @ 7:47 AM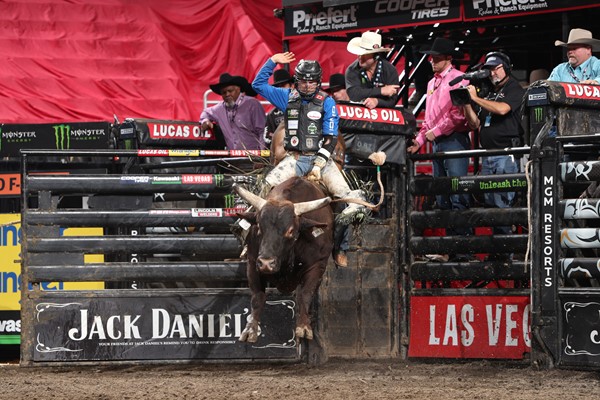 NEW YORK CITY – While the Ariat Invitational, presented by Cooper Tires brought the people of Milwaukee an event they hadn't seen in more than a decade, the tour stop also brought bull riding fans the return of a rider who established himself as an earlier title contender, yet had hit a rough patch as of late – Dakota Buttar.
Since the 25th PBR: Unleash The Beast returned from its annual summer break, the Buttar making the weekly journey to the United States was not the same Buttar fans had become accustomed to seeing at the start of the season.
After making the 8 on Hedoo for 87.75 points to record his career-best finish at the Tulsa, Oklahoma 15/15 Bucking Battle, fourth, the Kindersley, Saskatchewan-native had been mired in a 1-for-11 slump, shutout at three events.
RELATED: Buttar Fourth in Tulsa's 15/15 Bucking Battle
Comparatively, when the 2018 season began in New York City, Buttar tallied early points with a 13th place finish at the Monster Energy Buckoff at the Garden, which he followed with back-to-back trips to the championship round as the top-ranked rider in Chicago and Oklahoma City, where he finished fourth and seventh, respectively.
The 25-year-old then turned heads when he recorded the first 90-point ride of his career on the elite tour in Columbus aboard Inferno to finish second at the event on the campus of The Ohio State University.
RELATED: Buttar Picks Up First 90-Point Ride
"Yeah, I've been drawing some pretty good bulls lately," Buttar detailed. "Just haven't been converting on them."
Then he stepped foot inside Fiserv Forum. With an exciting draw awaiting him in the first round, the very bull he recorded his first 90-point score on, Inferno, Buttar had high expectations for the event.
"I was pretty pumped when I found out I drew Inferno again this weekend" Buttar said. "And it didn't work out with him, but I had a good re-ride bull anyway."
After Buttar reached just 3.13 seconds aboard the Mt. Orab, Ohio-based bovine athlete who hipped himself exploding from the chutes, he earned a re-ride aboard another K-C Bucking Bull, Handsome Jeff.
While the two didn't share any prior matchups, RidePass commentator Craig Hummer remarked the out "could be big," before the chute gates event opened. 
Returning to his winning form from earlier in the season, Buttar covered the bull for 87.75 points to finish second in the round.
"This is the turnout that he wanted," RidePass commentator Colby Yates said. "This is a bull that he wanted to get on. So the first bull didn't quite work out for him, but he gets a really good one. I love the fact that you could get on bulls like this for re-rides and put up an 87.75-point bull ride like he just did.
"Good bull ride."
"The Dakota Buttar that we saw in the first quarter of the season, just like that with one ride, he's back," RidePass anchor Matt West added. "He's on top of the leaderboard where he needs to be."
In Round 2, Buttar's success continued covering Black Label for 84.25 points, which propelled him to the top of the event standings.
"Second jump kind of got me leaning back and then he kind of beat me around the corners," Buttar told Kate Harrison moments after the ride. "It was kind of similar to last night. I was kind of beat around there, I was on the outside the whole time, but it worked out."
Heading into the championship round, Buttar sat atop the event lead alongside world No. 1 Kaique Pacheco, and held the second pick in the draft.
"I was going to pick Stunt Man Ray, but Kaique picked him," Buttar said of the bull who originally hails from Girletz Rodeo Stock in Cereal, Alberta. "But I've been wanting to get on that Rising Sun bull for quite a while. I had seen him quite a bit, he just looked good, like up and down, and he'd been rode a few times.
"I just thought he'd fit me because he's up and down, and around to the left."
Last ridden on the PBR's elite tour this April in Tacoma, Washington, by Ramon de Lima for 88.75 points, the selection quickly made many think Buttar had the pick to win the event.
"Dakota Buttar to me on Rising Sun is probably going to do it," Yates remarked on RidePass.
As one of the final riders to burst from the chutes Buttar brought the fans inside the newly opened venue to its feet, recording his second 90-point ride on the elite tour, and third of both the season and his PBR career, when he made the 8 for 90.5 points, a new career-high.
RELATED: Buttar Earns Second 90-Poitn Ride of Career at PBR Canada's Ranchman's PBR BullBustin'
"I'm pretty pumped about it, finally," Buttar said. "It gave me more confidence in myself that I could pick them bulls, and I'm confident that I can ride them now. It makes things a little more, I wouldn't say easy, but I'm more confident in my picks."
The runner-up finish, his eighth Top-10 effort of the season, also netted Buttar a check for $19,373.33 allowing him to set a new season high for earnings, currently totaling $105,553.78 across all levels of competition, compared to the $87,055.31 he earned in 2017.
The 3-for-3 effort was the first time since April's event in Columbus he was flawless during a weekend.
"I've been drawing some pretty solid bulls in the long rounds," Buttar explained. "Like last weekend I had Biker Bob and Livin' Large, a couple of bulls that are usually in the short round. I think the first day they marked the bull 44, the second day 44.5.
"I took Biker Bob to like 5.2, and when I took that bull that long it kinda gave me some more confidence again, even though I bucked off, I felt like I was doing everything right.
"And just after last weekend I felt a little better about things, and when I found out my draws this weekend, I had more confidence and I was excited to get down there and get on them."
With just two regular season event's left before the 2018 PBR World Finals, Buttar, who rose from No. 16 to No. 13 in the world compliments of the finish, has his sights set on the Top 10 come season's end.
"That's my goal," he declared, adding "there's a pretty big gap between me and the next guy.
"I've got to be there by the end of the year after Finals, but I would like to be Top 5, at least in the Top 10."
Next on the docket for Buttar is a trip to the Tar Heel State where he can further hone in on the Top 10 at the Cooper Tires Take The Money and Ride in Greensboro. He currently trails No. 10 Fabiano Vieira by 463.33 points and No. 1 Pacheco by 3,314.16 points.
"I'm a little sore," Buttar said of how he was feeling in the season's homestretch. "I just started using a new rope and it pulls down a little differently on my hand, like I kind of blistered up this weekend, but I think I'm going to keep using that rope anyway.
"Other than that I feel good."
Part of what Buttar credits his success this past weekend to is the return of his fellow countryman Brock Radford who has been sidelined with a torn left ACL, leaving Buttar as the lone Canadian on the elite tour with staple Tanner Byrne out with an injured right ankle.
"It's been good to have Brock back down there kind of, like he might be the reason why I'm out of my slump because it's a lot nicer having a buddy from back home to travel with."