Gloria Makes History with Win at the Calgary Stampede
By: Kacie Albert Sunday, July 15, 2018 @ 9:39 PM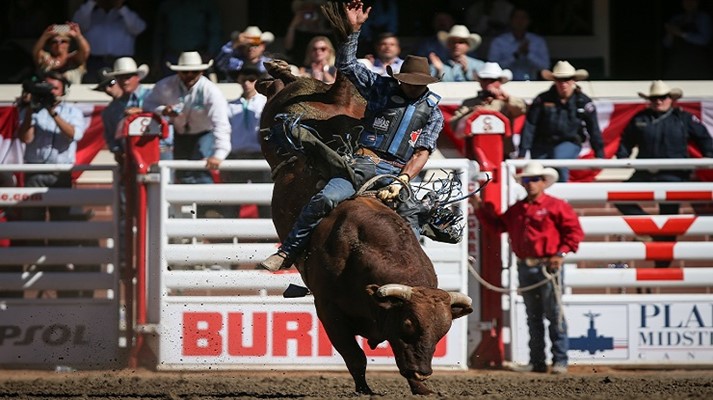 CALGARY – On Sunday night, Marcos Gloria made history in Calgary.
For the first time since 1994, when three-time PBR World Champion Adriano Moraes was victorious at the Greatest Outdoor Show on Earth, a Brazilian stood at arena's center crowned the bull riding champion of the Calgary Stampede.
"What a day, that man right there tried his guts out, tried his guts out," boomed announcer Bob Tallman's voice as Gloria walked across the dirt.
And while Gloria's ear-to-ear smile as he hoisted his $100,000 check was picture perfect, his march to the title took an unexpected turn as the richest hour in rodeo became slightly longer Sunday evening.
The day began with the final long round of the Calgary Stampede, where the event's eight best riders from Pool A and Pool B, alongside the two qualifiers from Wild Card Saturday, was narrowed to four.
Fabiano Vieira led the field, with a round winning 88-point ride aboard Papa's Rockstar. Advancing alongside the veteran Brazilian into the championship round was countryman Gloria, who made the 8 on Wounded Warrior for 87.5 points, Ty Wallace, marked 87 points on Lil Shorty, and Joe Frost who delivered an 86.5 point ride on Tennessee Whiskey.
Collectively riders went 6-for-10 in the round, with 2016 PBR World Champion Cooper Davis, 86 points on Far Out, and 2016 CPRA Champion Jordan Hansen, 84.5 points on Twisted, falling just short of the cutline.
Then the bovine athletes took control of the show.
First Frost, the winner of Pool A, who was 4-for-5 thus far in Calgary, met the dirt just 4.84 seconds after the chute gates cracked open for his matchup against Red Pheasant.
Next, Wallace was no match for Night Moves, dispatched at the 2.21-second mark.
In a familiar matchup against Happy Camper, a bull he won his first-ever event title on this past May in Quebec at Canada's Iron Cowboy, Gloria bucked off in 4.73 seconds. Punctuating the round, despite much work in the chutes, Vieira was unable to make the whistle on Whiskey Hand, reaching just 2.53 seconds aboard the bovine athlete.
"We need to break this thing," Tallman stated as the next draw of bulls was readied.
With the winners of the Calgary Stampede's other disciplines already crowned, the thousands of fans inside Stampede Park sat on the edge of their seats as the four men prepared to attempt one more bull each.
While Frost was flagged for a slap, coming a heartbreakingly close 7.42 seconds aboard Heaven's Basement, Wallace was unable to last more than 3.74 seconds on Anika's Pet.
Then the tides turned.
Gloria, who was escorted off the dirt minutes earlier by sports medicine following his out with Happy Camper, burst from the chutes aboard Rattler. With the bull making a beeline across the dirt, Gloria brought the crowd its feet, riding the bovine to 76 points.
"You talk about I will not give up," Tallman said, adding, "How about that cowboy. We needed to ride one, Marcos Gloria did just that."
"I was expecting that he was going to turn to the right," Gloria said of Rattler with the help of his translator Andre Portes. "That's what they told me, but then he bucked, and I like this way better."
With one man left, a Brazilian rider was poised to make history at the iconic event, merely a matter of whether it would be the Gloria, the newcomer, or Vieira, the veteran.
Just 2.53 seconds later, Kill Switch not only sent Vieira airborne, but also sealed Gloria's walk to the winner's stage.
"Canada [is] my second family," Gloria, who currently calls nearby Edmonton home, said after addressing the Brazilians in the crowd in his native Portuguese.
For many outside of Canada, Gloria's name atop the leaderboard is new, however his success as of late in Canada has helped him crack into the Top 30 in the PBR World Standings.
After finishing third in last year's CPRA standings, Gloria caught a hot streak earlier this season at PBR Canada events. After a second place finish in March at the season-launch Monster Energy Tour event in Calgary, he won back-to-back stops on the tour in May, victorious in Quebec, the second-ever International Major, and Halifax.
Looking forward, Gloria has his sights set on qualifying for this year's 2018 PBR World Finals, which compliments of his latest win, he is now 120 world points closer to achieving.
 "Every single bull rider, their dream is to one day ride at the finals in Vegas and I'm no different. That's what I want. I'm taking the opportunity that I have and I'm giving the 100% that I have to accomplish my dream."