Radford Tears His Left ACL, MCL in Jasper
By: Justin Felisko Saturday, August 11, 2018 @ 3:26 PM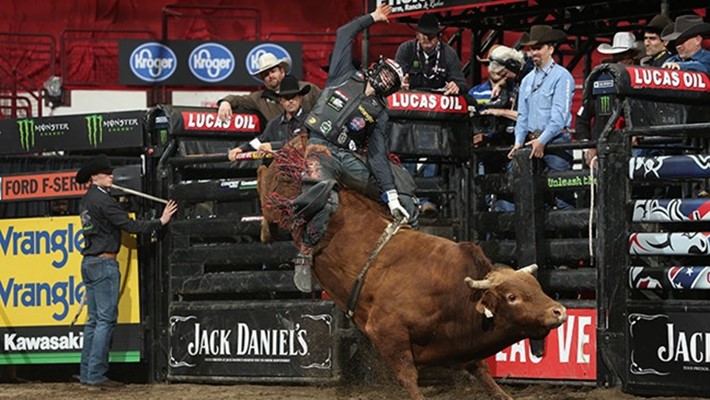 TULSA, Okla. – Brock Radford's bid at becoming the first bull rider to win the PBR Canada and Canadian Pro Rodeo Association titles in the same season took a major hit on Thursday night.
Radford believes he tore his left ACL and MCL, and also partially tore his meniscus, attempting to ride Back Fired on Thursday night at the Jasper Heritage CPRA event.
"I got bucked off and just kind of landed funny on my left leg and twisted my knee," Radford said. "They think I tore my ACL off and MCL is pretty tore too. Hopefully I can get stuff rolling, let it heal and rehab it as quick as I can to try and get back."
The 23-year-old will get an MRI on Monday to verify the damage to his knee and make a plan of attack.
"My MCL might not be as bad as they said, but they are pretty sure my ACL is screwed," Radford said. "Hopefully the MRI shows something a little less."
Radford is hoping he can avoid getting surgery à la Derek Kolbaba and focus on returning to competition quickly.
"No. I am not going to get surgery. I want to try and hold off and finish off the year. I am pretty sure Kolbaba did the same thing and he has been able to ride. I am going to push it as hard as I can. We have the best sports med here in Canada. I figure Brandon (Thome) can help me going and make sure I get back. Tape me up and get me rolling."
Radford was one of the hottest riders going in the PBR this summer and had risen to 29th in the world standings.
He went a combined 21-for-45 (46.67 percent) across PBR events in Canada, Australia and the United States this summer to earn him a spot on the premier series after appearing in six UTB events in the first half.
Radford had to withdraw from this weekend's Express Employment Professionals Classic, presented by Osage Casino & Hotel, in Tulsa, Oklahoma.
No. 39 Cody Campbell has replaced Radford in the draw and will take on A.J. (6-0, PBR UTB) in Round 1.
Fans can watch Round 1 exclusively on RidePass at 7:30 p.m. ET.
The rookie admitted he was "sick to his stomach" to be injured two days before Tulsa at a small rodeo in Canada.
Radford said the only reason he was even competing at the $3,000 event was to get his qualifications up in the CPRA so he would eligible for the CFR.
"I need 15 rodeos and I was only at nine or 10," Radford said. "It is sickening that I did that."
Radford isn't giving up on his dreams for Canadian championships or his first trip to the PBR World Finals.
He currently leads Cody Coverchuk by 50.84 points in the PBR Canada standings.
"I have come too far to toss my season down the drain," Radford concluded. "I might as well find another gear and get to it."