Monea Wows Stateside Fighting Bulls on PBR's Pendleton Whisky Velocity Tour
By: Kacie Albert Thursday, April 25, 2019 @ 11:36 AM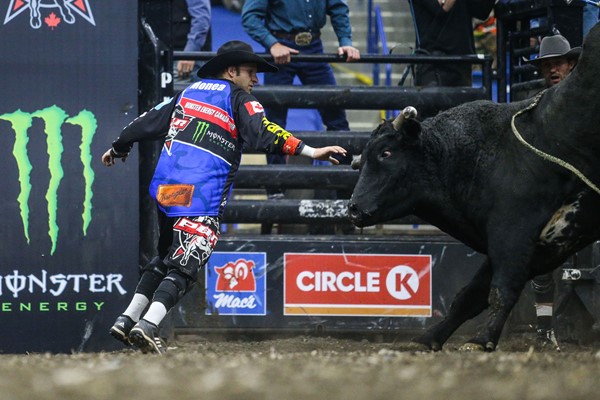 NEW YORK CITY – On the Canadian Monster Energy Tour, and at prominent bull riding events across Canada, fans have become accustomed to seeing bullfighter Brett Monea hard at work on the dirt working to ensure both bull and rider leave the arena safely.
Recognized as one of the most accomplished bullfighters in Canada, the Alberta-native was relatively unknown in the United States prior to this season.
All of that changed, however, in January inside the Moda Center in Portland, Oregon, when Monea worked what was his first of eight PBR Pendleton Whisky Velocity Tour events in the first half of the 2019 season.
"The experience was awesome," Monea said. "To go fight with the top bullfighters going down there, and get with them, and fight alongside them, like your Cody Webster's, your Evan Allard's, your [Aaron] Hargo's, your Jesse Bryne's, all those kind of guys, it was awesome to fight at that caliber with them."
Before making his debut, Monea travelled stateside alongside fellow bullfighter Ty Prescott in December to attend one of Webster's bullfighting schools in Oklahoma.
After working the Portland, Oregon event, Monea was also called upon to protect some of the world's best bull riders in Youngstown, Ohio; Grand Rapids, Michigan; Edinburg, Texas; Jacksonville, Florida; Lexington, Kentucky; Bangor, Maine; and Dayton, Ohio.
"Go down there, fight with the best, and prove that I'm no less than them," Monea said of his goals in working the Velocity Tour stops. "I'm just on par, and I set out my goals to do the best job I can and I feel I accomplished it.
"It was an amazing experience."
Any Monea hopes the opportunities continue to come when the Velocity Tour resumes in the summer months.
"I have one booked in the fall so far," Monea said of his schedule looking forward. "It's something I'm going to have to talk to Richard Jones about of course, see if I can get some more booked.
"After these events, of course, I phoned him and was very grateful and appreciative for what I got, and I said hopefully we can do it again."
While Monea's aptitude for the profession earned him the chance to travel stateside, he credits his wife Amy for being the large reason in why he was able to pursue the opportunity.
"To be honest, it wasn't easy for Amy, taking care of everything," Monea said of his wife who cared for their two children, tended to their working ranch and continued to operate her business while he was on the road for upwards of two months. "She's self employed. We've got cows, taking care of cows, feeding cows, two kids to take care of at home. It wasn't easy but she's a great woman and she did it.
"Like when I was in Bangor, Maine, we got a foot of snow. So she was plowing the snow, taking care of kids, feeding the cows that are just about to start calving, plus she had her own events in the arena going on.
"It was a workload, she got it done, didn't complain. Another shout out to the neighbors that helped us out too, to have them come over and kind of help us when needed.
"So I couldn't do it without her and for the family it's a big team effort and I appreciate and am grateful for everything she does."
This weekend, the Velocity Tour is in Des Moines, Iowa, for the Des Moines Invitational. Fans can catch the action on RidePass at 8:00 p.m. ET on Saturday. Monea will next be in action at PBR Canada's Iron Cowboy in Quebec on May 4.