Bull of the Year Happy Camper to Return for Celebration for the Two Bit Nation Touring Pro
By: Kacie Albert Friday, August 30, 2019 @ 10:47 AM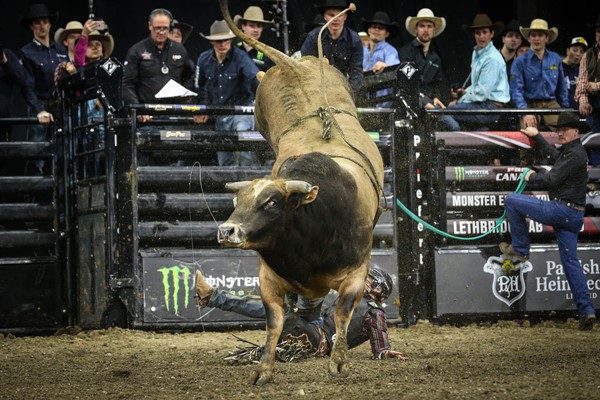 NEW YORK CITY – When the chute gate bursts open on Thursday, Sept. 5 at the fifth edition of the PBR Canada Touring Pro Division's Celebration for the Two Bit Nation, it will have been exactly 110 days since reigning PBR Canada Bull of the Year Happy Camper last bucked.
Set to make his return on the very property on which he was born, the Two Bit Bucking Bulls' bovine athlete was last seen in mid-May at the Cloverdale Rodeo and Country Fair when he lost his toe cap.
"It was on the inside of his back left hoof," Josh Berezay explained. "We turned him loose, put him on some cows, let him hang out with the ladies, and just let Mother Nature take over.
"He's sound as sound, and running and wanting to buck so we're going to let him."
"We're getting him back in shape, and every day he tells me he wants to go," Berezay continued. "The last two bull ridings we went to, he's been hooking at the gate. He wants to get on the truck.
"It's amazing how smart these animals are. When he was hurt, he knew it and he would stay away. He didn't come. Now he sees the truck and the trailer and he wants to go. He's coming to the barn, and like I said, he's hooking at the gate wanting to get on the truck, just bellowing at me."
Prior to the injury, Happy Camper appeared to be on track to earn his third trip to the PBR World Finals and second consecutive PBR Canada Bull of the Year honor.
After earning Bull of the Event honors on the Monster Energy Tour in both Lethbridge, where he was marked 44.5 points, and Calgary, scored 44 points twice, Happy Camper was selected to buck on the elite Unleash The Beast in Billings, Montana.
Happy Camper earned a 42.25-point bull score for his 86.75-point trip with Junio Quaresima and 43.5 points for his 3.32-second buckoff of Rookie of the Year contender Cannon Cravens.
Despite the time off, though, Berezay remains confident that Happy Camper will still have a banner year.
"I would sure hope so, and Catch My Drift is right there alongside of him," Berezay remarked when asked about Happy Camper's chances of making a third appearance at the PBR World Finals. "He's a great bull and he deserves to be there, but only time will tell.
"He's done enough at the first of the year, and if he comes back, and comes back strong, we still have a few events left, with Edmonton and whatnot, and hopefully Cody [Lambert] and [Jason Davidson] think that he's worthy of going."
His first test will come when Josh and wife, Tamara, host the fifth edition of the Celebration for the Two Bit Nation on Sept. 5.
"I'm not expecting him to be the best he can be after that kind of a layoff," Josh said. "But I darn sure know that he'll show up and he'll buck with all his heart like he always does. It might take him the next trip you see him, he'll be ready (to be) back to himself. But that first one, I'm just hoping that everything is good with him and he's good."
Since the inception of the event, each year the Berezay family has raised money in support of a local family battling cancer. This season, they will support one of bull riding's own, donating all proceeds to injured rider Klayton Lakevold.
RELATED: Lakevold Injured at PBR Canada Event in Lloydminster
Lakevold was injured on Aug. 12 while attempting Certified & Tested when he was jerked down, which led to a collision with the bull's head. He was hospitalized in Edmonton for a week until he was moved to continue his recovery closer to home in Provost.
"This year, of course, we're doing it for Klayton," Berezay said without hesitation. "It sounds like their family is coming and things like that. I just hope that kid's going to be okay."
The Celebration for the Two Bit Nation gets underway at 7 p.m. MDT. Tickets are still available and can be purchased by calling (403) 758-6137.
PBR Canada's Ted Stovin contributed to this report.