Parsonage Looks to Build on Career-Year in 2020
By: Ted Stovin Wednesday, December 18, 2019 @ 11:47 AM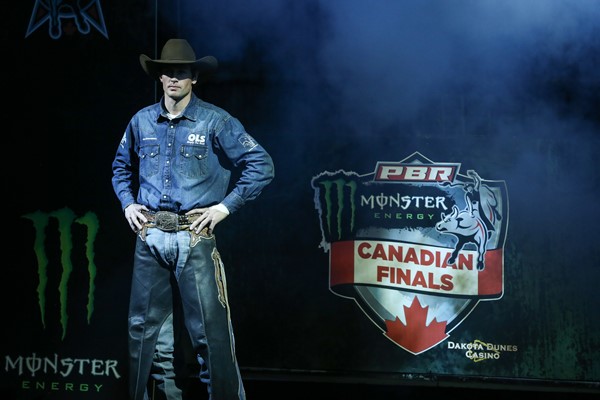 CALGARY, Alberta – For Jared Parsonage, 2019 was a banner year.
He finished the highest he ever has in the PBR Canadian Standings at No. 3, made his first PBR World Finals and finished No. 39 in the world.
Parsonage also finished second at the Calgary Stampede, made his debut at the PBR's elite Unleash The Beast, and earned more than $100,000 riding bulls, mostly in Canada.   
Despite the great year, it didn't end on a very high note.
The 26-year-old from Maple Creek, Saskatchewan came into the PBR Canadian Finals in Saskatoon in the No. 1 position, which he held for most of the year, but went 2-for-4 missing out on the $50,000 bonus awarded to the 2019 PBR Canada Champion.
"I fell off that first bull there on Friday, but I didn't draw good enough to win either in my opinion," Parsonage said. "I rode the next two and then I just slapped that bull right at the whistle [OMB Legal Issues in the Championship Round] and he didn't have his best day.
"I don't think even if I wouldn't of fell off, I shouldn't of fell off the first one for sure, but you got to draw the right bulls. It's a little bit of a drawing contest there and I definitely didn't draw the right bulls.
"The one I did draw that was the right bull, I fell off."
The finals weren't the only place things went awry either, in his opinion.  
"I just try to keep it as simple as I can, just bull riding and stay on," Parsonage said. "I just never stayed on the right ones, kinda at a couple events in the fall. I bucked off a couple I shouldn't have bucked off of, just kind of the way that shit goes, kinda in streaks like that.
"Just really didn't capitalize and I got to at the Finals there. That's the way she shook down and it's frustrating nonetheless, but a guy keeps putting himself in those positions, it'll work out."
The four-time PBR Canada Finals qualifier has consistently improved in the past four seasons, rising from No. 29 in 2016 to No. 8 in 2017 and No. 4 in 2018. This fall between the Monster Energy Tour stops in Abbotsford and Edmonton, the PBR World Finals and Canadian Finals Rodeo, Parsonage went a collective 12-for-16 to earn a mere $3,700.
RELATED: A Student of the Game – For Halifax Event Winner Parsonage It's All About the Stats
"I kinda had a knack for turning 86 pointers into 82 pointers this year, this fall, this year for some reason," Parsonage said. "I just hope it was one of those, one in a million things.
"You gotta place, all them Finals are all the same, you gotta stay on your bulls and you gotta draw bulls that give you a chance to place. Simply put, 83 and 84 pointers don't cut it."
Despite being 6'1", he isn't blaming the lower scores on his height.
"No, everybody says that and I guess it is right maybe it's wrong, it's whatever. I don't really look at it that way," Parsonage said. "I'm kinda big and strong and taller and I can sit there and ride 'em easy and I'll ideally get off good.
"A lot of bulls that put guys in compromising positions, I can stay out of those compromising positions being a little bigger and stronger at the end of the day than a little guy."
Even with the lack of titles in both PBR and CPRA competition, Parsonage is looking to build, and rebound, again in 2020.
RELATED: Leader of the Pack – Jared Parsonage
"Hell, I am just gonna put myself in the same position, number one and hopefully draw the right bulls at the Finals and get 'em rode," he said. "The 83 pointers ain't cutting it, they don't work.
"It's just kinda frustrating when you ride 10 of 16 bulls at three of the biggest Finals in North America short of the NFR and win $3,700. Guys are winning more anywhere on one bull."
The only way he could have won more would have been to stay on more.
"I rode pretty good I guess you'd say, obviously I bucked off six, so I didn't ride as good as I could have rode," Parsonage said. "I could have rode 'em all, but it seemed like I just had trouble drawing into them round-winning kind of bulls.
"I feel like every higher end guy would say the same thing, once you're at a certain level you got to get on the bulls that give you a chance to win. You know, sure you ride them 83-84's but you got to, you're getting on at Finals, and the Finals they are not sudden death, but they are more or less sudden death in a way. So you got to get on some bulls that give you a chance, you might have to win first in every round, but damn sure second or third in one round definitely helps or two, and get in there and then you win the average."
Looking forward, next on the horizon looks to be the PBR's return to New York City from January 3-5.
"If I get in I think I'll probably go to New York," Parsonage said as he's unsure at this point after finishing No. 39. "We will see what shakes down. The winter can change a lot of things depending on what kind of winter you have right?" 
Traveling with two-time Wrangler NFR qualifier Jordan Hansen, Parsonage will go to a few PRCA rodeos this winter as well when the schedule allows.
"I think I'll sneak to the odd one for sure, Jordy wants me to go to some with him pretty bad, but I'll go to a few," Parsonage said. "We will pick around and see what goes on."  
For Canadians, a number of events remain here in the winter as well.  
"Shoot, I think in January there is a bull riding every weekend in Canada, except like one," Parsonage said. "I'll probably get the chance to go to some of these earlier events. New year same goals, a guy's got to put himself, I think I've done it the last three, probably three years I've done it, put myself in contention throughout the year for a Canadian title and it'll work out one day."
Already named to Team Canada with Hansen, Dakota Buttar and Shay Marks, Parsonage also looks forward to the next edition of the PBR Global Cup this winter.
RELATED: Schiffner Names Buttar, Hansen and Parsonage to Team Canada for 2020 PBR Global Cup USA
"I'm looking forward to getting together as a team and start building on it," Parsonage said. "I think we got a good team.
"I thought we had a good team last year and we still have a good team. It's always an exciting experience and an exciting time for bull riding in Canada. Period. I think the Global Cup sparked a lot of interest in a lot of people that's followed some that's a little more on a team aspect way, right?
"It's damn sure an exciting time to be a bull rider and you look forward to February walking into AT&T, walking in them doors. Getting a chance to represent your country and I think we are going to have a good group of guys there and good leadership and everything it'll be good, it'll be real good."
With head coach and three-time Canadian Champion Scott Schiffner at the helm with assistant Tanner Girletz, Parsonage feels confident in Canada's chances this time around.
"I spent a lot a time with and looked up to a lot, got to be good friends with and everything," Parsonage said of Schiffner and Girletz. "I think they will do a good job, it'll be good. It's an honour to go, it's always an honour every time. It's always been an honour to be chosen so it's no different now, I am honoured to be chosen, and excited to represent my country."
Follow Ted Stovin on Twitter @TedStovin