Roy Looks Upward in 2020 After Lackluster 2019
By: Ted Stovin Tuesday, December 24, 2019 @ 9:01 AM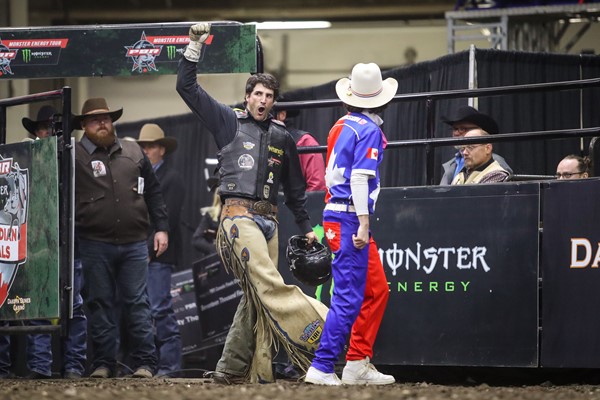 CALGARY, Alberta – The past season hasn't been that great for Aaron Roy.
In fact, it's his worst on record in the 12 years he's been competing with the PBR. 
"It wasn't a very good year for me," Roy confessed. "It wasn't until Stavely until I was actually making the finals. I was contemplating not even riding anymore if I didn't do good at Stavely.
"I wasn't going to anymore the rest of the year."
At the 16th edition of the Glen Keeley Memorial PBR, Roy moved up to the No. 15 spot in the nation courtesy of the win and additional sixth-place finish.
RELATED: Roy Adds Iconic Title to Resume at Glen Keeley Memorial
"Stavely come around and I ended up winning that and then kind of got on a little bit of a hot streak for a few events," Roy said. "I got the finals made and then just went into the finals feeling good and just quit thinking about riding bulls, and got on and reacted to them."
Prior to Stavely on Labour Day Weekend at the beginning of September, the three-time Canadian Champion's best events of the year were a pair of fourth-place finishes in Manor and Prince Albert, Saskatchewan.
On Canadian soil he had won roughly $3,500 at 16 events.
"I was thinking about bulls too much, looking at my draws ahead of time and kind of trying to make a game plan for bulls," Roy explained. "That's not what I normally do. I normally don't really care what I have, I just get on and go.
"I was just looking at the draw and then I'd get thinking, I'd look at it too early and I'd think about that bull all week and yah, that's just not how I've ever done it. I just show up there and get on.
"I know my bull, but I don't really care."
Less than a week after Stavely, Roy added a second-place finish at the Celebration for the Two Bit Nation in Magrath, Alberta. The next month it was an eighth-place finish in Abbotsford on the elite Monster Energy Tour, followed by a win at the final regular-season event of 2019 in Yorkton.
RELATED: Roy Returns Home in Search of Historic Fourth Canadian TitleFinishing the year with a strong second-place finish in Saskatoon, Roy completed the 2019 season No. 5 in Canada, just short of what would have been a historic fourth national title.
"The finals were pretty good," Roy said of Saskatoon. "I went in there just hoping to get all my bulls rode. I knew I had kind of a harder one there with that Playing Chicken. The last time I'd seen him he handled Dakota [Buttar] fairly easy but I think Dakota kind of had an off day."
Roy rode Playing Chicken for 84 points in Round 1 on Friday night, followed by an 84.5-point trip on Time Well Spent in Round 2.
In Round 3 he took on Vertigo Spy for 83.5 points. Vertigo Spy was most recently ridden by Cody Casper in Lloydminster for 89 points. In the championship round for Roy, it was a date with Timber Jam.
"Drawing that bull in the short round, I wasn't too happy about him, but he wasn't going to buck me off the third time in a row," Roy said.  "He bucked me off at Ranchman's there this year and then Lloydminster a couple weeks after so the third time he wasn't going to buck me off again."
Despite recording an 86-point ride aboard the bull, it wasn't enough to secure the Finals event victory. The man originally from Asquith, Saskatchewan trailed only 2019 PBR Canada Champion Daylon Swearingen in Saskatoon.
"It was pretty cool to see for him to come from behind and ride every bull and dominate," Roy said of Swearingen. "There was no doubt that he wasn't there to lose, he was there to win on every bull he got on and he proved it."
For Roy, in 2020, there are a few more things the 32-year-old wants to accomplish before he calls it a career.
"I've got to go to all the Monster Energy Tours, they're making us go, but it'll be kind of the same as this year, kind of pick and choose," Roy said. "I'll go to those Monster Energy ones and see how I feel after that. Hopefully I can be up in the top of the standings and win that fourth title."
The only other man with more than one PBR Canada title is Zane Lambert with two (2013, 2017).
"It's either win another title or win the Finals again," Roy said. "Those are the two biggest things you can do in Canada, and to be able to do those for multiple years, it just means a lot and means you're one of the best riders in Canada."
Lambert is also the only bull rider to have ever won the Finals title in Canada more than once (2016, 2017).
"You definitely want to retire at the top of your game instead of just being the guy that's just kind of squeaking by and staying on one here and there," Roy said. "You want to be remembered for staying on your last few bulls and being a good rider instead of being that guy that's just going and kind of staying on here and there and shouldn't really be going anymore."
"It kinda crossed my mind yep," Roy admitted of the thought of retiring had he won the Canadian Finals. "That's the thing people have asked me before, 'When am I going to call it quits' and I'm like, you never really know, I'll just quit showing up. There will just be one day I say I don't want to do it anymore and you just kind of won't see me anymore."
But we'll still see Roy at the rodeos with wife Hallie and kids Axel and Lux.
"I'll definitely still be in the rodeo world with Axel coming up into it and Hallie wanting to go to some more barrel racings," Roy said. "I still might enter the odd one. There is money to be won there and there is some big cool rodeos that they have over here. Other than that, I'll just be team roping and kind of enjoying the relaxation part of it."
Follow Ted Stovin on Twitter @TedStovin