Leme, Kimzey Split Pool B win at Calgary Stampede
By: Justin Felisko Friday, July 12, 2019 @ 6:54 PM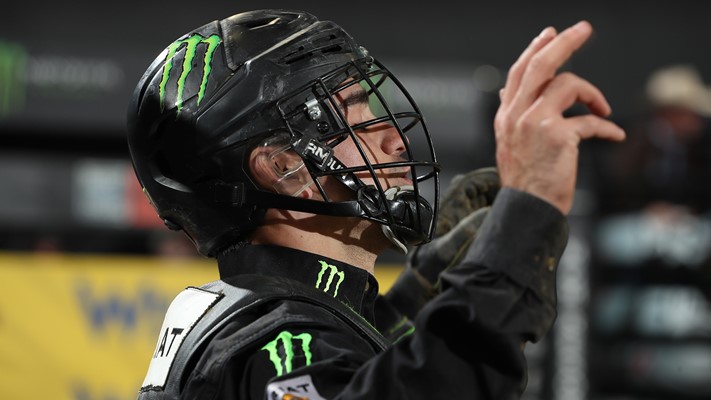 PUEBLO, Colo. – About the only problem world leader Jose Vitor Leme had this week at the Calgary Stampede was a small hang-up aboard Fidget Spinner following his 81.5-point ride on Tuesday that led to his right knee being yanked on.
Other than that "scare" as Leme called it Tuesday evening, it has been smooth sailing for the No. 1 bull rider in the PBR world standings.
Leme rode Far Out for 84.5 points on Friday to finish the week a perfect 4-for-4 and tie with five-time PRCA champion Sage Kimzey (3-for-4) for the Pool B victory with $12,500 CAD in earnings.
"I am very happy for my rides here," Leme told PBR Canada's Ted Stovin. "Great rides, and I qualify for Sunday. I am very happy for this."
Leme picked up 37.5 points toward the world standings with the Pool B victory to extend his lead on No. 2 Jess Lockwood – the winner of Pool A at the Stampede – to 206.66 points.
The 22-year-old has earned world points in five consecutive summer events for a total of 122.5 points.
Leme's 91-point ride on Rebel Soul on Thursday is tied with Kimzey for the best score of the Stampede thus far. Leme rode Magic Show for 88.5 points on Wednesday.
The 2017 PBR World Finals event winner advances to Showdown Sunday alongside Kimzey, No. 9 Ryan Dirteater (3-for-4, $10,500) and No. 5 Cody Teel ($8,500).
"It has been a good week so far," Dirteater said. "I bucked off one, and wished I wouldn't have fell off him, but it is just part of the sport. You try to not think about the negative side of things. I always stay positive. I drew good bulls and got them rode.
"I am looking forward to championship Sunday now. That is why we are here. We come to win this deal, and this is one of the best rodeos all year long. It is an honor to get invited to this great rodeo. The fans are awesome."
This is the first time Teel, a three-time Stampede competitor and 2016 Stampede champion, has advanced to Showdown Sunday via pool play.
"The last two times I have been here, I had gotten to Sunday through the Wild Card Round, so it is a little different this year qualifying straight up," Teel said. "I will take it. Getting four rode feels good.
"With the format like it is, even though I rode four bulls so far, it really means nothing now. It's a clean slate and starts all over. Bringing in the top guys from Pool A, I am sure it will be stacked with great bulls. It will be tough competition again. It is a new rodeo to me. I have to refocus and take care of business."
Dirteater also picks up 10 points toward the world standings, while Teel earns none for placing fourth.
Teel said it is surprising to ride all four of his bulls and still finish fourth, but that it is also somewhat expected because of the talent pool competing in Calgary.
"It is very rare, but with the group of bull riders in this pool, it is not surprising when you sit and think about it," Teel said. "There are so many great bull riders getting on so many great bulls. It is tough. It is tough competition for sure."
The format for the Stampede, which has a combined $2 million worth of prize money up for grabs for the nine rodeo events, is different from a standard PBR event.
Riders battle it out for four days in hotly-contested pool play with the goal of advancing to Showdown Sunday as one of the pool's top four money earners.  If they don't make it, they can then jockey with the remaining riders on Wild Card Saturday for the final two spots.
Wild Card Saturday begins at 3:15 p.m. ET. Fans living outside of Canada can watch the event on RidePass.
Jess Lockwood, Chase Outlaw, Jared Parsonage and Zane Lambert advanced out of Pool A to Showdown Sunday earlier in the week.
Ramon de Lima (3-for-4, $7,500), Marco Eguchi (2-for-4, $4,500), Chase Dougherty (3-for-4, $4,000), Claudio Montanha Jr. (2-for-4, $3,000) and Brock Radford (2-for-4, $2,500) were relegated from Pool B to Wild Card Saturday.
They will be competing alongside Cody Nance, Marcos Gloria, Wacey Finkbeiner, Jordan Hansen, Joe Frost and Garrett Green from Pool A.
Leme would have won Pool B outright if not for Kimzey's sensational 91-point ride. Leme was unable to earn a paycheck with his ride Friday after all nine bull riders competing picked up a qualified ride, ultimately bumping Leme to a sixth-place finish in the round.
Meanwhile, Kimzey went from the cusp of not qualifying for Showdown Sunday to tying for the Pool B victory with his 91-point ride on Nickel Package. Kimzey – the No. 1 bull rider in the PRCA – began his week with 86 points on Liberty Tower and 85 points on All Business, but his Thursday buckoff against Tom Petty had him beginning pool play Friday hanging onto the fourth position in the standings.
"He is a really nice bull," Kimzey said. "Everybody has seen him around for a while. He has been around for a while and been one of the top bulls. He is pretty tough to get by really. It was all really smooth. He knocked out the same tracks I figured he would. The bull bucked really hard with a lot of speed. Felt good."
Kimzey is attempting to win his third bull riding title at the Calgary Stampede. No bull rider has won the Stampede's $100,000 title three times since event organizers increased the payout in 2006.
The No. 1-ranked bull rider in the PRCA previously won the Stampede in 2015 and 2017.
Odd years have become Kimzey's thing at the "Greatest Outdoor Show on Earth."
"I am feeling good," Kimzey said. "Bottom line is there is going to be a great set of bulls and a great set of riders. I have to bear down on Sunday and let the chips fall."
Leme says he will take advantage of not having to ride in the Wild Card Round Saturday so that he can rest his knee from his Tuesday hang-up.
"I will rest because I hurt my knee," Leme said. "I don't know what happened. I need to rest and just watch the others. My knee is just sore, but I feel 100 percent for Sunday.
"There are hard bulls on Sunday. I want a good draw."