The Morning Line – Ranchman's PBR Charity Classic – Day 1
By: Wacey Anderson Tuesday, July 2, 2019 @ 12:00 PM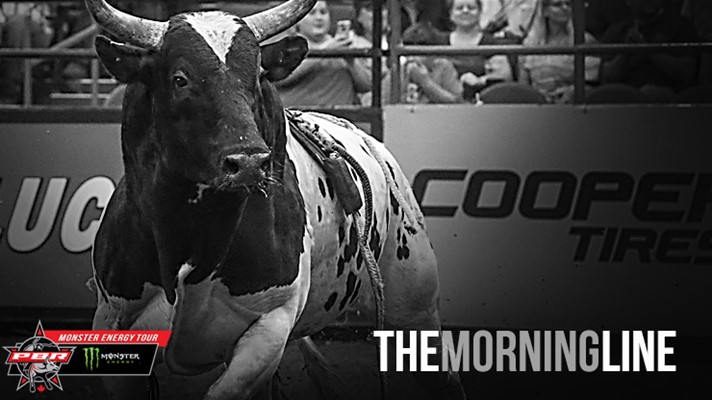 CALGARY, Alberta – Over the next three days the legendary Ranchman's Cookhouse and Dancehall will host one of the nation's most recognizable events – the Ranchman's PBR Charity Classic.  
An intimate setting, great music, and some of the best bovine and cowboy athletes in the world make for an electric show that will have fans buzzing from start to finish.  
The first two days feature a $20,000 purse in a format which showcases two rounds each night and 50 contestants. A total of 25 bull riders compete in Round 1 each night with the Top 10 advancing to the championship round. At the end of Wednesday evening, the top aggregate score on two bulls wins the event.  
Another unique element of the event, Monster Energy Tour points will be awarded. That means on Wednesday night the top man will take home 170 world points and a potential of 550 Canadian points. On Thursday there are another 170 world points on the line, $25,000 in added money and a $25,000 bonus to the event champion. When you include Monday night's stop in Cluny, and the Friday night event from Edgerton this is one of the most lucrative weeks in PBR Canada competition.
Along with great bull riding action Ranchman's PBR Charity Classic supports many great causes throughout the week. Tuesday and Wednesday nights' event is in joint support of The Society for Treatment of Autism and Junior Achievement of Southern Alberta.
RELATED: Click here for the full Tuesday daysheet.
Coy Robbins vs. 497 Mr. Legit
The 2017 PBR Canada Rookie of the Year is starting to find his groove, coming off a fourth-place finish in Medicine Hat. A hot start to Cowboy Christmas means Robbins is getting it rolling at the right time of the year. His first matchup of the week is Mr. Legit from Nansen Vold. Looking at ProBullStats.com this bull has yet to be ridden in PBR competition. This may prove to be a tall task for the Camrose, Alberta cowboy but my money is definitely on Coy.
Dakota Buttar vs. 540 Swagger
The No. 5-ranked rider in the nation and the No. 34-ranked cowboy in world, those are the positions Dakota has rode into since returning from a near season-ending shoulder injury. He appears to be as confident as ever and I am excited for what he is going to accomplish with so many events coming up. Swagger is another bull from the Vold Rodeo pen. Despite having just a handful of outs on the books, I would be silly to not have Dakota included in my picks for this event. With as good as he is riding now he is a big time threat to win it all this week.
Zane Lambert vs. 51 Smash
Zane has had a pretty tough stretch of events over the past month; he finds himself No. 8 in the nation and 1,186.24 points behind No. 1 Jared Parsonage in the standings. I watched the Ponoka, Alberta man make a textbook Zane Lambert bull ride over the weekend in Airdrie, Alberta and that should be what gets the ball rolling for him this week. He has drawn a really cool bull from the Skori family called Smash. This is a great matchup for Zane and we will no doubt see him back for the Championship Round.
Marcos Gloria vs. 56 James Bond
The 2018 Calgary Stampede Champion is back in town and looking to pick up right where he left off. Marcos has struggled a bit at the PBR level, but he is never a guy you can count out. He is matched up against James Bond from the Wild Hoggs crew, a relatively new bull in their pen. James Bond bucked off fellow Brazilian Italo Aguilar Goncalves earlier this month in Moose Jaw, so I'm sure Marcos will be looking to get revenge for his travelling partner.
Doors for the first night of Ranchman's PBR Charity Classic open at 4:00 p.m. MDT with PBR action getting underway at 7:00 p.m. MDT. Tickets are still available at Event Brite.  
For those who aren't in the Calgary area, the Ranchman's PBR Charity Classic will be streamed LIVE on RidePass each night starting at 7:00 p.m. MDT. Tune in at RidePass.com or via the mobile app.
Be sure to stay tuned to PBRCanada.com for the latest event information, and follow the team's journey on Facebook (PBR Canada), Twitter (@PBRCanada), and Instagram (@PBRCanada).