PBR Canada Championship Propels Swearingen to Career-Best Payday
By: Ted Stovin Wednesday, November 27, 2019 @ 12:12 PM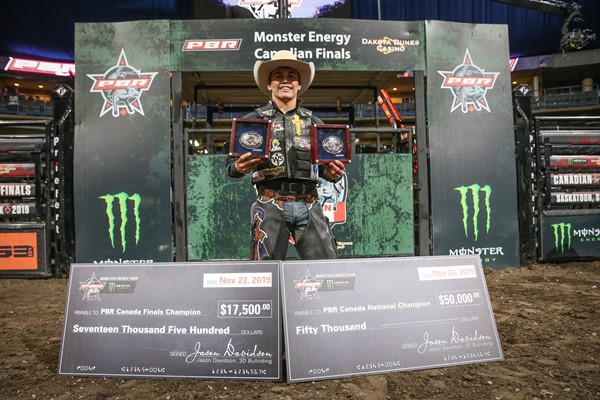 CALGARY, Alberta – It only took him a total of nine events on Canadian soil to win the 2019 PBR Canada Championship, but 20-year-old Daylon Swearingen made every one of them count.
Managing four different schedules, the New York-native successfully juggled his way not only to the 2019 PBR Canada Championship but also National Intercollegiate Rodeo Association Bull Riding Championship.
If that's not enough, he also became the youngest man to ever qualify for both the PBR World Finals and Wrangler National Finals Rodeo in the same year.
"I know for me it was really cool to win one of them big cheques," Swearingen said moments after winning the 2019 PBR Canada Championship. "This is my first big cheque I've ever won so I thought that was cool cause I get to hang that up some day in my workout room and I'm pretty excited about that."
RELATED: Daylon Swearingen Crowned 2019 PBR Canada Champion
At the 2019 PBR Monster Energy Canadian Finals, presented by Dakota Dunes Casino, three different bull riders held down the No. 1 spot in the nation throughout the weekend's competition. However, Swearingen, who began the event ranked No. 4, 689.57 points back, held it at the most crucial time, after the last bull bucked.
RELATED: Swearingen Ready to Pursue Once Unthinkable Canadian Dream
"I'm blessed to have this opportunity to come up here and do it," Swearingen said. "Like last year coming to this Finals, Lachlan [Richardson], he was about to win and there was just a lot of pressure there. This year was just a big race and it was exciting."
For Swearingen, who went a perfect 4-for-4 to also win the Canadian Finals, it was the event victory that allowed him to edge out No. 2 Dakota Buttar by 450.42 points.
While Buttar won both Round 1 and 2, a pair of buck offs on Sunday left his fate in the hands of three-time Canadian Champion Aaron Roy, and Swearingen. After Roy went 3-for-3, he entered the championship round second to Swearingen in the aggregate. Buttar needed the Canadian legend to win his second Finals in order to remain No. 1.
Swearingen, however, had a familiar opponent in Tykro Pound Sand who had previously propelled him to victory.
"That sucker has been good to me and this is kind of what would cut us even," Swearingen explained. "We were about to be neutral, cause this is our fourth time getting on him.
"The first one went really good, I rode him really good."
In that ride, the score was 88.5 points, good for second place in Moncton, New Brunswick in 2018.
Error loading Partial View script (file: ~/Views/MacroPartials/RichtextEmbedVideo.cshtml)
"The second time he bucked me off and dropped me down in there," Swearingen said of the trip in Halifax this past June when he was bested in 7.76 seconds.
Error loading Partial View script (file: ~/Views/MacroPartials/RichtextEmbedVideo.cshtml)
"The third time he dropped me down in there right at the end," he told of his 86.5-point effort on the World Finals bucker which still won him the event in Edmonton in October on the Monster Energy Tour.
Error loading Partial View script (file: ~/Views/MacroPartials/RichtextEmbedVideo.cshtml)
"This time I felt like I just kept moving to that outside and just kept kicking loose and he didn't drop me down in there and I knew he was gonna buck. He was just, you could see in the back that he wanted to go, he was feeling good."
Facing a familiar foe didn't go the way of Buttar. With the first pick in the Round 3 draft he took Grey Tower III, the same bull he began his title run on in Moose Jaw, Saskatchewan, riding the bull for a season-high 89.5 points. In Round 3, Buttar was sent to the ground in 2.01 seconds, opening the door for the contenders. And the door was left wide open following his 2.44-second buckoff of White Tie in the final round.
Swearingen, however, wasn't sure the rematch with Pound Sand was in the bag.  
Error loading Partial View script (file: ~/Views/MacroPartials/RichtextEmbedVideo.cshtml)
"Sometimes I've felt so comfortable on bulls that I get complacent and then I'm not working hard to do what I need to do," he said. "So you just have to go at 'em. He could change and do any kind of trip he wanted to. I just ride the bull for the day and not for past experiences because there you definitely don't care about the past and they care about the present."
As the last man out of the chutes, Roy heightened the pressure for Swearingen, in going 4-for-4. For Swearingen to win the $50,000 bonus, he needed to win the event title, which meant covering Tyko Pound Sand for a big score.
"I wasn't listening, but it was kinda just like, 'OK, now it's my time to do it' and it kinda just fired me up," Swearingen said. "You have to capitalize on opportunities. I didn't know what it would come out to, I just knew if I did what I had to do, then it would all just work out and God had a plan."
For Swearingen, the fourth out went his way, for 89 points, launching him to the PBR Canada Championship.
Spurring every bull he got on in Saskatoon, Swearingen went at the event trying to win, rather than not lose.
"I think spurring like it really helps me to keep moving," he said. "Sometimes I get to ridin' a bull and I just get sittin' there and it's so easy that I think for a second and the more I keep moving I'm not thinking, I'm just reacting."
In the nine events Swearingen came to on Canadian soil, he earned three wins between Saskatoon, Edmonton and London, Ontario. Three second place finishes in Winnipeg, Moncton and Halifax and a third-place result in Medicine Hat. London initially propelled him into the PBR's Top 35 to give him a seat on the elite Unleash The Beast.
RELATED: Photo Finish Propels Swearingen Into Top 35
"I enjoy coming to these events up here, especially the ones out east," Sweaingen said. "I feel like I rode close to home, like we drove to some, it's just fun. I mean, the guys do that out here for so many of the events so I do it out there when I can, you know."
As only the third American to win the PBR Canada title, Swearingen joins Montana's Beau Hill from 2009 and North Dakota's Stetson Lawrence from 2014.
Swearingen is not the first elite bull rider to emerge from New York, PBR founding member Bobby DelVecchio grew up in the Bronx.
 "I just I hope the younger guys know that if they get out of their comfort zone they can, there are other bull riders that are good enough to go, but they just do go because they get in their comfort zone."
Follow Ted Stovin on Twitter @TedStovin