PBR Unleash The Beast Preview – Greensboro
By: Kacie Albert Saturday, October 12, 2019 @ 8:27 AM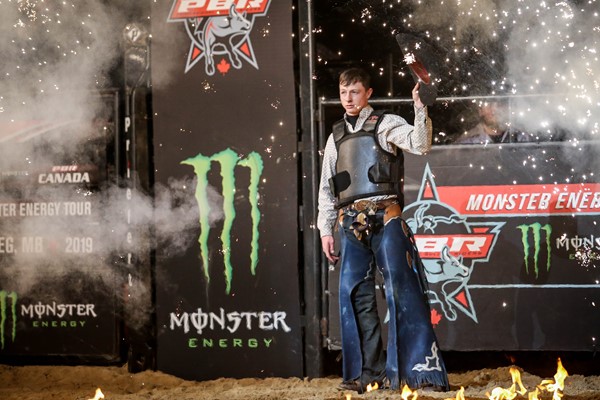 GREENSBORO, North Carolina – For Shay Marks, his first season back since undergoing reconstructive shoulder surgery in 2017 has been full of numerous personal bests.
Winning his first event back at the season-launch Monster Energy Tour event in Winnipeg, Manitoba, the Sunnybrook, Alberta native briefly held the No. 1 ranking in Canada, and has since been a top contender for the national title and accompanying $50,000 bonus.
With only a handful of events remaining on home soil prior to the 2019 PBR Monster Energy Canadian Finals, presented by Dakota Dunes Casino, on Nov. 22-23 in Saskatoon, Saskatchewan at the SaskTel Centre, Marks is currently No. 3 in the national title race, a mere 480 points behind No. 1 Dakota Buttar.
This weekend, however, Marks will shift his focus to actualizing another one of his dreams – qualifying for the first PBR World Finals of his career – as he prepares to compete for the third time on the elite Unleash The Beast in Greensboro, North Carolina.
Currently No. 46 in the world, Marks is a mere 334.16 points outside of the Top 35 and a berth to compete at the sport's most prestigious event.
The 23-year-old made his premier series debut in 2014 in Billings, Montana, but recently returned to the sport's top tour for the final Major of the season in Nashville, Tennessee this August.
In Nashville, a progress-elimination formatted event, Marks was bested by Red Snapper in 4.81 seconds, ending his event quick.
Despite the trips stateside, however, Marks will be on the hunt for his first Unleash The Beast ride when he steps boot inside Greensboro Coliseum having gone 0-for-4 through his first two appearances.
Awaiting him in Round 1 of the Greensboro Invitational is Heartbreak Kid, who he is seeking a record of his own as he hones in on Bushwacker's all-time record of consecutive elite series buck offs.
With the legendary bull leading the PBR with 42, Heartbreak Kid has yet to be ridden in 37 consecutive outs on the premier series. In 66 outs on record for Heartbreak Kid, the D&H Cattle Co. bovine athlete has been ridden just once. The qualified ride came early in Heartbreak Kid's career, during his fourth PBR out, and was recorded by Luciano de Castro in Jan. 2017 for 75 points.
Since, the bovine athlete has been unstoppable.
In a grudge match, the bull earned his most recent buckoff in Springfield, Missouri when he dispatched Castro in 5.65 seconds to earn a 43.75-point bull score. While Castro was unsuccessful in their most recent meeting, thus far in 2019, he has come the closest to ending the bovine athlete's impressive buckoff streak. Matched-up in the championship round of the Albuquerque event, despite a valiant effort by Castro, Heartbreak Kid got the better of him, sending the Brazilian to the dirt at the 6.12-second mark.
Heartbreak Kid is currently No. 5 in the World Champion Bull race, 0.75 points behind No. 1 Smooth Operator.
While fellow Canuck Buttar is ranked inside the Top 35, currently No. 26, Marks will be the lone Canadian in the draw as Buttar remains on the sidelines this weekend after aggravating a right groin injury in Minneapolis which he initially sustained in February at the 2019 WinStar World Casino & Resort Global Cup USA, presented by Monster Energy.
"Just being cautious," Buttar said of staying home. "At the Global Cup earlier this year it was bothering me, and went away after couple weeks and kind of flared up a bit on that bull on the weekend. Don't want to push anything this close to Finals."
The Greensboro Invitational will get underway with Round 1 on Saturday, October 12 at 6:45 p.m. ET, concluding on Sunday, October 13 at 1:45 p.m. ET with Round 2 and the championship round.
CBS Sports Network will broadcast all the action from Championship Sunday, including Round 2 and the championship round, on Sunday, October 13 at 6:00 p.m. EDT.
Fans will be able to watch the action in its entirety live via PBR's new streaming digital platform RidePass. Round 1 will be broadcast exclusively on the platform beginning at 6:30 p.m. EDT on Saturday, October 12. The listen live stream of Round 2 and the championship round will begin at 1:45 p.m. EDT on Sunday, October 13. 
Be sure to stay tuned to PBRCanada.com and follow the tour on Facebook (PBR Canada), Twitter (@PBRCanada), and Instagram (@PBRCanada) for the latest results.