Built Ford Tough Top 50: Canadian Born Bad Touch Retires Having Never Been Ridden
By: Kacie Albert Wednesday, April 22, 2020 @ 3:56 PM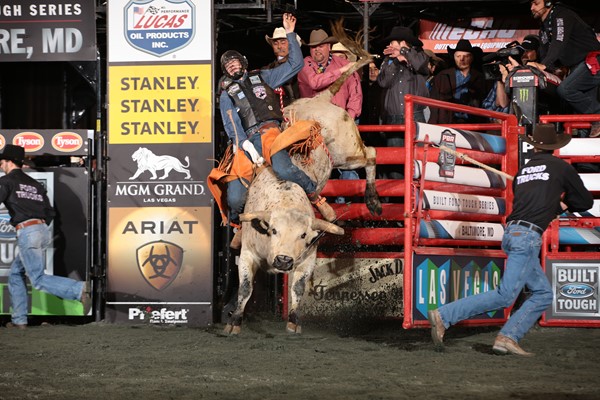 NEW YORK CITY – In sports, it is rare for an athlete to retire undefeated. While some may amass perfect seasons, or games, it's an uncommon feat for that streak to last the entirety of their career.
In 2019, however, PBR bore witness to one of the league's bovine athletes achieving that career milestone.
With 50 outs on record according to Pro Bull Stats, Bad Touch retired this past October having never been ridden, with 34 of those buckoffs earned consecutively on the elite Unleash The Beast.
"Christy (McElroy) and I are content and happy that he is undefeated," Kenny McElroy of K-Bar-C Bucking Bulls said. "There aren't a lot of guys in this country that can say that about their animal. We feel pretty blessed."
While Bad Touch has called the Ohio-based K-Bar-C Bucking Bulls home since the conclusion of the 2014 season, he's originally from Elnora, Alberta and Flying High Rodeo.
RELATED: The Bad Touch
 "When I first bought that bull, he just caught my eye," McElroy said. "That bull was on the right-hand delivery when I first saw him buck and he was just really strong and kicked like he normally does. 
"I thought, 'Why is nobody even talking about this bull or wanting him?'"
Bad Touch made his PBR debut in February 2014 and the Touring Pro Division in Lethbridge, Alberta. His first trip ended in a swift 2.1-second buckoff of Tim Lipsett.
After making quick work of his next opponent, besting Matt O'Flynn in 1.75 seconds in Paradise Valley, Alberta four months later, Bad Touch made his Calgary Stampede debut. At the "Greatest Outdoor Show on Earth," the big, white bull sent Wesley Silcox to the ground in a swift 2.5 seconds.
After on more out on Canadian soil, Bad Touch travelled stateside, recording one trip in Locust Grove, Oklahoma, before he travelled to Las Vegas for the 2014 ABBI World Finals.
It was that 2.68-second trip with Josh Birks that caught McElroy's eye.
"I got with BJ Tolman, who was actually holding the bull for Lorne here in the states," McElroy detailed. "BJ told me then, 'I'm telling you that that bull is going to be something. I'd love to see you have him on your truck versus anybody else. That bull is just going to get better and bigger.'" 
And better and bigger is right.
In 2015, Bad Touch made his premier series debut in Baltimore Maryland, matched up against fellow Canadian Tanner Byrne.
In the all-Canuck out, Byrne was bested by the powerful bull, bucked off in 2.93 seconds as Bad Touch earned a 41.5-point score.
Returning to the elite tour six more times during the regular-season, Bad Touch was notably tapped to buck at two of the three inaugural Majors held that season.
In May, he competed at the second-ever major, the Last Cowboy Standing in Las Vegas, making swift work of yet another Canadian, this time dispatching Aaron Roy in 1.41 seconds to earn a 42-point score.
Three months later, Bad Touch was in Nashville for the third Major in history.
Paired with Cody Nance, the Tennessee cowboy took Bad Touch to the 7.13-second mark in what would become the second-longest trip every recorded aboard the bull in his career.   
Bad Touch's first Unleash The Beast season culminated with his career-first selection to the PBR World Finals. Bucking in Round 4, his year concluded with a 1.57-second buckoff of Mason Lowe.
"He throws those guys off so fast and he's really a strong," McElroy said. "He's got a lot of power. He's a bull that just takes every bit of strength that they got, and he just takes it away from them.
"He's just so strong and powerful, and he's not a little bull. He probably weighs 1,800, 1,900 pounds. He bucks the same trip every time. There's nothing ever different about him. He just throws raw power at 'em. And he reminds me of a lot of my bull Mississippi Hippie where he was just so big and strong that it's hard for them to just get a hold of him." 
Selected to buck at the World Finals again in 2016, Bad Touch failed to qualify in 2017, before returning to Sin City again in 2018 where he earned two trips, out in Round 2 and Round 5.
In fitting fashion for the bull's career, Bad Touch's final season began in all-Canadian fashion. Drawn by Dakota Buttar in Round 1 of the elite tour stop in Chicago, Bad Touch logged his 27th consecutive elite tour buckoff, and 42nd overall, when he bested the Saskatchewan rider in 6.33 seconds to earn a 43-point score.
As Bad Touch continued to inch upon the all-time buckoff record held by Bushwacker of 42 elite tour outs, he nearly saw his streak snapped when he matched up with Ryan Dirteater in April in Columbus, Ohio.
With the clock nearing the 8-second mark, Bad Touch defied Dirteater the qualified ride when he bested him at 7.7 seconds.
After recording three more trips, Bad Touch's career then came to an end in Minneapolis, Minnesota five months later, when he bucked off Brady Sims in 3.92 seconds.
RELATED: K-Bar-C Bucking Bulls to Retire Bad Touch
Bad Touch's 34 consecutive buckoffs on the PBR premier series is tied with Mick E Mouse for the fifth-longest streak in PBR history. He was nine buckoffs shy of eclipsing the all-time record.
"If we would have done it, it would have been great," McElroy said. "Maybe I wouldn't have retired him if I only had a few outs left to do it. He missed three outs he could have had this year. If I only needed three or four, I probably would have bucked him because he loves the cold. He doesn't mind going to Chicago and those places.
"Christy (McElroy) and I are content and happy that he is undefeated. There aren't a lot of guys in this country that can say that about their animal. We feel pretty blessed."
Throughout his career, while his bull score never surpassed 45 points, he managed to stump the likes of five World Champions, a collective 11 times -- three-time World Champion Silvano Alves (twice), 2008 World Champion Guilherme Marchi (twice), 2004 World Champion Mike Lee, 2016 World Champion Cooper Davis and 2018 World Champion Kaique Pacheco – and two PRCA champions – Cody Teel (three times) and 2007 PRCA champion Silcox.
Now in his first full year of retirement, it is sure to only be a matter of time before we see his sons on the elite Unleash The Beast.
"I got some calves out of him that I think are going to be really, really good," McElroy said. "We are just playing it by year, and I bred him three years in a row now. I bred him to my good set of cows down here, and I bred him to some Page-bred cows that I am partners on."