Lakevold's Recovery Continues as He Walks In Arena at Monster Energy Tour Event in Lethbridge
By: Covy Moore Thursday, March 19, 2020 @ 5:11 PM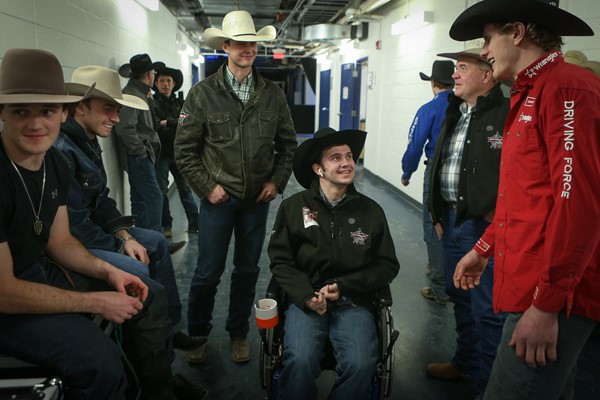 On July 12, 2019, the Canadian bull riding community got word of an incident during the Lloydminister Touring Pro Division event – rising star Klayton Lakevold was transported to hospital with life-threatening injuries.
Amidst the annual, intense, summer slate of events, the entire community paused, holding its breath as they prayed for the young cowboy.
With Lakevold's family never leaving his side, 249 days after his incident, he returned home March 18.
While his rehabilitation is far from over, Lakevold, who has been known as "Mouse" due to his smaller stature, says he is ecstatic to be home.
"It is damn good to be home. Feels really good to back to normal life for a little bit," he said from his Provost, Alberta home.
His homecoming was preceeded by an appearance at the PBR Canada Monster Energy Tour's recent stop in Lethbridge, Alberta, where he presented event winner Dakota Buttar with his buckle, rising from his wheelchair with the help of fellow cowboys Lonnie West and Todd Chotowetz.
Mouse admitted that while it was cool to attend the Monster Energy Tour event, being able to walk out onto the dirt to present Buttar with the event winner's buckle was an honor.
And that honour came back, as Buttar ensured that the buckle went home with Lakevold that evening.
"It was awesome," Lakevold said. "[Jason Davidson] told me to come down, and I ended up giving the buckle out too which was awesome."
"[The buckle is] already on my shelf. Giving that buckle was special to me. Dakota has been kicking ass, which is rightfully so. He tried the hardest, and it really pays off for him."
The entirety of the weekend was filled with conversations with what can only be described as one of the tightest-knit communities in professional sports.
Not a single bull rider walked past Lakevold without stopping to say hello. Almost celebrity status among the bull riders.
"It was good to see everyone. They are all still doing what they love, so that's good. Nothing has changed. The only thing that has changed is that I am not there riding, I am there watching now."
Lakevold's father Darcy spoke on behalf of his family and shared some of the positive and incredibly tough moments they have been through.
He, however, maintained they are as proud of their son today as they were when he split a round win with Wacey Finkbeiner earlier in the summer in 2019 at a rodeo event in Calgary.
"We spent a lot of time talking, supporting each other and sitting with Klayton. It's been a very emotional and scary time for all of us. We never got too far from the hospital," Darcy said.
"His no quit attitude and strong will to recover keeps us all going. He has kept his same try-hard mentality throughout all of this. He also has remained positive and happy throughout, always saying 'hello, how's your day?' to others in the halls, making his therapists laugh and smile, and being cordial to everyone."
And that sense of humour is fully intact, as Klayton recalled a scary ,turned funny story from a PBR event in June of 2019 where he found himself being flung across the arena by Sawyer Pro Rodeo's bull Easy to Love.
"I was riding him for a little but, then I wasn't, obviously," Lakevold said. 
"Then he gave me a little bit of a shit kicking. Tossed me in the air a bit. I thought 'oh frick.' I got running from him along the chutes there, but it was a long way from the fence. So I turned and he was there, and he gave me a bit of a boost. He was really "easy to love.""
Darcy shared some of the milestones for the young bull rider during his recovery, going from being in a coma, to being able to move from a bed to standing on his own, among many other wins along the way.
"Doctors told us his chance of surviving was very slim. People that experience this type of injury very seldom survive, let alone have any quality of life. Klay has beaten the odds, he is in that 1%," Darcy added.
Now that he is home for the foreseeable future, Lakevold said his plans are to continue to work hard in his recovery, and now with access to a computer, he plans on watching PBR's RidePass and enjoy meals that are not what he calls, "a blender special."
Spending the last 249 days at the Halvor Johnson Centre for Brain Injuries in Ponoka has been a blessing according to Darcy, who said the staff at the facility are incredible, but especially for putting up with his witty, one-liner loving son.
When asked what his message to the Canadian bull riding community is, Lakevold put it pretty bluntly.
"This is stuff you can't take lightly. It can happen in the blink of an eye to anyone of us. I found that out the hard way," he said.
"Take it serious, it's not tea parties. It's bull riding, so take it seriously. You need to be all in or all out."