Ashton Sahli Excited for Hometown Cup Series Event
By: Covy Moore Thursday, June 9, 2022 @ 9:17 AM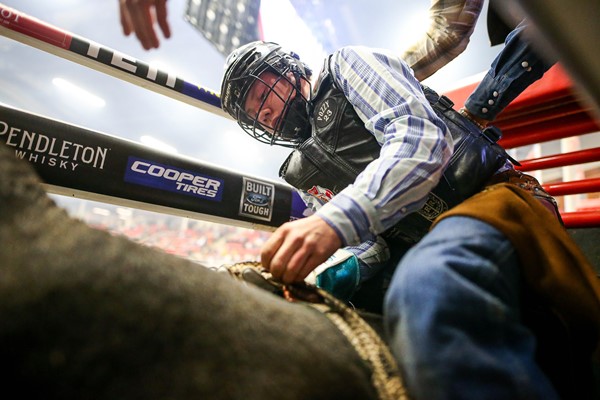 AIRDRIE, Alta. – This Saturday, Red Deer, Alberta will host the season-launch event for the 2022 PBR Canada Cup Series, presented by Wrangler, at Peavey Mart Centrium.
Known as the home of the Canadian Finals Rodeo, Westerner Park will welcome the biggest stage in professional bull riding in Canada when 30 of the country's top bull riders take on the 30 rankest bucking bulls in the nation at the PBR Red Deer Classic, presented by Tsunami Water Solutions.
And sophomore Canadian contender Ashton Sahli will not only be competing as one of the men tasked with besting the rest, but also so happens to be the son of Adrenaline Bull Riding's Jeff and Andria Sahli, an integral force in the team bringing the event to Red Deer.
"It is super cool having mom and dad doing it for so long," Sahli began. "I was always a part of it growing up, and now I am at the point where I can be getting on at these events, it's pretty special. And to have it be one of our Cup Series events, the biggest ones we are going to have in Canada, you can't really beat it."
While not dissimilar to the events the Sahli family and their partners have previously brought to Red Deer, the PBR Canada Cup Series, presented by Wrangler, is unrivalled in Canada.
Coming off his first PBR Canada event win in 2021, in Yorkton, Saskatchewan, Sahli said the start to his 2022 has been positive and is looking to build on the success he saw last season.
"I am feeling pretty healthy right now and have had a pretty decent start to the year so far," Sahli explained. "Last year I dipped my toes in to see if I could do it, and I had a really good year, getting a win and making Finals." 
"Obviously I am looking to go bigger and better this year though, chasing that No. 1 spot this year. There are no doubts I can be there."
Sahli added that in his career, it doesn't matter if he is riding at home in front of family and friends or down in the United States, he leaves it all in the arena, every time.
"I always put it all out there no matter where I am. The goal is going to be the usual, keep my hand shut and get my bulls rode no matter what. Then we will see where the chips fall."
Sahli travels with a group of other young bull riders from Canada, and it is well documented that this group of young guns in the sport are working each and every day to better the other.
Travelling partner Tanner Eno was a part of planning and executing his own home event last season and ended up taking the win. Challenged with his own competitor and travelling partner's success in a similar situation, Sahli admitted that there may be a wager in the van regarding that exact fact.
"We've got something brewing, there is a little bet going on," Sahli said. "We have to save it for later though, but we have something special on the go."
With just a few short days remaining until the first chute gate bursts open, the buzz in Red Deer is palpable, according to Sahli. He says it has been the talk of the town since it was announced that the PBR was coming to town, earlier this year.
"All my buddies and family, everyone around here is talking about it. I grew up here, so I feel like I know everyone, and they are all talking about the fact it's the PBR this year, not just any bull riding."
"Get your tickets as soon as possible, we are going to be packing the Centrium this year!"
The bull riding action for PBR Canada Cup Series' Red Deer Classic, presented by Tsunami Water Solutions, begins at 7:00 p.m. MT on Saturday, June 11.
Tickets for the event are still available and start at $30, standard fees may apply. They can be purchased online at TicketsAlberta.com, at the Westerner Park Box Office, or charge by phone at 1-866-340-4450.
Stay tuned to PBRCanada.com and follow the tour on Facebook (PBR Canada), Twitter (@PBRCanada), and Instagram (@PBRCanada) for the latest event and broadcast schedule, results, news, stats and more.