Blake Smith Eyeing Canadian Championship in 2022 Campaign
By: Covy Moore Tuesday, June 21, 2022 @ 7:14 PM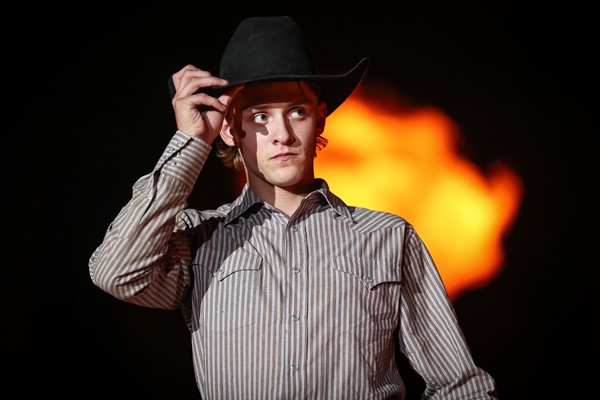 AIRDRIE, Alta. – There has been a surge from Abbey, Saskatchewan's Blake Smith in 2022.
Kicking off the year splitting the win at the first PBR Canada Touring Pro event in Lloydminster, Saskatchewan, followed up by a successful year on the Pendleton Whisky Velocity Tour parlayed into signing with the Austin Gamblers, his trajectory is obvious.
In making his return to PBR Canada competition, the young bull rider earned him a walk off win at the PBR Canada Cup Series, presented by Wrangler Mazergroup Chuteout in Brandon, Manitoba.
RELATED: Flawless Blake Smith Wins Career-First PBR Canada Cup Series Event in Brandon, Manitoba
Going 2-for-2 against X6 Ranches' Confused Mind, then picking up a score against Lazy S Bucking Bulls' Crossfire's Black Jack, Smith claimed his first ever PBR Canada Cup Series, presented by Wrangler, event win.
Adding to the significance of his accomplishment, Smith did it the day after making his PBR Team Series debut for the Austin Gamblers in Bismarck, North Dakota.
"After I got my bull rode in Bismarck, I was 10 feet tall and bulletproof," Smith said. "It didn't matter what they were going to run under me, I was feeling so good. I had a bull from Lindsay Carlier, I will never ever complain about drawing out of his pen. The X6 bulls are awesome."
"I didn't know a lot of them into that second round," Smith continued. "I knew that Langham Kid because I got on him a few weeks earlier, the heavy hitters like Happy Camper and Catch My Drift and bulls like that. I drove up with Coverchuk from Bismarck and he was showing me videos of Crossfire's Black Jack, he looked so sweet.
"Before the second round I asked him if I could grab that bull, or if he wanted to kill me for taking it from him. He was more than willing to help me out and let me take that bull. I knew I would be staying on him…but then I just about fell of him at the end."
And it was a tense couple of minutes for the Saskatchewan native, as the ride needed to be reviewed after his 8-second effort was cut very close.
"I was in panic mode pretty bad when I got off and saw the time," Smith explained. "I was too excited, maybe a bit too wound up before that one. The event ain't over till it's over. I forgot to hit the button, I forgot they had that, fortunately they looked at it for me."
"I was just sitting there, thinking I hadn't made it. You don't often see guys gain time when they hit the button and the clock is red. I am not complaining one bit. After watching it a few times, I am pretty sure I made it, just got out of position really bad there at the end."
Smith says that there has been no question that his riding has improved over the past seven months, with a ton of opportunities throughout the year in the United States.
"I just can't help but be having so much fun with it," Smith explained. "I have had so many good opportunities down south, getting on this team. Everybody is pumping my tires and I am feeling so good. I am getting to that point again where I remember how much fun winning is. Bull riding is fun, but winning is so much more fun and I am trying to keep that rolling."
"Canadian Champion is the biggest goal," Smith said of his aspirations for the season. "I am riding in the King of the North events that Chad Berger is putting on, the team deals, the PBR Canada Cup events, I have even done some CPRA events. I am kind of all over the map, but there is no questioning that I want to be the PBR Canada Champion. There are other goals amongst that, but that is the big one."
Despite a busy PBR Teams schedule, he says he has been up front with his team about his aspirations this year, and that the squad is supportive and ready to work with his schedule to maximize opportunity.
"They are so good about it," Smith said of the Austin Gamblers. "I was talking to them about this stuff, and they said their goal is for me to make as much money as I can. If there is more money somewhere else, they will take me out of the lineup, but if the team event is priority, I'll be there too."
"It's been a great opportunity to grow and improve on myself, and there is much you can ask for as a young bull rider. It's not like stuff happens overnight, so I am taking these opportunities one at a time, riding a lot of bulls and things seem to be getting better and better."
As for tomorrow's PBR Canada Cup Series event in Regina, Saskatchewan, the first of its kind, Smith said it's just time to go out there and do his job.
"I am not going to put too much thought into this one, just let my body get it done. I don't have an intention of letting off the gas one bit." 
"Number one is where I have my eye, and I want to get that then work on building a lead. I am going to put on a show everywhere I go and have fun with it."