Coy Robbins' Dual Title Hopes Gain Momentum Heading into '23 Fall Run
By: Covy Moore Wednesday, August 30, 2023 @ 9:39 AM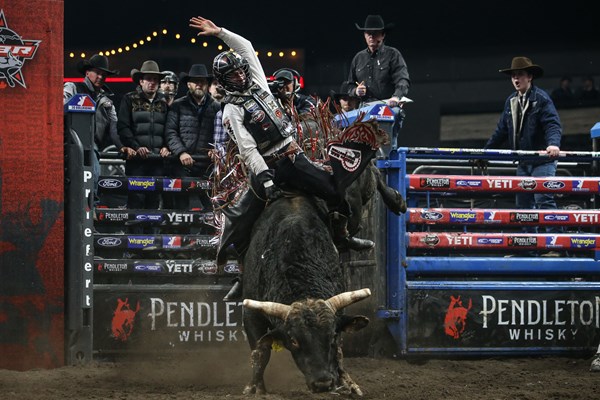 AIRDRIE, Alta. – Coy Robbins won the Canadian Touring Pro Division's Les Supernant Memorial Bull Bash this past weekend in Bowden, Alberta, solidifying him into the No. 3 rank overall in the PBR Canada national standings.
After a summer run in which the Camrose, Alberta, cowboy was having to pick and choose between CPRA and PRCA events alongside the PBR in Canada, Robbins said that things are falling into place.
With the goal of taking home both the PBR Canada Championship and the Canadian Professional Rodeo Association bull riding title in the same year, it hasn't been a slow schedule for the contender.
"It was really good to get the win there in Bowden and climb another spot amongst the wolves," Robbins said. "All these guys at the top are riding really well and it's a really fun race on both sides."
"It's the same as the beginning, take hold of both associations and try and get two Canadian titles in a year. One event, one bull at a time. Rolling into these Cup events, I am not too concerned about being first in this fall run, but I want to be within reach of Nick [Tetz] there. One by one try to climb my way to the top of the standings before Finals."
Having attempted dozens of bulls across both circuits, Robbins said he is grateful to be feeling as good as he does at this point in the year, but attributes the team in his corner for keeping him in tip-top shape.
"I feel pretty good all things considered," Robbins explained. "A guy gets jacked up with as many bulls as you get on, but it's about having that team in your corner. Acumen is a huge help for me."
"Last weekend I was pretty sore coming out of there, went into Acumen Performance and got worked on, threw some weight around and I feel great rolling into this weekend."
With the goal of taking home two titles in Canada this fall, Robbins said he has been picking and choosing the events that will help him accomplish those goals more so than just chasing the biggest purses.
"Last year I was chasing goals but was chasing money as well. This year I have thrown everything out the window aside from that one goal, and I am sticking to that. I am going where I need to best my chances of achieving that goal."
"That is something a guy has to figure out, your goals and the steppingstones to achieving them, and sticking to those," Robbins added. "I have been doing that this year and it has been paying off."
With a busy schedule remaining in 2023, there are two Robbins has his eye on.
"The Ty Pozzobon event in Calgary. I think it will be a really unique event that I was excited to see on the schedule this year. Saskatoon too, it's been one of the 'Ogs' for me. First PBR Canada Finals I made, the crowd is always great, the venue is great and the bulls always buck there."
With Arizona Ridge Rider standout Tetz leading the standings, followed closely by two-time PBR Canada Champion, and newly inked Oklahoma Freedom rider, Cody Coverchuk, in addition to annual contender Dakota Buttar sneaking his way up the standings, Robbins says the intensity of the PBR Canada competition in 2023 is making him a better rider.
"I love it man. That is what competition is and what breeds success. I eat it up. It has been awesome this year on both spectrums. Used to be back in the day the same few guys might be winning, but this year it can be anyone's event."
"Watching the PBR Canada standings, Nick is winning, Cody is winning, Dakota is plucking away and sneaking wins in. I eat it up, I thought I better watch out when I get back rolling in Canada."