Breaking Down the 2023 PBR Canada Championship Race – Bubble Watch
By: Covy Moore Wednesday, September 13, 2023 @ 10:50 AM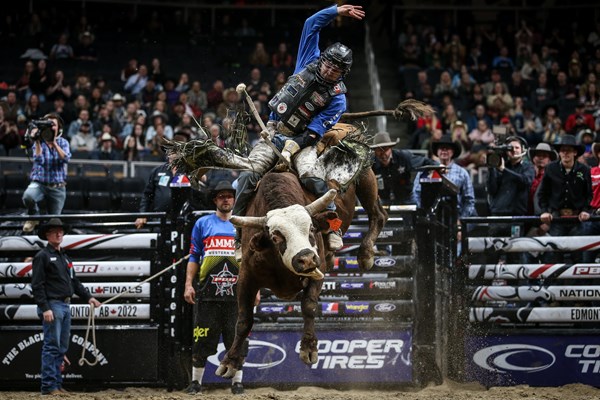 AIRDRIE, Alta. – The race for the PBR Canada Championship always proves to be a battle amongst giants in our sport.
But in 2023. the entire field of contenders have put it on the line to simply qualify for this year's National Finals.
Nick Tetz, Cody Coverchuk, Coy Robbins, Dakota Buttar and Aaron Roy have solidified their place atop the standings, but an interesting host of players are fighting tooth and nail to walk across the stage at the Ty Pozzobon Foundation Dinner, the annual kick off to the PBR Canada National Finals.
Among those contenders is Weston Davidson, currently No. 15 in the standins. Since claiming his first PBR Canada event win in 2022, Davidson's season has been a bit of a battle. With a good smattering of runner-up finishes across the schedule this year, highlights have been podium finishes in Maple Creek, Saskatchewan, Camrose, Alberta and Dawson Creek, British Columbia.
He has campaigned hard in 2023 with 37 events under his belt, the most of any ranked outside of the Top 10. His riding has shown to be well improved and the expectation to be getting his bulls ridden is evident.
Two names in the race to qualify for the 2023 PBR Canada National Finals, and arguably the most surprising for many are No. 16 Jake Gardner and No. 18 Brock Radford.
Both of these riders have had reasonably good seasons so far.
Gardner has to ride to a win in 2023, but seemingly no matter which event he enters, he logs a qualified ride, while also earning a cheque and some national points. His third-place finishes in Red Deer and Stavely, Alberta have been highlights of the season for the British Columbia native. Having ridden to past PBR Canada Cup Series wins, many are expecting a late season lunge from Gardner.
The situation for High River, Alberta's Radford has been similar to that of Gardner's.
Much like 2022, Radford has found the beat in the later portion of the bull riding season. With a runner-up finish in Kelowna, BC, in July, the expectant father is heating up.
The PBR Canada Cup Series returns to action in late September in Grande Prairie, Alberta, with a host of events scheduled across Alberta and Saskatchewan the remainder of the year. These events will offer up hundreds of points, giving perennial title contender Radford the opportunity to be a big mover in the final push to the title.
The last of the contenders currently within the cutoff to make the PBR Canada National Finals are No. 19 Cody Fraser, and No. 17 Griffin Smeltzer.
One of the biggest surprises of the 2023 season has been the efforts of newcomer Fraser.
The Australian native in his first full year of PBR Canada competition started off strong with a win in Marwayne, Alberta. Struggling since, as well as coming back from a near season-ending injury at a rodeo in Drayton Valley, Alberta, Fraser has the backing of the entire PBR Canada community.
In contrast to Fraser is countryman Callum Miller. Miller, who has previously contended to be the first Australian PBR Canada Champion in history, has had a tough season so far, currently ranked No. 25 in Canada. He will need to reset through the final six events to make a push to crack the Top 20 and qualify for the 2023 PBR Canada National Finals.
While non-Canadian native Miller has his fingertips on his invite to the Finals, American rider Cole Brewer is closer to the threshold, currently No. 21.
With a strong summer that included a night win at the Cody Snyder Bullbustin' Touring Pro Division stop in Calgary, it is unsure if he will brave the winter in Canada and face his foes north of the border through this final stretch to qualify for his first PBR Canada National Finals.
No. 22 William Barrows and No. 23 Fabian Dueck fill out the remaining list of competitors with an outside chance.
Dueck, originally from Paraguay but residing in Drayton Valley, Alberta, has to convert in this final stretch of events to stand a chance. Barrows, however, will likely be a scratch after suffering a broken femur in competition in Kelowna, British Columbia, in July.
All things considered, with six events left on the PBR Canada schedule in 2023, vying for your spot at the 2023 PBR Canada National Finals has become more important than ever. With the names listed above, as well as another handful of capable riders on the outside looking in, filling out those last handful of positions at Finals is still anyone's game.
The PBR Canada Cup Series, presented by Wrangler, returns to action Sept. 30-Oct. 1 in Grande Prairie, Alberta for the PBR Peace Country Invitational.