Cody Coverchuk Continues March to Record-Tying Third Canadian Championship
By: Covy Moore Wednesday, September 6, 2023 @ 12:51 PM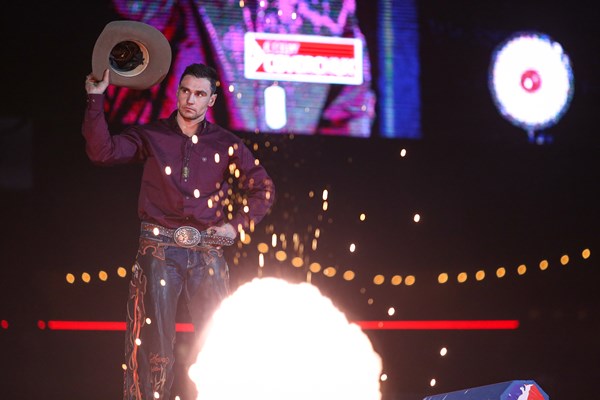 AIRDRIE, Alta. – When it comes to pure riding percentage, at present, the most successful rider in the PBR isn't a World Champion, but a Canadian Champion.
The ProBullStats.com Hot Rider List, a culmination of stats from multiple associations places Meadow Lake, Saskatchewan's Cody Coverchuk atop the 45-day cumulative. And the year hasn't always been like that for the two-time PBR Canada Champion.
"I stepped back and wasn't sure if I was going to quit after this year," Coverchuk reflected. "Halfway through the year it felt pretty average, and one day I woke up and was sick and tired of losing. So I am going to bull ridings now expecting to win, not hoping to win. That is a big difference for me, it's more confidence in myself, more maturity, and I think it's showing in my numbers."
"It was right after Ponoka," Coverchuk continued. I got one jumped in Ponoka at the PBR there, I was down and out."
"I woke up the next morning, with a bank account dwindling and said I want to ride bulls instead of coming and hoping to ride bulls. Now I am just having fun, things are rolling. Things are on a heater."
The past month has been a riding clinic put on by Coverchuk and defending PBR Canada Champion Nick Tetz. With Tetz ranked No. 1 in the standings, Coverchuk, who follows closely in the No. 2 rank, said while he and Tetz have nearly been riding head-to-head for weeks, he isn't putting too much into what other riders are doing this year.
"I try not to worry about the other guys, I am not competing against them exactly. It's not me versus Nick, it's me versus the bulls."
"But watching him double enter, then I double enter, we have been killing it, it's been a good year for both of us," Coverchuk said. "I hope we both end it really strong. He rides everything right now and I want to be there riding everything alongside him and see where the chips fall."
While the 2023 season is looking bright for Coverchuk in Canada, he said a highlight of the year was certainly getting the call from Kody Lostroh offering him a spot on the reserve roster for the Oklahoma Freedom in the PBR Teams League a couple weeks back.
"It was really unexpected. I was training on a 2-year-old horse, and the phone was ringing. It was a US number, and I wasn't going to answer it," Coverchuk laughed.
"Someone said it might be a team, and I laughed. But I answered and it was Kody Lostroh. Which was huge, I really liked that guy when he was going and really tried to model my riding after his. He said they were looking for a good left-hand rider and I was right up their alley."
The opportunity to ride with the Freedom will be Coverchuk's second opportunity in PBR Teams, signed to the Texas Rattlers in 2022. But for the 29-year-old rider, with half the PBR Camping World Team Series remaining, he wants to put forth a full effort for his team as the year concludes, eyeing a fulltime campaign in the States in 2024.
"The bulls are so different down there, so for me I have to go down there and stay down there, really get the practice bulls under me."
"Nick is making it work bouncing back and forth, and I don't think that is something I can do," Coverchuk added. "When I get down there, I want to stay down there."
Coverchuk said he is looking forward to getting stateside and working with both Lostroh and Head Coach Cord McCoy.
"He just rode bulls really correctly, that is how I have modelled my riding," Coverchuk said of his new coach.
"He made the rank bulls look easy all the time. To get a call from him is something I never really dreamed of. Getting a call from him and him pumping my tires too, it was really cool."
As for Canada, Coverchuk said he is going to be keeping his attitude the same. Show up to win. And with a host of PBR Canada Cup Series events on the schedule, there are two spots Coverchuk is looking forward to most.
"I really like Grande Prairie because I have a good record there. But the one that stands out to me is Saskatoon where I won my first Canadian Championship. I bucked off both last year, so I am looking to rebound."
With a great opportunity to take home his third PBR Canada Championship in 2023, Coverchuk said that the reason he will be the man to win the $50,000 bonus is simple.
"Because I love riding rank bulls."