A Victory Lap for Pozzobon at Ranchman's
By: Ted Stovin Wednesday, July 6, 2016 @ 11:26 AM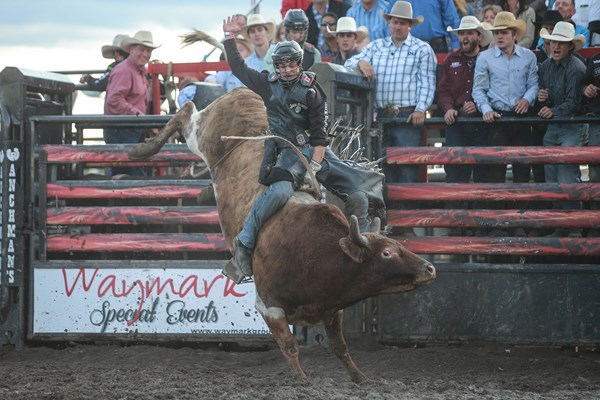 CALGARY, Alberta -- Usually it's only at the best produced Pro Rodeos that you'll see a victory lap. That wasn't the case last night when the one and only Ty Pozzobon jumped on the back of the Thomson horse Kasper Roy was roping bulls off of on Wednesday night at the Ranchman's.
Pozzobon rode Cukoo Kong from the Girletz's for an 87.5 to win the Ranchman's Renegades PBR Bullbustin' and proceeded to jump on the fence by Roy and jump on his horse for a quick lap around the pen. Add that to the 83 on Dakota Joe from the Outlaw Buckers and it totalled 170.5 points on two bulls for over $4,400 in earnings and 60 world points. After a second and third place finish in Edgerton last week and this win, Pozzobon should be up close to the top of the PBR Canada standings.

Second on the evening at Ranchman's went to Manitoba's Landon Lockhart with an 81 in the first round and 83.5 in the finals on Banff Ice from the Outlaw Buckers. Lockhart earned $2,700.88 and 30 world points.
Australia's Josh Birks added another top five finish to his 2016 campaign. Birks tied for the win on night one at Ranchman's and added another $1,778.63 to his account on Wednesday and 20 world points for third. A score of 80 in the long round added up nicely with his almost identical 83.5 on Pretty Boy in the final round, the same bull he rode in the finals on Tuesday. This pair of wins puts him first for money won so far this year.
Finishing off the top five were round one winner Brady Oleson of Blackfoot, Idaho and Tim Lipsett of Lumsden, SK thanks to his 83.5 effort in the final round on his fourth bull of the night.
Error loading Partial View script (file: ~/Views/MacroPartials/RichtextEmbedVideo.cshtml)
The following are the official results from day two of the Ranchman's Renegades PBR Bullbustin' on July 6th, 2016.
Round one: 1. Brady Oleson on Vold/Prescott's 292 Who's Not Yours, 84 points, $790.49; 2. Cole Young, 83.5, $592.88; 3. Ty Pozzobon, 83, $395.25; 4. Jordan Hansen, 82, $197.63; 5. Landon Lockhart, 81; 6. Josh Birks, 80; 7. Cody Casper, 78.5; no other qualified rides.
Finals: 1. Ty Pozzobon on Girletz's 70 Cukoo Kong, 87.5 points, $790.50; 2. (tie) Landon Lockhart, Josh Birks and Tim Lipsett, 83.5, $395.25 each; no other qualified rides.
Aggregate, total money and points earned: 1. Ty Pozzobon - Merritt, BC - 170.5 points on two bulls, $4,413.63, 60; 2. Landon Lockhart - Brandon, MB - 164.5, $2,700.88, 30; 3. Josh Birks - Coonamble, NSW - 163.5, $1,778.63, 20; 4. Brady Oleson - Blackfoot, ID - 84 points on one bull, $1,712.74, 15; 5. Tim Lipsett - Lumsden, SK - 83.5, $856.37, 10; 6. Cole Young - Fairview, AB - 83.5, $1,054.01, 5; 7. Jordan Hansen - Okotoks, AB - 82, $474.30; 8. Cody Casper - Pacific, WA - 78.5, $184.44.
Next up on the 2016 PBR Canada schedule is the Sunbelt Rentals PBR Bullbustin' in support of the Sheldon Kennedy Child Advocacy Centre at Ranchman's on Thursday July 7th, 2016.
About Professional Bull Riders (PBR) Canada:
Points earned at Canadian events counts towards qualification to the elite PBR Canadian Finals. Upon the conclusion of the Finals, the bull rider with the most regular season and Finals points is crowned the PBR Canada Champion. Points won at all Canadian events counts toward qualifying on the prestigious PBR Built Ford Tough Series (BFTS) and PBR World Finals in Las Vegas, NV. For more information on PBR Canada, go to www.pbrcanada.com, or follow on Facebook atwww.facebook.com/pbrcanada and Twitter at http://twitter.com/PBRCanada.