Finkbeiner takes Hillbilly Stomp title
By: Ted Stovin Saturday, April 9, 2016 @ 10:03 PM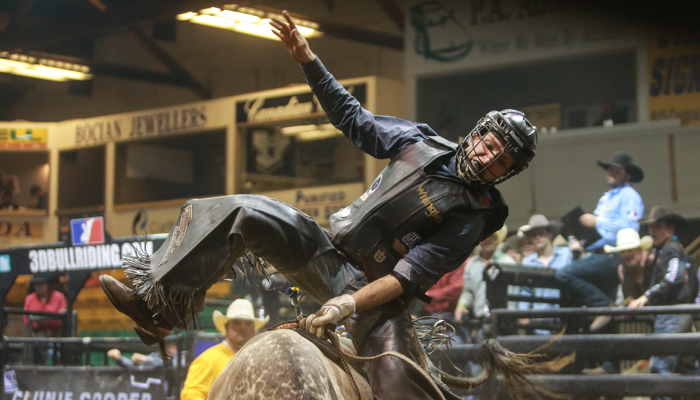 DELBURNE, Alberta -- Wacey Finkbeiner of Ponoka, AB earned his first ever victory in PBR competition on Friday night at the Delburne Hillbilly Stomp.
Finkbeiner, second out in the first round of competition, put up a score of 85 points which wouldn't be beaten. Even in the finals, no one would best his effort on the bull called Cream Puff from Meston Rodeo. For his work, the welder by trade earned 60 points towards the PBR's World Standings. Those points put him 70th in the world heading into Marwayne, Lamont and Tofield in the next week where 180 more potential points are available.
Second on the night went to Zane Lambert for 30 world standings points thanks to an 83 point effort on Ruckus Juice from the Eno bucking string. Lambert would take home over $2,000 in earnings.
Cole Young's 80 point ride on a bull called Drunk in the Morning would earn him the third place spot on the evening for 20 points towards the PBR's World Title and $1,292. Rounding out the top six were Mexico's Armando Davila; Australia's Taran Chirgwin and Alberta's own Wyatt Laughlin.
Bullfighter Dylan Miller was crowned the freestyle bullfighting competition champion.
The following are the official results for the Delburne Hillbilly Stomp PBR on April 8th, 2016. 
Round one: 1. Wacey Finkbeiner on Meston Rodeo Co.'s 205 Cream Puff, 85 points, $510.00; 2. Zane Lambert, 83, $382.50; 3. Cole Young, 80; $255.00; 4. Armando Davila, 79.5, $127.50;
Finals: no qualified rides.
Aggregate and total money won: 1. Wacey Finkbeiner, 85 points on one bull, $2,737.00; 2. Zane Lambert, 83, $2,014.50; 3. Cole Young, 80, $1,292.00; 4. Armando Rodriguez, 79.5, $867.00; 5. Taran Chirgwin, 77.5, $501.50; 6. Wyatt Laughlin, $382.50; 72.5, 7. Dakota Buttar, $323; 70.5; 8. (tie) Scott Schiffner, Landon Lockhart and Zane Lambert, $127.50 ground split each from finals.
Error loading Partial View script (file: ~/Views/MacroPartials/RichtextEmbedVideo.cshtml)
Delburne was the third stop of the 2016 PBR Canada Season. Next up is the 5th Annual Marwayne PBR presented by Garnier Custom Silage in Marwayne, AB on Saturday April 9th at 6:30pm.
About Professional Bull Riders (PBR) Canada:
Points earned at Canadian events counts towards qualification to the elite PBR Canadian Finals. Upon the conclusion of the Finals, the bull rider with the most regular season and Finals points is crowned the PBR Canada Champion. Points won at all Canadian events counts toward qualifying on the prestigious PBR Built Ford Tough Series (BFTS) and PBR World Finals in Las Vegas, NV. For more information on PBR Canada, go to www.pbrcanada.com, or follow on Facebook at www.facebook.com/pbrcanada and Twitter at http://twitter.com/PBRCanada.