Finkbeiner victorious at first Edson PBR
By: Ted Stovin Sunday, May 22, 2016 @ 5:15 PM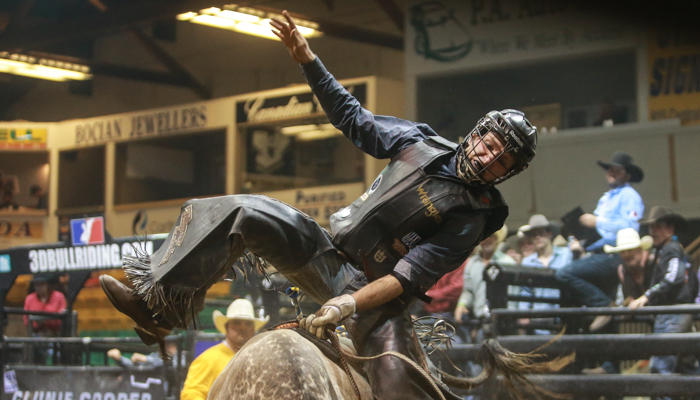 EDSON, Alberta -- Adverse weather conditions on the infamous 'May Long Weekend' here in Alberta forced the event inside only a few hours before showtime. With all hands on deck the back pens were still being put together ten minutes prior to showtime.
The crowd showed up and the first PBR event to visit Edson was a success.
Ponoka Alberta's Wacey Finkbeiner earned his second win of the 2016 PBR Canada season on Sunday night thankfully inside at the Edson rodeo grounds.
Finkbeiner was the lone athlete to cover both his bulls at the event to earn 60 points towards the PBR World Standings and $2,313.31. An 86 on Thompson Rodeo's Heaven Sent won the finals and was the highest marked ride of the event. After Edson Finkbeiner likely moves into the top five in points won in Canada and has amassed over $6,000 in earnings through the first nine events of this year.
Too bad for Shay Marks that the Built Ford Tough Series is currently on a break. He's put together enough points to be at least 45th in the PBR's World Standings so far. With the schedule coming up in Canada, he's a likely candidate for the big leagues come August.
Marks rode Wild Hoggs' Whiplash for an 85.5 to win the first round, earn 30 points towards the world standings, $1,591.44 in earnings and re-take the lead here in the PBR Canadian standings.
Rounding out the top five were Cole Young, Logan Biever and Jake Wilson respectively.
The following are the official results from the Edson, AB PBR on May 22nd, 2016. 
Round one: 1. Shay Marks on Wild Hoggs' 13 Whiplash, 85.5 points, $402.89; 2. Cole Young, 83.5, $302.18; 3. Jake Wilson, 82.5, $201.45; 4. Wacey Finkbeiner, 82, $100.73; 5. Justin Lloyd, 81.5; 6. Fabian Dueck, 80.5; no other qualified rides.
Finals: 1. Wacey Finkbeiner on Thompson Rodeo's 119 Heaven Sent, 86 points, $663.98; 2. Logan Biever, 82.5, $453.27; no other qualified rides.
Aggregate, total money and points won: 1. Wacey Finkbeiner, 168 points on two bulls, $2,313.31, 60; 2. Shay Marks, 85.5 points on one bull, $1,591.44, 30; 3. Cole Young, 83.5, $1,020.69, 20; 4. (tie) Logan Biever ($842.74) and Jake Wilson ($590.92), 82.5, 12.5 points each; 6. Justin Lloyd, 81.5, $201.45, 5; 7. Fabian Dueck, 80.5, $154.45.
Next up on the 2016 PBR Canada Touring Pro schedule is Swift Current, SK on Saturday May 28th starting at 7:00pm at the I-Plex.
About Professional Bull Riders (PBR) Canada:
Points earned at Canadian events counts towards qualification to the elite PBR Canadian Finals. Upon the conclusion of the Finals, the bull rider with the most regular season and Finals points is crowned the PBR Canada Champion. Points won at all Canadian events counts toward qualifying on the prestigious PBR Built Ford Tough Series (BFTS) and PBR World Finals in Las Vegas, NV. For more information on PBR Canada, go to www.pbrcanada.com, or follow on Facebook at www.facebook.com/pbrcanada, Instagram www.instagram.com/PBRCanada Twitter at www.twitter.com/PBRCanada.