Hansen Claims Ride, Rock & Roll buckle in Ponoka
By: Ted Stovin Saturday, June 25, 2016 @ 9:37 PM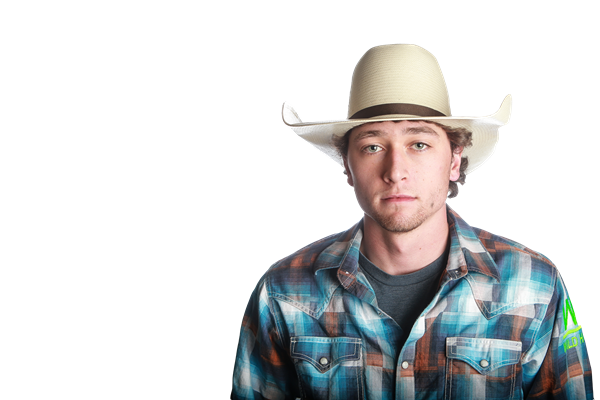 PONOKA, Alberta -- Jordan Hansen of Okotoks, AB won Saturday night's Ride, Rock & Roll PBR title at the Ponoka Stampede grounds in front of nearly 2,500 fans.
Hansen rode Red Mile from the Outlaw Buckers Rodeo Corp. for an 89.5 in the final round for the win as the only man to ride two on the night. Added to an 85.5 on Double Did from Vold Rodeo Hansen totalled 175 points for $9,758 and 60 world points.
Hometown man Tyler Pankewitz and Meeting Creek, Alberta's Garrett Green split the win in the first round with scores of 87.5 points on Eno's Shakin' Hands and Wild Hoggs' Kingpin respectively. Green could take the lead in the Canadian standings with his points. Both men finished tied for second overall on the evening taking home 25 world points and $4,581.50 each.
Fourth on the night went to another hometown man, first out on the night, Wacey Finkbeiner. A score of 86 points on Twenty to Life from the Flying High Rodeo Co. sent the Ponoka athlete on to the next one with another $2,380 and 15 world points. He sits solidly in the top ten in Canada with two event wins so far this season.
Rounding out the top five at Ride, Rock & Roll which featured Canadian rock icons Big Sugar & 54-40 were a pair of bull riders from Arkansas. Two-time champ of Ponoka, Chase Outlaw and Tyler Harr were 84.5 points for $833 a man and 7.5 world point each.
The top bull on the night was Jesus & Bocephus from the X6 Ranch scoring 44.5+ out of a possible 50.

Unofficial results from the Ride, Rock & Roll PBR presented by the Ponoka Stampede on June 25th, 2016.
Round one: 1. (tie) Garrett Green on Wild Hoggs' 166 Kingpin and Tyler Pankewitz on Eno Bucking Bulls' 107 Shakin' Hands, 87.5 points, $1,249.50 each; 3. Wacey Finkbeiner, 86, $714.00; 4. Jordan Hansen, 85.5, $357.00; 5. (tie) Tyler Harr and Chase Outlaw, 84.5; 7. (tie) Thor Hoefer II and Ty Pozzobon, 84; 9. (tie) Stetson Lawrence and Tanner Byrne, 83.5; 11. Justin Lloyd, 83; 12. Josh Birks, 82.5; 13. Cooper Davis, 80.5.
Finals: 1. Jordan Hansen on Outlaw Buckers' 281 Red Mile, 89.5 points, $1,428.00; no other qualified rides, $2,142 ground money.
Aggregate, total money and points earned: 1. Jordan Hansen - Okotoks, AB - 175 points on two bulls, $9,758.00, 60; 2. (tie) Tyler Pankewitz - Ponoka, AB and Garrett Green - Meeting Creek, AB - 87.5 points on one bull, $4,581.50 each, 25 points each; 4. Wacey Finkbeiner - Ponoka, AB - 86, $2,380.00, 15; 5. (tie) Tyler Harr - Hazen, AR and Chase Outlaw - Hamburg, AR- 84.5, $833 each, 12.5 points each; 7. (tie) Thor Hoefer II - Priest Falls, ID and Ty Pozzobon - Merritt, BC, 84, $416.50 each.
Video courtesy of Feature Productions Inc.
Error loading Partial View script (file: ~/Views/MacroPartials/RichtextEmbedVideo.cshtml)
Next up on the 2016 PBR Canada schedule is the Edgerton, AB Bull-A-Rama on July 1st, 2016.
About Professional Bull Riders (PBR) Canada:
Points earned at Canadian events counts towards qualification to the elite PBR Canadian Finals. Upon the conclusion of the Finals, the bull rider with the most regular season and Finals points is crowned the PBR Canada Champion. Points won at all Canadian events counts toward qualifying on the prestigious PBR Built Ford Tough Series (BFTS) and PBR World Finals in Las Vegas, NV. For more information on PBR Canada, go to www.pbrcanada.com, or follow on Facebook atwww.facebook.com/pbrcanada and Twitter at http://twitter.com/PBRCanada.