Mauney reaches milestone, Pozzobon stays out front
By: Ted Stovin Saturday, November 5, 2016 @ 11:55 PM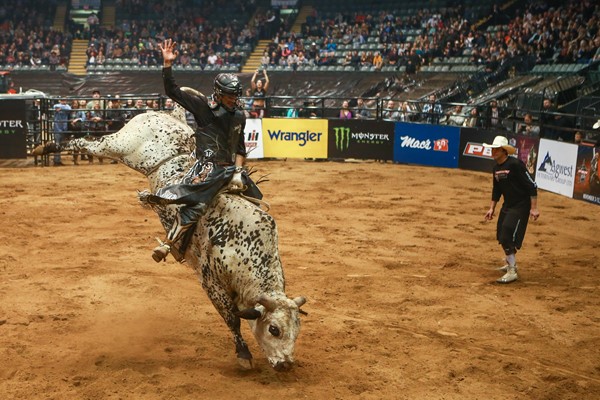 LAS VEGAS, Nevada -- Two-time and reigning PBR World Champion J.B. Mauney became the first man ever in the sport to cross the $7,000,000 mark in career earnings with a round win on Saturday night at the T-Mobile Centre.
If he wins the world for the third time, on Sunday, he could be the first $8,000,000 man too.
After talking about that, Brandon Bates asked what Mauney's plan would be next.
"Come back and try to win another one," he said.
In Round 4 Mauney put up a huge 90.25 points, the highest mark of the week so far on Red Dawn (Boyd - Floyd Bull Company) for the $30,000 check.
Kaique Pacheco (Itatiba, Sao Paulo) and Cooper Davis (Jasper, Texas) kept pace leaving the World Standings tight. Pacheco is still out front, 226.58 points ahead of Davis while Mauney is 544.08 back, in third. With two bulls to go, Mauney is fourth in the aggregate 3.25 points ahead of Davis and Pacheco who are tied for fifth.
Mauney made a statement in tonight's press conference picking Air Time (Jared Allen's Pro Bull Team) for Round 5.
Continuing to lead those aggregate standings is Canada's 2016 PBR Champion, Ty Pozzobon of Merritt, British Columbia with 348.5 points on four bulls. Pozzobon put up 86.25 points tonight on Rebel Yell (Hadley Cattle Co.) to finish in the 11th spot. With $39,000 in earnings so far, he's on track for a big payout and a couple ticks in the record book with a couple more scores tomorrow.
There's still $310,000 left for Ty to win on Sunday. Cheer hard Team Canada.
J.B. Mauney is the only man to cover all his bulls at the PBR World Finals, but Ryan Dirteater (Hulbert, Oklahoma) and Pozzobon could match the feat. Pozzobon is aiming to be the first Canadian to win the PBR World Finals, Tanner Byrne got close last year coming in third.
Dakota Buttar (Kindersley, Saskatchewan) came down with no score lasting 4.69 seconds against Time Bomb (K-C/Josey McElroy Bucking Bulls/Spark-lin Acres) in Round 4. Depending how things go on Sunday in Round 5, Buttar could still sneak into the Championship Round.
Tanner Byrne (Prince Albert, Saskatchewan) is in a different spot this year, He's 0-for-4 now after another no score this one in 5.39 seconds against I'm A Gangster Too (Jeff Robinson / TNT Bucking Bulls). Byrne won't likely leave Vegas without a score.
With the draw happening now, stay tuned to the results and draws section of PBR.com to see who's drawn up on Cooper's Comet (Vold Rodeo) and Minion Stuart (Skori Bucking Bulls) in Round 5. Hey Jack and Seven Dust (Gene Owen/J.A.R.S.) look for the PBR World Champion Bucking Bull title in the Championship Round.
Round five and the Championship Round of the PBR World Finals at the T-Mobile Arena starts at 12:45pm on Sunday November 6th, 2016. For more and to watch live online, visit PBR.com