Pozzobon leaves Saskatoon with $25,000 PBR Canada year-end bonus
By: Ted Stovin Saturday, October 15, 2016 @ 11:23 PM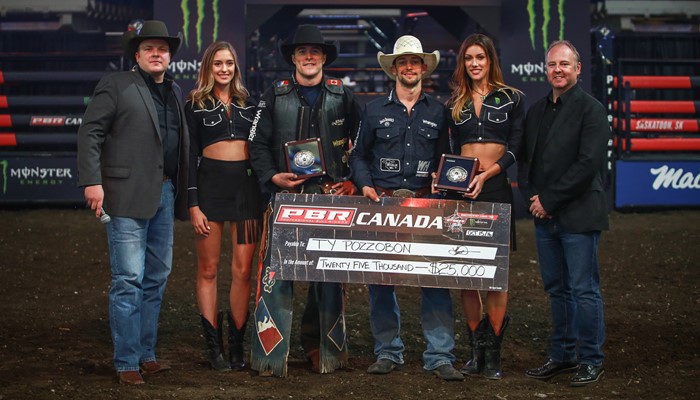 SASKATOON, SK — Ty Pozzobon of Merritt, BC leaves the Sasktel Centre as the 2016 PBR Canada points leader earning the champion's buckle, $25,000 bonus and the berth at the BlueDef Finals in Las Vegas from October 29th to 31st. 
Pozzobon, 33rd in the world standings to date, looks to punch his ticket to the PBR World Finals in the final two weeks of the season. Here in Saskatoon at the sixth and final stop of the 2016 PBR Monster Energy Canada Tour, Pozzobon was bucked off both his bulls in rounds one and two. On the year, Pozzobon earned nearly $58,000 in PBR Canada competition in 2016 alone. 
Ponoka, AB's Zane Lambert was the champion here in Saskatoon with 169 points on two bulls to earn $5,767.25 and 80 world points. Lambert put up 83.5 points on Blue Stone (Flying High Rodeo Co.) in round one and matched it up with an 85.5 on Shot of Whiskey (Two Bit Bucking Bulls/Pozzobon Cattle Co.). With the win, Lambert moved into the PBR Canada's top ten, to have finished inside that mark in the PBR Canada standings in all of the last 11 consecutive seasons.  
Kindersley, SK native Dakota Buttar finished second overall in Saskatoon, earning 50 world points and $4,007.75. As of tonight, Buttar ranks 40th in the PBR's World Standings, a mere 63.34 points back of Jorge Valdiviezo in 35th place. At the Sasktel Centre, Buttar rode Pretty Rowdy (CS Bucking Bulls) for 84.5 points in round one, Open Season (Wild Hoggs Bucking Bulls) for an 83 in round two but was bucked off of Black Rodeo (Vold Rodeo) in the final round. 
Matt Werries of Jacksonville, IL was third in Saskatoon with 166.5 points on two bulls earning 30 world points and $3,030.35. Werries rode Barely Legal (CS Bucking Bulls) for 84 points as one of only two rides in the championship round.
Brock Radford of DeWinton, AB was fourth overall taking home $2,346 for his 165.5 points on two bulls. Radford had the other ride in the championship round with his 84 on Herf from Two Bit Bucking Bulls. Rounding out the top five in Saskatoon was Australia's Will Purcell. 
On Friday night, Brady Oleson of Blackfoot, ID claimed the $20,000 Monster Energy Champion's Challenge after an 89.5 point effort on Liquid Fire (Wild Hoggs Bucking Bulls). 
Cooper's Comet (Vold Rodeo) was the top marked bull of the event at 45.5 points bucking off Will Purcell in the championship round. 
Tune into TSN2 on Wednesday, October 19th at 7:00 PM EST and RDS2 on Thursday, October 20th at 11:00 PM EST for the broadcast produced by Larry Isaac featuring hosts Brett Gardiner, Scott Byrne and Jason Davidson. 
Visit PBRCanada.com in the coming weeks for the full PBR Monster Energy Canada Tour schedule for 2017. All roads will lead to Edmonton as PBR will bring a special global invitational event scheduled for November 10th to 12th, 2017
Professional Bull Riders - Saskatoon, SK Monster Energy World Finals Qualifier 10/15/2016
Saskatoon, SK, 2016 - Event Results (Round 1-Round 2-Round 3-Round 4-Event Aggregate-Event Points) 
1. Zane Lambert, 83.5-0-85.5-0-169.00-80 Points - $5,767.25
2. Dakota Buttar, 84.5-0-83-0-167.50-50 Points - $4,007.75
3. Matt Werries, 0-0-82.5-84-166.50-30 Points - $3,030.25
4. Brock Radford, 81.5-0-0-84-165.50-20 Points - $2,346.00
5. Will Purcell, 81-0-83-0-164.00-15 Points - $821.10
6. Brady Oleson, 85.5-0-0-0-85.50-10 Points - $1,329.40
7. Cody Coverchuk, 0-0-85-0-85.00 - $997.05
8. Jared Parsonage, 0-0-84-0-84.00 - $664.70
9. Douglas Duncan, 0-0-83.5-0-83.50 - $195.50
(tie). Tim Lipsett, 83.5-0-0-0-83.50 - $195.50
(tie). Lonnie West, 83.5-0-0-0-83.50 - $195.50
12. Wacey Finkbeiner, 0-0-83-0-83.00
13. Kurt Shephard, 82.5-0-0-0-82.50
(tie). Brant Atwood, 82.5-0-0-0-82.50
(tie). Zac Peterson, 0-0-82.5-0-82.50
16. Riley Blankenship, 0-0-82-0-82.00
17. Todd Chotowetz, 0-0-81.5-0-81.50
18. Justin Lloyd, 80.5-0-0-0-80.50
(tie). Scott Schiffner, 80.5-0-0-0-80.50
20. Fabian Dueck, 79.5-0-0-0-79.50
Ty Pozzobon, 0-0-0-0-0.00
Brady Sims, 0-0-0-0-0.00
Dakota Louis, 0-0-0-0-0.00
Garrett Green, 0-0-0-0-0.00
Shay Marks, 0-0-0-0-0.00
Cody Ford, 0-0-0-0-0.00
Cody Casper, 0-0-0-0-0.00
Kale Marks, 0-0-0-0-0.00
Cole Young, 0-0-0-0-0.00
Jake Wilson, 0-0-0-0-0.00