2017 PBR Brazil Champion Jose Vitor Leme Stays Perfect to win Round 4 of World Finals with Second 90-point Ride
By: Kacie Albert Sunday, November 5, 2017 @ 5:23 PM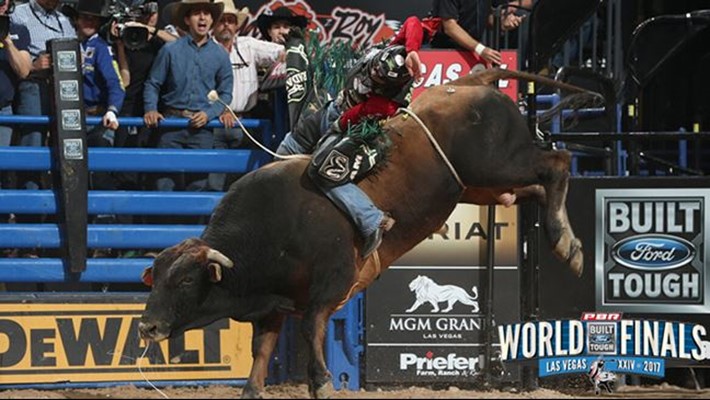 LAS VEGAS – Seizing the opportunity to ride at the most prestigious event in bull riding, reigning PBR (Professional Bull Riders) Brazil champion Jose Vitor Leme (Ribas do Rio Pardo, Brazil) logged his second 90-point ride in 24 hours to win Round 4 of the 2017 Built Ford Tough World Finals Saturday night.
The 21-year-old topped his 90.25-point out from Round 3 with a new career-high when he rode Big Dutch (Ravenscroft/Vos/Nicolle Boyd/Toby Floyd) for 90.5 points, earning $35,000 and 300 world points.
The bovine athlete has now been ridden by two athletes for 90-point-plus, round-winning rides inside T-Mobile Arena. Jess Lockwood (Volborg, Montana) covered the bull for 90.25 points for a victory in the first round Wednesday night.
Leme has netted 552.5 points through four days of competition inside T-Mobile Arena, rocketing up the world standings 23 positions. He began the five-day event No. 53 in the world and now finds himself ranked No. 30. 
Leme is the only rider with a perfect 4-for-4 record in Las Vegas after Lockwood bucked off his fourth-round draw High Test (Tommy Julian/D&H Cattle Co.) at the 6.78-second mark.
He is now a full bull ahead of riders he has idolized his whole life.
"To walk in and see the great talents I've been watching on TV is like an amazing dream come true," said Leme, who arrived in the U.S. a little more than a week ago. "All the riders have made me feel right at home."
Should he remain perfect and cover both of his draws on the final day of World Finals, Leme would become just the fifth rider since 2000 to ride every one of their bulls and win the season-culminating event.
The feat was last accomplished in 2016 by Ryan Dirteater (Hulbert, Oklahoma).
Leme, who had played semi-pro soccer in Brazil, advanced to his first World Finals as the top finishing international invite at the 2017 Real Time Pain Relief Velocity Tour Finals where he was eighth after going 3-for-4.
Despite the buckoff, his first in the World Finals, Lockwood still leads No. 2 Derek Kolbaba (Walla Walla, Washington,) who bucked off Stretch (Barker Bulls LLC/Flying S Bucking Bulls) in 2.25 seconds, by 322.5 points.
Three-time World Champion Silvano Alves (Pilar do Sul, Brazil) finished second in the round after recording his high-marked ride of the season, 88.75 points aboard Medicine Man (Hart Cattle Company).
Alves, who stands third in the event average, earned $20,000 and 180 points.
The 29-year-old heads into the final day of his eighth World Finals No. 17 in the world standings, rising two spots from No. 19 where he began the night.
Last season's World Finals event winner Dirteater finished third in Round 4 as he looks to become just the second athlete in PBR history to win the event in consecutive seasons.
The only athlete to have accomplished the feat is Robson Palermo (Rio Branco Acre, Brazil) in 2011 and 2012.
The Cherokee Kid earned $15,000 and 125 world points after riding Pick-It Construction's Find Jesus (Ogden Ranch/Hart Cattle Co.) for 88.25 points, his high-marked ride of the event.
Along with Alves, Dirteater is now also 3-for-4 at World Finals, and rose two positions in the rankings following his Saturday night performance.
He enters Sunday No. 21 in the world and sixth overall on the event leaderboard.
Kaique Pacheco (Itatiba, Brazil) and Mason Lowe (Exeter, Missouri) split fourth place after each rider logged their first qualified ride at the Sin City event.
2015 Rookie of the Year Pacheco rode Mr. Majestic (Cord McCoy/Renfroe/Bruce Wold) for 87.5 points, while Lowe earned the same score after reaching the 8-second mark aboard Minion Stuart (Skori Bucking Bulls).
The duo each earned $8,000 and 85 world points.
Pacheco was the only rider from the Top 5 to net world points Saturday night.
Still No. 5 in the world, he trails No. 1 Lockwood by 840 points.
In the Rookie of the Year standings, while Dener Barbosa (Paulo de Faria, Brazil) and Cody Teel (Kountze, Tecas) both logged qualified rides, Teel was the only rider to earn world points after finishing in a three-way tie for sixth.
The 2012 PRCA bull riding champion covered Nailed (Broken Arrow Bucking Bulls) for 87.25 points to earn $1,000 and 30 world points.
Still No. 3 in the standings for the year-end honor, Teel now trails No. 1 Barbosa by 90 points.
Claudio Montanha Jr. (Ribeirão Dos Indios, Brazil) remains No. 2 after bucking off Bottoms Up (Selman & Terell LLC) in 3.04 seconds. He trails Barbosa by 31.67 points.
Fans can watch all the action from Round 4 on demand tomorrow morning, Sunday, Nov. 5, starting at 8 a.m. ET at PBR.com/ondemand.
In addition to Round 4 of the 2017 World Finals, American Bucking Bull Inc. (ABBI) held the final round of their Big Tex Classic Finals Saturday night.
High Test, who became the first bull to buckoff Jess Lockwood inside T-Mobile Arena this year, won the event, taking home $200,000 and the gold buckle with a two round combined score of 178.2.
Frequent Flyer (Erwin/D&H Cattle Co.) and Big Black (Webb/K-C) each had a combined two-round score of 177.4 and earned $55,000 apiece. 
After Midnight (01 Cattle Co./Hodges/Shuler/Whitehead) was 176.6 for fourth, worth $25,000. 
In fifth earning $20,000 was The Rising Sun (Dakota Rodeo/Heald/Floyd Bucking Bulls) with a 176.2.  The Top 15 ABBI Classic bulls earned a paycheck, splitting a total purse of $451,000.
ABBI also held their annual Premier Bucking Bull Sale earlier in the day, with over $613,000 in bids for 23 lots. The highest selling lot was Big Black, formerly of Robison/Haworth, who sold for $140,000 to Nina and Joe Webb/K-C.
Visit AmericanBuckingBull.com for complete results of all the ABBI events from their World Finals, which started Oct. 28 and concluded tonight.
It will all come down to one day as the Top 40 bull riders in the world gather for one final time this season to settle some scores. 
Each rider will face one more bull in Round 5 before the Top 15 move on to the Built Ford Tough Championship Round where the World Finals event winner and the 2017 PBR World Champion will be crowned.
The action starts at 4 p.m. ET on CBS Sports Network.

Professional Bull Riders - 2017 BUILT FORD TOUGH WORLD FINALS
Las Vegas, NV, 2017 -  Event Leaders (Round 1-Round 2-Round 3-Round 4-Round 5-Round 6-Event Aggregate-Event Points)
 1. Jess Lockwood, 90.25-89.75-90.25-0-0-0-270.25-900 Points.
2. Jose Vitor Leme, 86-86.5-90-90.5-0-0-353.00-552.5 Points.
3. Silvano Alves, 87.5-86.25-0-88.75-0-0-262.50-297.5 Points.
4. Fabiano Vieira, 88-0-85-87.25-0-0-260.25-210 Points.
5. Claudio Montanha Jr., 0-87.5-87.75-0-0-0-175.25-202.5 Points.
6. Ryan Dirteater, 0-86-87.5-88.25-0-0-261.75-172.5 Points.
7. Cooper Davis, 85.25-0-90-0-0-0-175.25-152.5 Points.
(tie). J.W. Harris, 0-87.5-0-0-0-0-87.50-152.5 Points.
9. Brennon Eldred, 0-0-89.25-87.25-0-0-176.50-125 Points.
10. Derek Kolbaba, 87.75-0-0-0-0-0-87.75-110 Points.
(tie). Dakota Buttar, 87.75-0-0-0-0-0-87.75-110 Points.
12. Gage Gay, 85.75-86.75-0-0-0-0-172.50-105 Points.
13. Kaique Pacheco, 0-0-0-87.5-0-0-87.50-85 Points.
(tie). Mason Lowe, 0-0-0-87.5-0-0-87.50-85 Points.
15. Sage Kimzey, 87-0-0-87.25-0-0-174.25-80 Points.
16. Luciano De Castro, 0-0-88.25-86-0-0-174.25-77.5 Points.
17. Dener Barbosa, 0-86.25-87-84.5-0-0-257.75-50 Points.
18. Cody Teel, 0-85-0-87.25-0-0-172.25-35 Points.
(tie). J.B. Mauney, 86.75-0-0-0-0-0-86.75-35 Points.
20. Rubens Barbosa, 0-0-87.5-86-0-0-173.50-32.5 Points.
21. Cody Nance, 0-86-0-0-0-0-86.00-17.5 Points.
22. Mike Lee, 0-0-87-0-0-0-87.00-7.5 Points.
23. Guilherme Marchi, 85.5-0-83-0-0-0-168.50-5 Points.
24. Stormy Wing, 0-0-0-85.75-0-0-85.75
(tie). Matt Triplett, 0-0-0-85.75-0-0-85.75
26. Ramon de Lima, 0-0-85.5-0-0-0-85.50
27. Chase Outlaw, 0-0-0-85-0-0-85.00
(tie). Alex Marcilio, 0-0-85-0-0-0-85.00
29. Eduardo Aparecido, 0-0-0-84.75-0-0-84.75
30. Taylor Toves, 0-0-84.5-0-0-0-84.50
31. Stetson Lawrence, 84-0-0-0-0-0-84.00
32. Marco Antonio Eguchi, 81.75-0-0-0-0-0-81.75
33. Joao Ricardo Vieira, 0-0-81.25-0-0-0-81.25
Shane Proctor, 0-0-0-0-0-0-0.00
Emilio Resende, 0-0-0-0-0-0-0.00
Cody Campbell, 0-0-0-0-0-0-0.00
Lachlan Richardson, 0-0-0-0-0-0-0.00
Koal Livingston, 0-0-0-0-0-0-0.00
Troy Wilkinson, 0-0-0-0-0-0-0.00
Skeeter Kingsolver, 0-0-0-0-0-0-0.00
2017 Professional Bull Riders Built Ford Tough Series World Finals Standings
(Place, Rider, Events, Wins, Top 5's, Points, Total Winnings)
Jess Lockwood, 44, 6, 16, 4,737.50, $334,792.90
Derek Kolbaba, 54, 8, 14, 4,415.00, $309,172.32
Cooper Davis, 41, 3, 15, 4,283.33, $234,770.92
Eduardo Aparecido, 38, 5, 12, 4,162.50, $325,903.30
Kaique Pacheco, 49, 6, 15, 3,897.50, $378,275.15
Chase Outlaw, 47, 4, 18, 3,169.16, $185,902.27
Fabiano Vieira, 47, 3, 13, 2,355.83, $224,401.47
Stormy Wing, 38, 3, 6, 2,277.50, $147,702.11
Joao Ricardo Vieira, 49, 1, 19, 2,255.00, $152,337.65
Dener Barbosa, 43, 2, 10, 2,235.83, $151,986.12
Claudio Montanha Jr., 47, 2, 15, 2,204.16, $132,519.35
Cody Teel, 46, 4, 12, 2,145.83, $161,374.00
Rubens Barbosa, 54, 1, 5, 2,070.00, $121,225.84
J.B. Mauney, 24, 2, 5, 1,966.24, $139,977.49
Cody Nance, 52, 3, 15, 1,945.00, $117,177.15
Matt Triplett, 47, 5, 13, 1,915.00, $128,267.48
Silvano Alves, 42, 0, 7, 1,613.33, $71,689.91
Mason Lowe, 32, 1, 5, 1,548.33, $111,499.58
Stetson Lawrence, 40, 1, 6, 1,545.00, $94,805.34
Marco Antonio Eguchi, 50, 0, 7, 1,380.00, $85,975.67
Ryan Dirteater, 33, 0, 3, 1,375.83, $82,422.16
Guilherme Marchi, 37, 0, 8, 1,334.99, $68,225.22
Shane Proctor, 30, 2, 4, 1,322.50, $85,423.33
Dakota Buttar, 32, 1, 3, 1,155.83, $70,055.31
Brennon Eldred, 31, 3, 10, 1,144.16, $83,796.90
Luciano De Castro, 43, 1, 8, 1,095.00, $68,006.79
Emilio Resende, 35, 1, 7, 1,044.16, $68,126.80
Gage Gay, 39, 1, 4, 983.33, $61,277.57
Ramon de Lima, 40, 2, 15, 947.50, $86,021.95
Jose Vitor Leme, 13, 3, 8, 837.50, $43,927.23
Mike Lee, 53, 3, 8, 733.33, $61,209.49
J.W. Harris, 32, 2, 5, 665.41, $41,525.55
Cody Campbell, 49, 3, 10, 631.65, $57,992.25
Lachlan Richardson, 37, 3, 10, 592.50, $51,575.87
Koal Livingston, 44, 1, 8, 592.50, $52,214.63
Sage Kimzey, 4, 2, 3, 565.00, $541,233.13
Aaron Kleier, 17, 6, 15, 562.50, $34,594.08
Troy Wilkinson, 33, 1, 8, 543.75, $50,108.10
Alex Marcilio, 32, 1, 9, 480.00, $100,635.30
Fraser Babbington, 44, 3, 15, 445.00, $39,491.10
Jordan Hansen, 16, 2, 7, 430.00, $37,889.39
Nathan Burtenshaw, 41, 2, 9, 403.33, $39,870.76
Skeeter Kingsolver, 32, 3, 9, 397.50, $38,050.37
Cody Rodeo Tyler, 47, 2, 6, 395.41, $38,672.38
Brock Radford, 32, 5, 10, 394.16, $32,000.67