Kimzey Claims Second Calgary Stampede Championship
By: Ted Stovin Sunday, July 16, 2017 @ 7:37 PM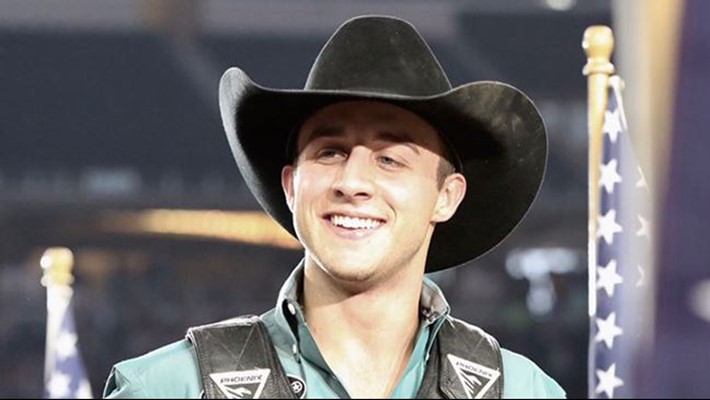 CALGARY, Alberta - Sage Kimzey of Strong City, Oklahoma, earned his second Calgary Stampede championship in three years on Sunday afternoon. 
The 2015 Calgary Stampede champion sealed his victory with a 91-point ride on Night Moves in the final round and took home the $100,000 CDN paycheck.
"$100,000 is a lot of money for anybody, much less a rodeo cowboy," Kimzey said. "It's not often you get to see this much money in one place. It'll start paying for the ranch that I've always dreamed of. It's my third time here and to be a two-time champion already, it really is a dream come true."
This year the dream came true where it didn't in 2016. Drama, weather and coincidence were prevalent. 
Kimzey claimed his second Calgary Stampede championship buckle over a fearsome final four in No. 4 Jess Lockwood, No. 9 Joao Ricardo Vieira and current PRCA standings leader Garrett Smith of Rexburg, Idaho. 
"There was a ton of drama for sure," Kimzey said. "When I was out in the arena drafting my four-round bull, I picked the same bull that bucked me off here last year in the pouring rain. Then barrel racing came around and I felt the cool breeze blow in and I thought 'oh man that is not good.'
"Sure enough it started sprinkling a little bit I was like alright if we can just stay at a sprinkle it will all be good. Then here it comes hail storm, rain storm, and I was like 'no not again.'
Vieira went first, but was bucked off by Damn Straight around the six second mark after he turned away from his hand.
Then came Kimzey who wanted to get his revenge against Night Moves, who had bucked him off in the final day of last year's Stampede.
"He knocks out the same tracks every time he cracks his head out of the gate," Kimzey said. "Just a great, honest bull that you can be a pile of points on if you can get by him. You can't stub your toe either because he'll put you in the dirt.
"I just closed my eyes and I was like 'just ride him.' Your job doesn't change and it wasn't happening again this year. He took the rope from me last year to make it to the final four and this year there was a little bit of bad blood that made it that much sweeter. These are the ones we grow up dreaming about, getting to come here and be 91 points and win the rodeo."
Next would be Smith, who earned a re-ride after Cactus Dawn stumbled in the mud and forced him off.
Fourth out was Lockwood, who went up against Johnny Ringo. The match started off in a spin to the left with Lockwood in control, but then the Montana bull rider was whipped down unexpectedly at 7.42 seconds. 
That left Smith standing between Kimzey and his second win in Calgary. Smith drew Compton Bound as his re-ride bull, and the two danced for a spectacular 90.5 points. Despite the monster effort, though, Smith couldn't dethrone Kimzey who walked away with the championship.
"It was a week of ups and downs," Kimzey said. "I felt like every day I showed up I had a bull that I could win the rodeo on. I got by a couple of them, didn't get by a couple of them. We had a super tough set in the set of bull riders that I was up in. I hate that J.B. (Mauney) got hurt, but a lot of top guys were in our set but that made it that much more fun because you were competing against some of the top dogs in the sport."
Smith would earn $25,000 CDN for second place, while Vieira and Lockwood took home an additional $12,500 CDN on top of their round money for finishing in a tie for third.  
Though the weather became ominous before his event-winning ride, Kimzey savored the chance to compete and win once again at one of the most prestigious rodeos of the year.
"Calgary's awesome," Kimzey said. "Rain, sleet, shine, snow it's always a great time."