Mauney sustains dislocated shoulder in Pool B victory
By: Justin Felisko Friday, July 14, 2017 @ 7:24 PM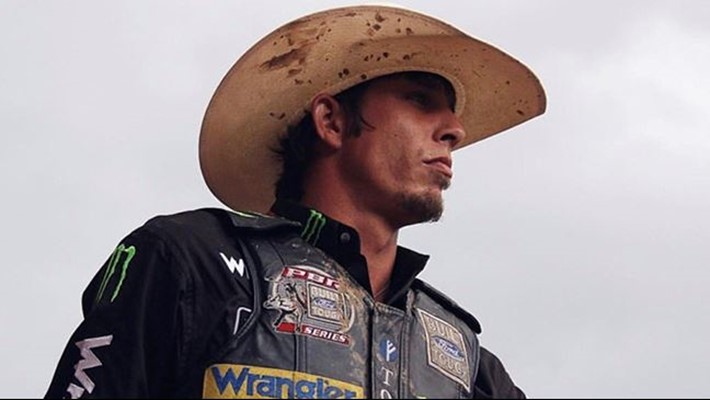 PUEBLO, Colo. – Two-time World Champion J.B. Mauney made a highlight-reel 90.5-point ride on Cowahbunga to win Pool B at the Calgary Stampede Friday afternoon, but it didn't come without consequences.
Mauney, who has a reputation for leaving it all hanging in the arena, got slammed to the ground and stepped on by Cowahbunga just past the 8-second mark, leaving the North Carolina cowboy lying on the ground in tremendous pain.
The 30-year-old had to be transported out of the arena on a stretcher by the Canadian Pro Rodeo Sports Medicine Team.
According to Dr. Ralph Strother of the Canadian Pro Rodeo Sports Medicine Team, Mauney sustained a dislocated right shoulder (free arm) and was transported to a local hospital for further evaluation.
"His principal injury was a dislocated shoulder, which was put back into place," Strother told local media members via audio obtained from PBR Canada's Ted Stovin. "He was evacuated with very smooth teamwork from the arena. He is absolutely stable, comfortable, alert and talking. We are transporting him to the hospital right now for a full assessment, X-rays. Then we will make a decision after that about what happens next."
Strother added that the sports medicine team was able to get the shoulder back into place at the arena, and that Mauney was coherent and talkative from the moment the sports medicine team got to him in the arena.
"We were able to get it back into place here, which is good news," Strother said. "He is alert, talking and knows everyone well. He recognizes his wife. So as far as it relates to having an injury of the severity that he had, he is doing really well.
"Of course, he is fortunate."
Mauney is currently fifth in the PBR world standings and in the hunt for a record-tying third PBR World Championship.
As of Friday afternoon, it is unclear if Mauney will be able to compete on Championship Sunday or if the injuries will cause him to miss any time once the PBR's Built Ford Tough Series resumes next month in Tulsa, Oklahoma.  
If Mauney is out of competition on Sunday, Derek Kolbaba, who tied for fifth in Pool B play, would takes his spot in the draw. Kolbaba tied with Brock Radford in Pool B, but the No. 3 rider in the PBR world standings had the higher aggregate ride score on two bulls.
Mauney – a two-time Calgary Stampede winner – has been nearly flawless at the "Greatest Outdoor Show on Earth" this year.
Friday was Mauney's second round win in four days and his 3-for-4 performance earned him a Pool-B winning $15,000.
Mauney could have won Round 2 on Wednesday if not for losing his bull rope just before 8 seconds aboard Big John.
The 12-year PBR veteran began the Stampede with 88 points to win Round 1 on Bomb Shell. He then placed second to Brennon Eldred on Thursday with his 87.5-point ride on Tennessee Whiskey.
Mauney has unofficially earned 55 points toward the world standings in Calgary.
Also advancing out of Pool B are Tanner Byrne (3-for-4, $12,500), Eldred (4-for-4) $10,500 and three-time PRCA champion Sage Kimzey (2-for-4, $8,500).
PBR Canada's Ted Stovin contributed to this story. PBR.com will update this story as more information becomes available. 
Follow Justin Felisko on Twitter @jfelisko