PBR returns to the nation's capital
By: Andrew Giangola Monday, April 3, 2017 @ 11:34 AM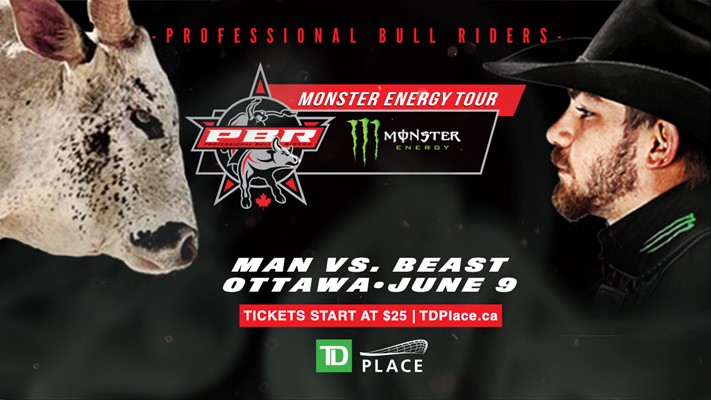 OTTAWA, ON (April 3)—PBR (Professional Bull Riders) has announced the PBR Monster Energy Tour – a national bull riding series visiting six Canadian provinces, is returning to Ottawa on June 9th for the second stop on the fast-growing sport's national tour schedule. 
A 25-rider field will compete in TD Place in Ottawa for $20,000 in prize money and valuable points toward the Monster Energy Canadian championship. Top riders competing include
2013 PBR Canada Champion Zane Lambert (Ponoka, AB) and reserve champion of Canada for 2016 Cody Coverchuk (Meadow Lake, SK). Additionally, three-time PBR Canada Champion Aaron Roy (Yellow Grass, SK) is expected to return to competition.
The PBR Monster Energy Tour begins its second season as a unified competitive series traveling across the country, starting in in Quebec City on June 2 and 3. The national series then moves on to visit Ottawa on June 9; Toronto, June 24; Calgary, September 23; Winnipeg, October 6; Abbotsford, October 14; and Saskatoon, October 20 and 21, where a PBR Canadian champion will be crowned.
The PBR Monster Energy Tour will be showcased on TSN/RDS, including a post-season highlights show. Fans should check local listings for broadcast event dates and times.
"Ottawa is a vibrant sports town and TD Place is the perfect place to see one of the most exciting sports in the world," said Chris Bell, GM, PBR Canada. "After a successful event in 2016, PBR is looking forward to coming back to Ottawa to thrill fans as only this sport can."
Tickets for the PBR Monster Energy Ottawa tour stop can be purchased HERE.  
About TD Place:
Located in the heart of the city, the arena and stadium at TD Place form the centrepiece of Ottawa/Gatineau's newest urban lifestyle district, Lansdowne. The stadium seats 24,000 for live sports and 30,000 for concerts. The arena seats up to 10,000 for live sports and can be configured for intimate theatre style concerts for between 2,000 and 7,000 fans. Ottawa's exciting downtown sports and entertainment destination is surrounded by restaurants, shops, services and excitement. For more information and event listings visit the TD Place website and follow TD Place on Twitter @TD_Place and Instagram @TDPlace
About Professional Bull Riders (PBR) Canada:
Professional Bull Riders (PBR), which has events in five countries and is available in more than 400 million homes globally, has competed in Canada since 1996. The Monster Energy Canadian Tour debuted in 2016 as the country's first national series. Points earned at Canadian events count towards qualification to the elite PBR Canadian Championship. Upon the conclusion of the Championship, the bull rider with the most regular season and Championship points is crowned the PBR Canada Champion. Points won at all Canadian events count toward qualifying on the prestigious PBR Built Ford Tough Series and PBR Built Ford Tough World Finals in Las Vegas, Nevada. Rogers Place in Edmonton, AB will be the first-ever Canadian host of the PBR Global Cup on November 9-11, 2017. The three-day event will feature the world's best bull riders from Canada, the United States, Mexico, Brazil and Australia, all competing for their country and a Canadian-record purse of $1,000,000, the second-largest payout in North America next to the PBR World Finals in Las Vegas. For more information on PBR Canada, go to www.pbrcanada.com, or follow on Facebook at www.facebook.com/pbrcanada and Twitter at http://twitter.com/PBRCanada.