Team USA Wins Inaugural PBR Global Cup
By: Kacie Albert Sunday, November 12, 2017 @ 1:45 AM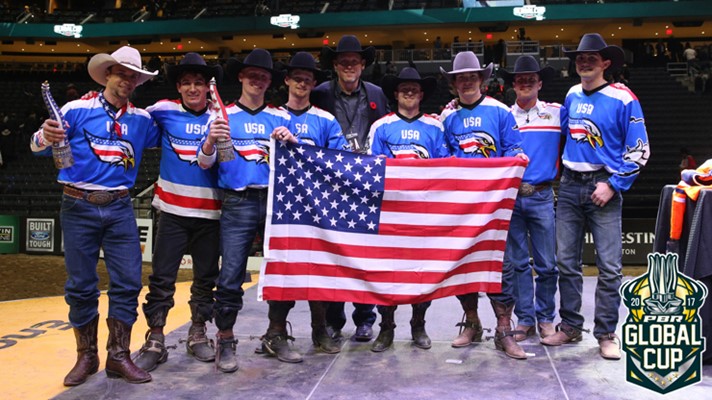 EDMONTON, Alberta – In front of a packed crowd at Rogers Place, Team USA came from behind to win the inaugural PBR (Professional Bull Riders) Global Cup, presented by Encor by EPCOR.
After beginning the night 76.25 points and one qualified ride behind host nation Team Canada, the seven-rider American squad earned 601.5 points on Saturday night by going 7-for-9 and claimed the Canadian horn of the Global Cup trophy and $400,000 with an overall score 1,026.75 points over the course of the two-night event.
The USA contingent was led Saturday by 2016 World Champion Cooper Davis (Jasper, Texas).
Davis responded from a Round 1 buckoff against Finning Milky Chance (Flying Four Bucking Bulls) on Friday night by riding Set 'em Up Joe (Dakota Rodeo / Chad Berger / Clay Struve / H&C Bucking Bulls) for 88 points Saturday.
The 23-year-old then clinched the victory for Team USA when he rode Catfish John (Dakota Rodeo - Chad Berger / Clay Struve / Miller) for 89.5 points in the Bonus Round.
For Davis, the Edmonton matchup with the North Dakota-based bull was the second time he made the 8 seconds aboard the bull to win a prestigious title. In 2016, the Texan rode him for 91 points in Round 5 of the Built Ford Tough World Finals to clinch his first World Championship.
Stormy Wing's (Dalhart, Texas) near perfect 3-for-4 performance in Canada led him to be the top finishing individual in the aggregate, propelling him to a $50,000 bonus.
After going 2-for-2 on the first night, the 28-year-old covered Ulterra's Night Vision (Wild Hoggs Bucking Bulls) for 87 points in the long round Saturday.
Wing's three-out ride streak came to an end when South Texas Gangster (Chad Berger/Julie Rosen/Clay Struve/Silent Seven) dispatched him at the 5.27-second mark in the Bonus Round.
All of Team USA, coached by two-time World Champion Justin McBride, logged qualified rides in Edmonton. Cody Teel (Kountze, Texas), Cole Melancon (Liberty, Texas), Cody Nance (Paris, Tennessee) and Derek Kolbaba (Walla Walla, Washington) all picked up scores on Saturday, while Brennon Eldred's (Sulphur, Oklahoma) scoring contribution came on Friday.
Team Brazil finished second after an 11-for-18 showing to earn $87,500. They ended the first-ever event with 927.5 points, trailing Team USA by one qualified ride and 99.25 points.
The team was led by Rubens Barbosa (Iaciara, Brazil) as the only other rider besides Wing to record three qualified rides.
The 34-year-old veteran was a perfect 3-for-3 at the inaugural Global Cup.
After riding Black Sheep (Two Bit Bucking Bulls) on Friday for 83 points, he first rode Tequila Sunrise (Dakota Rodeo/Julie Rosen/Clay Struve/Chad Berger) for 85.75 points Saturday before becoming the first rider to cover Canada's First Buckle (Rafter 8 Bulls) for 87 points.
Barbosa concluded the event with 255.75 points, just two points back from the individual aggregate winner Wing.
2017 Rookie of the Year Jose Vitor Leme (Ribas do Rio Pardo, Brazil) further proved his rising star-power in the sport when he rode Legacy (Dakota Rodeo/Chad Berger/Clay Struve/Heald Pro Bulls) for 88.5 points in Round 2, contributing to Brazil's rise in the standings.
Leme was 2-for-4 in his first trip to Canada.
Team Canada finished third on their home soil after going 10-for-32.
The home-nation was led by Lonnie West's (Cadogan, Alberta) 2-for-3 performance.
On the final night, West went 1-for-2 and recorded an 86.5-point trip on Pound The Alarm (Wild Hoggs Bucking Bulls).
For the Nanton, Alberta bovine athlete, the out was the last of his career, which included the 2013 PBR Canada Bull of the Year title and three trips to the Built Ford Tough World Finals.
While two-time and reigning PBR Canada Champion Zane Lambert (Westbourne, Manitoba), Brock Radford (De Winton, Alberta) and 2015 PBR Canada Champion Tanner Byrne (Prince Albert, Saskatchewan) all put points on the board, the 14-rider team fell 188.25 points and two qualified rides short of defending their home dirt.
The team will split $70,000 for their performance at Rogers Place.
Fourth place and $56,000 went to Team Australia, which earned 599.25 points from seven 8-second rides.
The line-up from down under was led by Cliff Richardson (Gresford, NSW, Australia), who was 2-for-3 across the two days of competition.
In going 1-for-2 on Saturday, he added 85.25 points to his nation's total in riding Blue Gangster (Dakota Rodeo / Chad Berger / Clay Struve).
Team Mexico finished fifth after doubling the number of qualified rides earned in the initial rounds during Saturday night's finale.
Edgar Durazo (Moctezuma, Mexico) earned his second qualified ride of the event when he covered Smiling Bob (Wild Hoggs Bucking Bulls) for 85.25 points.
The nation's total was also augmented by Jhonatan Santillan's (Matehuala, Mexico) 81.75-point trip on Mamma's Boy (Dakota Rodeo / Chad Berger / Clay Struve).
Collectively Team Mexico's three qualified rides earned them 252.75 points and netted the team $42,000.  
The five-nation, team-style event will next travel to Sydney, Australia and Quodos Bank Arena on June 9-10 for the second edition of the PBR Global Cup.
2017 Professional Bull Riders Global Cup, presented by Encor by EPCOR
Rogers Place – Edmonton, Alberta
(Rides – Outs – Team Event Aggregate)
Team USA, 12-18-1,026.75
Team Brazil, 11-18-927.5
Team Canada, 10-32-838.5
Team Australia, 7-18-599.25
Team Mexico, 3-18-253.75
2017 Professional Bull Riders Global Cup, presented by Encor by EPCOR
Rogers Place – Edmonton, Alberta 
(Round 1-Round 2-Round 3-Round 4-Individual Event Aggregate)
1. Stormy Wing, 82.5-88.25-87-0-257.75
2. Rubens Barbosa, 83-0-85.75-87-255.75
3. Cooper Davis, 0-0-88.75-89.5-178.25
4. Lachlan Richardson, 86.5-87.75-0-0-174.25
5. Jose Vitor Leme, 85-0-88.5-0-173.50
6. Derek Kolbaba, 86.5-0-86-0-172.50
7. Edgar Durazo, 0-86.75-85.25-0-172.00
8. Cliff Richardson, 86.25-0-85.25-0-171.50
9. Lonnie West, 83.25-0-86.5-0-169.75
10. Kurt Shephard, 84.25-0-84.75-0-169.00
11. Joao Ricardo Vieira, 83.25-0-85.5-0-168.75
12. Zane Lambert, 81.5-0-85.5-0-167.00
13. Cole Melancon, 84.25-0-82.5-0-166.75
14. Guilherme Marchi, 82.25-0-82.75-0-165.00
15. Justin Lloyd, 85.75-0-0-0-85.75
16. Coy Robbins, 85.25-0-0-0-85.25
17. Aaron Kleier, 0-0-84.5-0-84.50
(tie). Cody Nance, 0-0-84.5-0-84.50
19. Dakota Buttar, 84.25-0-0-0-84.25
20. Brennon Eldred, 83.75-0-0-0-83.75
21. Eduardo Aparecido, 83.25-0-0-0-83.25
(tie). Cody Teel, 0-0-83.25-0-83.25
23. Brock Radford, 0-0-82.75-0-82.75
24. Tanner Byrne [1], 0-0-82.25-0-82.25
25. Jhonatan Santillan, 0-0-81.75-0-81.75
26. Ty Patten, 81.5-0-0-0-81.50
27. Silvano Alves, 0-0-81.25-0-81.25
Kaique Pacheco, 0-0-0-0-0.00
Cody Coverchuk, 0-0-0-0-0.00
Fabiano Vieira, 0-0-0-0-0.00
Troy Wilkinson, 0-0-0-0-0.00
Sonny Schafferius, 0-0-0-0-0.00
Nathan Burtenshaw, 0-0-0-0-0.00
Francisco Morales, 0-0-0-0-0.00
Juan Carlos Contreras, 0-0-0-0-0.00
Ricardo Orozco, 0-0-0-0-0.00
Alejandro Gamboa Calvo, 0-0-0-0-0.00
Alfonso Orozco, 0-0-0-0-0.00
Cole Young, 0-0-0-0-0.00
Jackson Scott, 0-0-0-0-0.00
Logan Biever, 0-0-0-0-0.00
Dayton Johnston, 0-0-0-0-0.00
Wyatt Laughlin, 0-0-0-0-0.00
Jake Gardner, 0-0-0-0-0.00
Tanner Byrne [2], 0-0-0-0-0.00
Roy Dunn, 0-0-0-0-0.00