Byrne Advances to Round 3 of Music City Knockout
By: Kacie Albert Saturday, August 18, 2018 @ 8:34 AM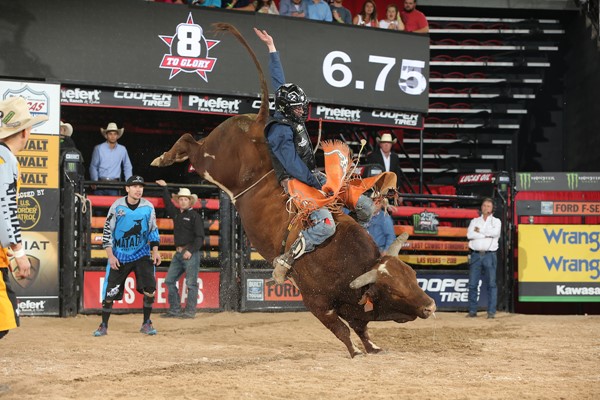 NASHVILLE, Tennessee – After he was quickly eliminated inside Bridgestone Arena last season, Tanner Byrne (Prince Albert, Saskatchewan) advanced to Round 3 of the 2018 Music City Knockout, presented by Cooper Tires Friday night, the fourth, and final, 25th PBR: Unleash The Beast Major event of the season.
The 26-year-old began the bracket-style, head-to-head event eliminating Matt Triplett (Columbia Falls, Montana) in Round 1, lasting longer aboard his first bull of the night. Byrne narrowly missed the 8-second mark on Baby Boy (Deer Prairie Creek Bucking Bulls), bucked off in 6.95 seconds, while Mr. Majestic (Cord McCoy/Bruce Wold) had Triplett to the ground in 3.86 seconds.
In Round 2, the 2015 PBR Canada Champion matched up against I Always Stand (Dakota Rodeo/Chad Berger/Clay Struve/H&C Bucking Bulls), in a match up against Eduardo Aparecido (Gouvelandia, Brazil) aboard Wicked Stick (Dakota Rodeo/Chad Berger/Clay Struve/H&C Bucking Bulls). With the victor again decided on time, Byrne bested the Brazilian, 4.13 to 3.51 seconds.
In Saturday's Round 3, Byrne will attempt Lightning Before Thunder (Jenkins Cattle Co. /Emerson Cattle) as he looks to eliminate two-time PBR World Champion J.B. Mauney (Statesville, North Carolina) who has drawn Big Black (K-C Bucking Bulls/Joe & Nina Webb).
Two-time World Champion, J.B. Mauney (Mooresville, North Carolina.) defeated home state favorite Cody Nance (Paris, Tennessee) to continue riding in the two-day Major event. Mauney went 8 seconds for 87.5 points aboard Huckleberry (Dakota Rodeo/Chad Berger/Lacey Scott), while Nance was bucked off in 1.65 seconds by Red Sails In The Sunset (Dakota Rodeo/Chad Berger/Clay Struve/Mary Miller).
While Dakota Buttar (Kindersley, Saskatchewan) also advanced out of Round 1, he was eliminated in Round 2, now looking to qualify for the Last Chance Bracket as his final hopes of earning world points during his second elite tour event in the Music City.
His performance inside Bridgestone Arena began much like Byrnes, eliminating his opponent on buckoff time. Buttar took Uncle Gangster (Hart Cattle Co./Clapp Cattle) to 5.82 seconds, while Edgar Durazo (Moctezuma, Sonora, Mexico) lasted just 1.79 seconds on Big Country (Halpain & Roth).
In the second round, however, Buttar narrowly lost out to Cody Teel (Kountze, Texas). He took Kid Fletcher (Henry Wilson) to 1.15 seconds, while Teel lasted slightly longer on Maysun's Money (Henry Wilson), 1.85 seconds.
In his first-ever PBR Major, Lonnie West (Cadogan, Alberta) was eliminated in Round 1 in the closest match-up of the night. The Rookie of the Year contender was dispatched by Shark Bait (Rickey West Bucking Bulls/2R Bucking Bulls) in 2.18 seconds, while Nathan Burtenshaw (Coonamble, New South Wales, Australia) made it to 2.19 seconds aboard Mr. Valentine (Rickey West Bucking Bulls).
At the end of the Friday night, 12 riders moved on to the final rounds of the Music City Knockout.
2016 PBR World Champion Cooper Davis (Buna, Texas) recorded the high-marked ride of the night, turning in an 88.75-point ride on Desperado (Hart Cattle Co./Manley Bucking Bulls) in Round 2 to defeat Sean Willingham (Summerville, Georgia), who bucked off Southern Style (EVP Bucking Bulls) in 2.4 seconds.
Seven of the advancing riders, including Davis, recorded qualified rides through the first two rounds on the opening night. The final five riders to advance to Round 2 did so based on highest buck off time in their matchup.
The matchups for Saturday's Round 3 are as follows:
Cooper Davis on The Don vs. Koal Livingston on Hydrastar Slinger Jr.
Fabiano Viera on Hitman vs. Colten Jesse on Hedoo
Tanner Byrne on Lightning Before Thunder vs. J.B. Mauney on Big Black
Guilherme Marchi on Catfish John vs. Claudio Montanha Jr. on South Texas Gangster
Nathan Burtenshaw on Soup In A Group vs. Cody Teel on Shownuff
Luciano De Castro on Anthrax vs. Jess Lockwood on Smooth Air
The official Music City Knockout bracket can be found here.
Each cowboy who advanced to Round 3 received 50 points toward the world standings.
In Round 2, Koal Livingston (Burleson, Texas), who bested Alisson de Souza (Taubate, Brazil) in his opening round showdown, and Ramon De Lima (Sao Paulo, Brazil) battled it out as both earned qualified rides. Livingston, however, advanced marked 87.5 to his Brazilian foe's 83.25. Livingston rode Cut The Cord (Broken Arrow Bucking Bulls), while De Lima covered Inferno (K-Bar-C/Spark-lin Acrew).
Fabiano Vieira (Perola, Brazil) advanced to the third round after eliminating Brazilian newcomer Marcos Gloria (Central de Minas, Brazil). The veteran covered Double Dose (Hadley Hopkins Bucking Bulls/Jk Elite Bucking Bulls) for 84.25 points, while Gloria was unable to make the 8 on What's Up Homie (Hadley Hopkins Bucking Bulls/Jk Elite Bucking Bulls).
Claudio Montanha Jr. (Pacaembu, Brazil) and Luciano De Castro (Guzolandia, Brazil) were the remaining cowboys to advance on qualified rides. Montanha rode Great Guns (BMC Bucking Bulls/Jenkins Cattle Co.) for 84.5 points to beat Stetson Lawrence (Williston, North Dakota), while De Castro rode Buck John (Broken Arrow Bucking Bulls) for 85.75 points, beating Valdiron de Oliviera (Piranhas, Brazil).
In addition to crowing an overall event winner, there are 300 world points on the line Saturday for the Ride Score Champion, awarded to the competitor who turns in the highest aggregate score during the event.
Livingston currently leads the race as the only rider to go 2-for-2, earning a collective 173.75 points.
The remaining riders will return to Bridgestone Arena Saturday for the conclusion of the 25th PBR: Unleash The Beast Music City Knockout, presented by Cooper Tires. Riders who moved on from Friday will return for a third and fourth round of head-to-head competition, then the eight eliminated riders with the highest scores or buckoff times will get one more shot in the Second Chance Bracket.
Once a Final Four is set, they will battle until one is crowned the Champion in the Music City.
CBS Sports Network will broadcast tomorrow night's action at 9:00 p.m. ET. CBS Sports will feature the final rides of the event on Sunday at 1:00 p.m. ET. Fans will be able to watch all the action from Nashville in its entirety on RidePass.com.
25th PBR: Unleash The Beast Music City Knockout, presented by Cooper Tires
Bridgestone Arena, Nashville, Tennessee
Event Leaders (Round 1-Round 2-Round 3-Round 4-Round 5-Round 6-Round 7-Round 8-Round 9-Event Aggregate-Event Points)
1. Koal Livingston, 86.25-87.5-0-0-0-0-0-0-0-173.75
2. Cooper Davis, 0-88.75-0-0-0-0-0-0-0-88.75
3. J.B. Mauney, 0-87.5-0-0-0-0-0-0-0-87.50
4. Derek Kolbaba, 86.5-0-0-0-0-0-0-0-0-86.50
5. Ramon de Lima, 0-86-0-0-0-0-0-0-0-86.00
6. Luciano De Castro, 0-85.75-0-0-0-0-0-0-0-85.75
7. Marcos Gloria, 85.5-0-0-0-0-0-0-0-0-85.50
8. Guilherme Marchi, 85-0-0-0-0-0-0-0-0-85.00
9. Claudio Montanha Jr., 0-84.5-0-0-0-0-0-0-0-84.50
10. Fabiano Vieira, 0-84.25-0-0-0-0-0-0-0-84.25
11. Sean Willingham, 83.25-0-0-0-0-0-0-0-0-83.25
Kaique Pacheco, 0-0-0-0-0-0-0-0-0-0.00
Jose Vitor Leme, 0-0-0-0-0-0-0-0-0-0.00
Cody Nance, 0-0-0-0-0-0-0-0-0-0.00
Jess Lockwood, 0-0-0-0-0-0-0-0-0-0.00
Eduardo Aparecido, 0-0-0-0-0-0-0-0-0-0.00
Dener Barbosa, 0-0-0-0-0-0-0-0-0-0.00
Cody Teel, 0-0-0-0-0-0-0-0-0-0.00
Dakota Buttar, 0-0-0-0-0-0-0-0-0-0.00
Ryan Dirteater, 0-0-0-0-0-0-0-0-0-0.00
Stetson Lawrence, 0-0-0-0-0-0-0-0-0-0.00
Brennon Eldred, 0-0-0-0-0-0-0-0-0-0.00
Valdiron de Oliveira, 0-0-0-0-0-0-0-0-0-0.00
Joao Ricardo Vieira, 0-0-0-0-0-0-0-0-0-0.00
Silvano Alves, 0-0-0-0-0-0-0-0-0-0.00
Tanner Byrne, 0-0-0-0-0-0-0-0-0-0.00
Lonnie West, 0-0-0-0-0-0-0-0-0-0.00
Nathan Burtenshaw, 0-0-0-0-0-0-0-0-0-0.00
Alex Marcilio, 0-0-0-0-0-0-0-0-0-0.00
Gage Gay, 0-0-0-0-0-0-0-0-0-0.00
Marco Antonio Eguchi, 0-0-0-0-0-0-0-0-0-0.00
Lachlan Richardson, 0-0-0-0-0-0-0-0-0-0.00
Matt Triplett, 0-0-0-0-0-0-0-0-0-0.00
Colten Jesse, 0-0-0-0-0-0-0-0-0-0.00
Alisson De Souza, 0-0-0-0-0-0-0-0-0-0.00
Edgar Durazo, 0-0-0-0-0-0-0-0-0-0.00