Calgary Stampede: Lima Looks to Make History
By: Justin Felisko Thursday, July 12, 2018 @ 11:31 PM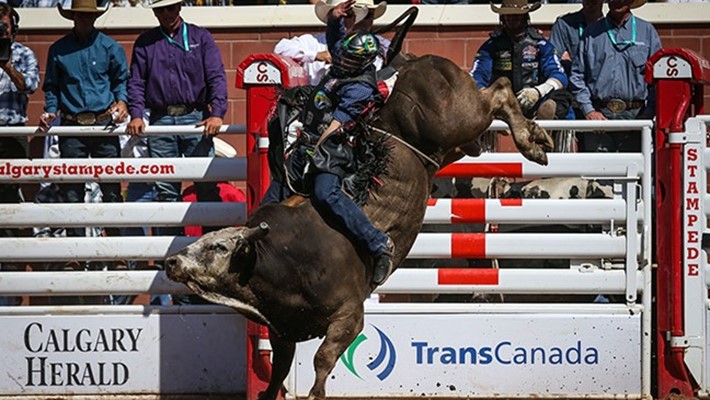 Ramon de Lima is amidst a career year in the PBR, and the No. 3 rider in the PBR world standings may be able to make history this weekend at the Calgary Stampede.
Lima won the third day of competition of Pool B with an 88.5-point ride on BAMF Thursday afternoon.
The ride earned Lima $5,500 and pushed Lima into third place in the Pool B standings with $7,000 ahead of Friday's pool finale.
Lima is attempting to become the first Brazilian bull rider to win the Calgary Stampede since three-time PBR World Champion Adriano Moraes accomplished the feat in 1994.
International fans living outside of Canada can watch the Calgary Stampede on RidePass beginning at 3:15 p.m. ET every day.
The format for the Stampede, which has a combined $2 million worth of prize money up for grabs for the nine rodeo events, is different from a standard PBR event.
Riders battle it out for four days in highly-contested pool play with the goal of advancing to Showdown Sunday as one of the pool's top-four money earners. If they don't make it, they can then jockey with the remaining riders on Wild Card Saturday for the final two spots.
However, once Sunday arrives, the slates are wiped clean and the Calgary Stampede champion will be the rider who posts the single highest-marked ride in the championship round, featuring the top four riders following Sunday's long round.
The winner of each of the nine rodeo disciplines at the Calgary Stampede takes home $100,000. The bull riding victor earns 120 points toward the world standings.
Lima won his first career PBR Major this past February at the Winstar World Casino & Resort Iron Cowboy in Arlington, Texas.
The win pushed Lima into the world No. 1 ranking for the first time in his career, a position Lima would hold for seven weeks.
Lima is currently 475 points behind world leader Kaique Pacheco.
The 27-year-old is 2-for-3 in Calgary so far after previously riding Dense Fog for 74 points on Tuesday.
Lima is 35-for-68 (51.47 percent) at all levels of competition this year.
Fellow Brazilian Fabiano Vieira has already advanced to Showdown Sunday out of Pool A, and he could also make history this weekend.
Meanwhile, two-time World Champion J.B. Mauney and four-time PRCA champion Sage Kimzey may make history at the Calgary Stampede this week by becoming the first three-time Calgary Stampede winners.
Kimzey rode Magic Shivers for 81 points and a fourth-place finish Thursday to remain a perfect 3-for-3 this week. The 23-year-old leads Pool B with $8,500.
Mauney (2-for-3) is hot on Kimzey's heels – $500 to be exact – after riding Two Point Oh for 87 points and a third-place round finish.
Cody Nance was the only other rider to reach 8 seconds on Thursday, covering Lil Shorty for 87.5 points and a second-place finish. The No. 4 man in the PBR world standings was able to move into the crucial No. 4 spot in the Pool B standings with $6,000.
However, only $2,500 separates Nance from first place Kimzey and eighth-place Jared Parsonage.
Reigning World Champion Jess Lockwood is $1,500 behind the Top 4, and Derek Kolbaba and 2017 PBR Canada Champion Zane Lambert sit only $500 behind.
POOL B CALGARY STAMPEDE BULL RIDING STANDINGS
Sage Kimzey – 78.5 – 85 – 81 – $8,500
J.B. Mauney – 85.5 – 0 – 87 – $8,000
Ramon de Lima – 74 – 0 – 88.5 – $7,000
Cody Nance – 0 – 75.5 – 87.5 – $6,000
Derek Kolbaba – 86.5 – 0 – 0 – $5,500
Zane Lambert – 0 – 88 – 0 – $5,500
Jess Lockwood – 0 – 85.5 – 0 – $4,500
Jared Parsonage – 81.5 – 0 – 0 – $3,500
Marcos Gloria – 0 – 83 – 0 – $2,500
Stormy Wing – 0 – 0 – 0 – $0