Dakota Buttar and Tanner Byrne Highlight Field of Canadian Riders for Quebec City International Major
By: Kacie Albert Wednesday, May 9, 2018 @ 11:30 AM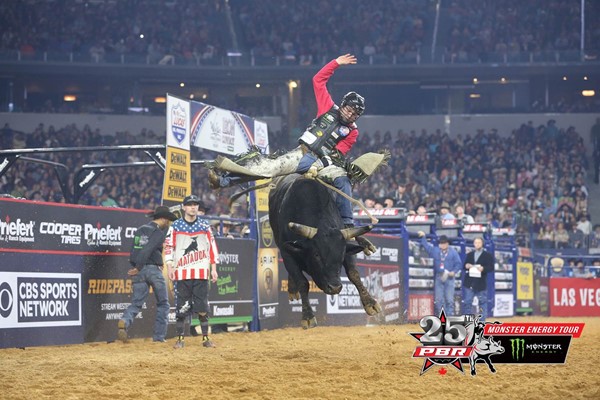 QUEBEC CITY, Quebec – When PBR (Professional Bull Riders) Canada's Monster Energy Tour takes over the Videotron Centre on May 19, the 10-rider field from Canada will be led by Dakota Buttar (Kindersley, Saskatchewan) and Tanner Byrne (Prince Albert, Saskatchewan), both regulars on the elite 25th PBR: Unleash The Beast, alongside home province hopeful Zac Bourgeois (Saint-Tite, Quebec) and reigning PBR Canada Champion Zane Lambert (Ponoka, Alberta).
The Monster Energy Tour Canadian Iron Cowboy, presented locally by Couche-Tard, will mark the second-ever International Major, and third event for the 2018 PBR Canada Monster Energy Tour, which makes seven stops in six provinces before culminating in Saskatoon, Saskatchewan this November for the PBR Canada Finals.
The tour stop will also feature the first-ever bracket-style event in the nation. To begin the night, all entered riders will attempt one bull each in Round 1. The Top 8 will then advance to the three-round, knockout bracket where the last rider standing will be crowned PBR Canada's Iron Cowboy.
As the top-ranked Canadian in the world standings, currently No. 13 and 1,757.5 points behind No. 1 Kaique Pacheco (Itatiba, Brazil), Buttar is amidst the best season of his career. The 25-year-old has recorded seven Top-10 finishes thus far in 2018 on the league's elite 25th PBR: Unleash The Beast, most recently recording the first 90-point ride of his career on the premier series when he covered Inferno (K-C Bucking Bulls/Spark-lin Acres) for 90 points in Columbus, Ohio.
Ranked No. 23 in the world, Byrne is also having another strong season, highlighted by an event win at the Unleash The Beast's February stop in St. Louis, Missouri.
Both Byrne and Buttar will be competing in Quebec City for the first time after each rider has been injured during the event last season.
Fans will also have a home province contender to cheer for in Bourgeois. The 18-year-old will be making his PBR debut inside the Videotron Centre after competing last season in the event's companion junior bull riding exhibition.
Finishing eleventh at the 2017 International Major in Quebec City, Lambert will return to La Belle Province as the reigning PBR Canada Champion. Having previously won the title in 2013, the professional of more than a decade is one of just two riders to be a multi-time PBR Canada Champion, joining three-time national champion Aaron Roy (Yellow Grass, Saskatchewan). With three Top-10 finishes at PBR Canada events so far in 2018, Lambert is ranked No. 4 in the nation standings as he seeks his third Canadian title.
The Canadian field of riders set to compete at the event for a second consecutive year also includes Brock Radford (De Winton, Alberta) and Jared Parsonage (Maple Creek, Saskatchewan), the Top 2 riders in the current national standings. Both riders have been victorious this season in Canada. Radford took the title at the Monster Energy Tour's season-launch event in Calgary. Parsonage won the Touring Pro Division's stops in Teepee Creek, Alberta, and Prince Albert, Saskatchewan.
The national field is rounded out by: Wyatt Gleeson (Sundre, Alberta), Dayton Johnston (Milk River, Alberta), Justin Lloyd (Tisdale, Saskatchewan) and Lonnie West (Cadogan, Alberta).
PBR's Monster Energy Tour Canadian Iron Cowboy, presented locally by Couche-Tard will award a total purse of $75,000 in prize money, with the winner set to receive a $20,000 bonus should he cover his final round bull. As a PBR International Major, riders will also be vying for increased world and Canadian national points.
After stopping in Québec City for the third event of the season, previously visiting Calgary (March 24) and Ottawa (Mat 12), the national series will move on to visit Halifax on May 26; Moncton, June 2; Kelowna, July 7; Abbotsford, October 13; and Saskatoon, November 23 and 24, where the 2018 PBR Canadian champion will be crowned.
The PBR Monster Energy Tour will be showcased on TSN. Fans should check local listings for broadcast event dates and times.
Tickets are on sale now and can be purchased online through PBRCanada.com, Gestev.com or Ticketmaster.ca, and via phone at 1 (855) 790-1245. One-day tickets range in price from $34 to $172.75, all taxes and fees included.