Lambert Named to Team Canada for First-Ever PBR Global Cup USA
By: Kacie Albert Friday, November 2, 2018 @ 9:03 PM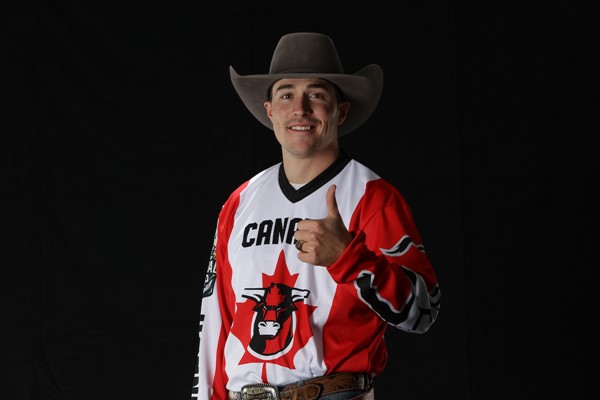 LAS VEGAS, Nevada – Ahead of the 2019 WinStar World Casino and Resort Global Cup USA, Team Canada Coach Aaron Roy (Yellow Grass, Saskatchewan) has named two-time and reigning PBR (Professional Bull Riders) Canada Champion Zane Lambert (Ponoka, Alberta) to the contingent set to represent the Maple Leaf at the first-ever edition of the international bull riding spectacle to be held on American soil.  
Previously stopping in Edmonton, Alberta, Canada and Sydney, Australia, the PBR (Professional Bull Riders) Global Cup, the only nation vs. nation bull riding competition, will make its U.S. debut, and third stop, at AT&T Stadium in Arlington, Texas on February 9-10, 2019.
With the goal of improving upon third place results earned in both Edmonton and Sydney, Lambert joins the already announced Dakota Buttar (Kindersley, Saskatchewan) and Tanner Byrne (Prince Albert, Saskatchewan) as the first three riders on Team Canada.
Lambert, a two-time and reigning PBR Canada Champion, was instrumental in both of the Great White North's bronze finishes. At Rogers Place in Edmonton he went 2-for-4, while in Sydney he was 1-for-2.
Competing largely in Canada throughout 2018, Lambert recorded the second 90-point ride in the country this season in September, marked 90.5 points on Happy Camper (Two Bit Bucking Bulls), en route to winning the prestigious Glen Keeley Memorial Bull Riding for the second consecutive year.
Coaches from the United States-Eagles, Australia, Brazil and Mexico also announced their next selections.
Set to defend his country's home soil, Coach Justin McBride (Elk City, Oklahoma) has selected Chase Outlaw (Hamburg, Arkansas) to be his third competitor for the Team USA-Eagles contingent. Outlaw joins previously announced Team USA-Eagles riders Cooper Davis (Buna, Texas) and Cody Nance (Paris, Tennessee).
The event will mark Outlaw's Global Cup debut. Despite being named to U.S. team that competed in Edmonton, Outlaw was unable to represent his country due to a dislocated shoulder sustained during the championship round of the 2017 PBR World Finals, just days prior to the Global Cup.
After returning to competition in June following shoulder surgery, Outlaw suffered numerous facial fractures following a wreck at Cheyenne Frontier Days which sidelined him for an additional 75 days.
Making his second comeback of the year, Outlaw has been seemingly unstoppable since returning to PBR events in October for the elite 25th PBR: Unleash The Beast stop in Milwaukee, Wisconsin. At the conclusion of the regular season for both the premier series and Real Time Pain Relief Velocity Tour (RVT), Outlaw had gone a collective 8-for-12, capped by a six-out ride streak, earning him 545 world points which propelled him from No. 76 to No. 35 in the world standings.
After a narrow defeat in front of a home crowd at the most recent edition of the event at Qudos Bank Arena, Cliff Richardson (Gresford, New South Wales) will join Troy Dunn's (Bloomsbury, Queensland) Team Australia in the nation's quest to avenge the heartbreaking loss.
For the third consecutive Global Cup, Richardson will once again ride alongside his brother Lachlan Richardson (Gresford, New South Wales) and countryman Nathan Burtenshaw (Coonamble, New South Wales).
After a 2-for-3 showing in Edmonton, helping to propel the nation to a fourth place finish, Cliff Richardson went a flawless 2-for-2 in Sydney where Australia was second, finishing 0.75 points behind event winners Team Brazil.
In 2018, Richardson has been dominant at PBR events Down Under, collecting three event wins and 14 Top-5 finishes, leading him to be a top contender for this season's PBR Australia Championship.
Much like Australia, Coach Renato Nunes (Buritama, São Paulo) also selected a two-time Global Cup competitor, Jose Vitor Leme (Ribas do Rio Pardo, Mato Grosso do Sul), as his latest addition to Team Brazil. The 2017 PBR Rookie of the Year contributed two qualified rides to his nation's third-place effort in Edmonton, while his 2-for-3 showing in Sydney was instrumental to the South American nation's first-ever Global Cup victory.
Leme joins the Team Brazil squad with an impressive resume from the 2018 season, including his first-ever regular season 25th PBR: Unleash The Beast event win (Tulsa, Oklahoma) and 15/15 Bucking Battle victory (Milwaukee, Wisconsin), propelling him to No. 2 in the world standings at the conclusion of the regular season.
He will compete alongside current Team Brazil riders Eduardo Aparecido (Gouvelândia, Goiás) and Kaique Pacheco (Itatiba, São Paulo).
Team Mexico's third competitor will be Edgar Durazo (Moctezuma, Sonora). The nation will be led by coach Gerardo Venegas (Juárez, Chihuahua) who has already named Juan Carlos Contreras (Huichapan, Hidalgo) and Jorge Valdiviezo (La Misión, Baja California) to the squad.
A veteran rider for the team, Durazo was 2-for-4 in Edmonton, but was unable to add to the nation's total in Sydney.
In Arlington, the PBR Global Cup will debut a new competitive element for the international competition. The home team, which in the past has received an advantage by fielding more riders whose qualified ride scores contributed to the overall team aggregate, will now be split into two teams of seven bull riders.
For the U.S. stop, the host country will add a team comprised exclusively of Native American riders, Team USA-Wolves, competing against the other American team, the Eagles, and all visiting teams.
That team will be led by coach Wiley Petersen (Fort Hall, Idaho; Shoshone Bannock), and already named riders Ryan Dirteater (Hulbert, Oklahoma; Cherokee), Stetson Lawrence (Williston, North Dakota; Chippewa and Sioux), Keyshawn Whitehorse (McCracken Springs, Utah; Navajo) and Cody Jesus (Window Rock, Arizona; Navajo).
Tickets for the WinStar World Casino and Resort Global Cup USA are on sale now and start at just $10. They can be purchased at SeatGeek.com, PBR.com, or by calling PBRDirect at (800)732-1727.