Marcos Gloria Rides to Second Consecutive PBR Event Win in Halifax
By: Kacie Albert Saturday, May 26, 2018 @ 10:26 PM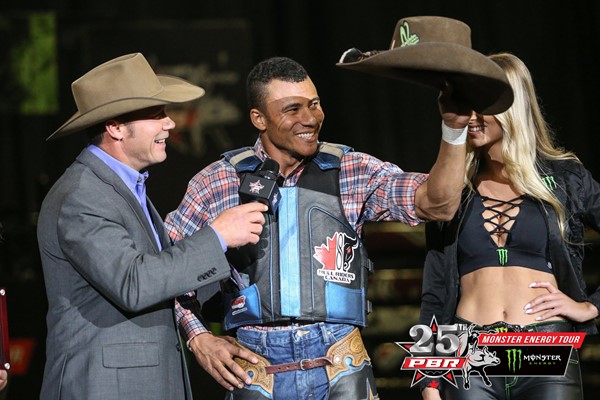 HALIFAX, Nova Scotia – In front of a capacity crowd at Halifax's Scotiabank Centre, Marcos Gloria (Central de Minas, Brazil) captured his second consecutive event win on PBR (Professional Bull Riders) Canada's premier Monster Energy Tour, presented locally by Circle K.
The surging Brazilian, who won at the tour's most recent stop in Québec, collected a paycheck for $5,454.78, along with 500 Canadian and 120 world points. The finish allowed Gloria to overtake Brock Radford (De Winton, Alberta) for the No. 1 position in the national standings, where he now leads by 132.5 points.
Gloria's finish was highlighted by his win in Round 2 which came via an 86.5-point trip on Ulterra's Night Vision (Wild Hoggs Bucking Bulls).
Young guns Koal Livingston (Burleson, Texas) and Lonnie West (Cadogan, Alberta) tied for second after they were both marked 85.5 points in Round 2, covering Apollo's Gold (Vold Rodeo) and Minion Stuart (Skori Bucking Bulls), respectively.
Both Livingston and West leave the maritime city with $3,282.18, 265 Canadian and 55 world points.
Livingston rose from No 46 to No. 40 in the world standings, now just 80 points outside of the Top 35 and a permanent spot on the premier 25th PBR: Unleash The Beast as he continues his comeback following reconstructive shoulder surgery at the conclusion of the 2017 season.
For West, he not only rose from No. 49 to No. 41 in the world standings, but after beginning the event outside of the Top 10 in the national standings, now finds himself the No. 4 ranked rider in Canada.
Fourth place went to two-time and reigning PBR Canada Champion Zane Lambert (Ponoka, Alberta), who electrified the crowd with his first out of the night, winning Round 1 with 83.5 points on Smash (Skori Bucking Bulls).
The veteran Canadian rider earned $2,557.98, 205 Canadian and 20 world points for his seventh Top-10 finish of the season. Also climbing the Canadian standings, Lambert rose from No. 6 to No. 3 in the national rankings, now 790.84 points behind No. 1 Gloria.
Rounding out the Top 5 was Wyatt Gleeson (Sundre, Alberta) who recorded an 83-point trip on Catch My Drift (Two Bit Bucking Bulls / K Rose Ranch) in Round 2. He leaves the Scotiabank Centre with $1,236.31, in addition to 105 Canadian and 15 world points.
On a night where the bulls dominated, with 27 of the event's 34 outs ending in a buckoff, Original Sin (Thompson Rodeo Livestock) led the pen to be named the bull of the event. The bovine athlete was marked 44 points for his 2.99-second buckoff of Matt Triplett (Columbia Falls, Montana).
Fans can relive all the action from the fourth Monster Energy Tour event of the season on Tuesday, June 12 on TSN2 at 10:30 p.m. ET when the network broadcasts a one-hour highlights show.
PBR Canada's Monster Energy Tour next travels to Moncton, New Brunswick on June 2 for the league's first ever event in the city. The event gets underway inside Moncton Coliseum at 7:00 p.m. AT.
PBR Canada - Halifax Monster Energy Tour, presented locally by Circle K
Halifax, Nova Scotia – Scotiabank Centre
Event Leaders (Round 1-Round 2-Round 3-Event Aggregate-Canadian Points-World Points-Payout)
1. Marcos Gloria, 0-86.5-0-86.50-500-120-$5,454.78
2T. Koal Livingston, 0-85.5-0-85.50-265-55-$3,282.18
2T. Lonnie West, 0-85.5-0-85.50-265-55-$3,282.18
4. Zane Lambert, 83.5-0-0-83.50-205-20-$2,557.98
5. Wyatt Gleeson, 0-83-0-83.00-105-15-$1,236.31
6. Daylon Swearingen, 78.5-0-0-78.50-105-10-$1,616.52
7. Justin Lloyd, 0-73.5-0-73.50-50-5-$675.06
Austin Richardson, 0-0-0-0.00-0-0-$0
Matt Triplett, 0-0-0-0.00-0-0-$0
Cody Casper, 0-0-0-0.00-0-0-$0
Dayton Johnston, 0-0-0-0.00-0-0-$0
Cole Young, 0-0-0-0.00-0-0-$0
Jacob Moore, 0-0-0-0.00-0-0-$0
2018 PBR Canada Standings
(Place, Rider, Events, Wins, Top 5's, Points, Total Winnings)
1. Marcos Gloria, 7, 2, 3, 1,490.00, $31,665.03
2. Brock Radford, 6, 1, 5, 1,357.50, $21,267.41
3. Zane Lambert, 9, 0, 4, 699.16, $9,016.62
4. Lonnie West, 8, 0, 2, 563.33, $8,785.05
5. Jared Parsonage, 6, 2, 2, 561.66, $9,584.51
6. Cody Coverchuk, 7, 0, 4, 515.00, $8,008.57
7. Austin Richardson, 2, 1, 1, 500.00, $6,416.48
8. Dayton Johnston, 8, 0, 3, 480.00, $6,889.08
9. Wacey Finkbeiner, 6, 0, 3, 452.50, $7,887.92
10. Wyatt Gleeson, 8, 1, 2, 425.00, $5,415.76
11. Koal Livingston, 3, 0, 2, 410.00, $5,262.34
12. Justin Lloyd, 9, 0, 2, 395.00, $7,448.58
13. Tanner Byrne, 3, 1, 1, 315.00, $3,598.86
14. Lachlan Richardson, 3, 0, 1, 296.66, $8,566.73
15. Garrett Green, 3, 1, 1, 275.00, $5,665.25
16. Aaron Roy, 5, 0, 1, 210.00, $2,206.01
17. Lawson Nobbs, 4, 0, 1, 195.00, $2,119.05
17. Jake Gardner, 6, 0, 1, 195.00, $2,889.15
19. Wyatt Covington, 3, 0, 2, 160.00, $2,741.25
20. Logan Biever, 5, 0, 1, 150.00, $1,413.72
21. Matt Triplett, 3, 0, 1, 120.00, $1,275.00
22. Daylon Swearingen, 3, 0, 0, 105.00, $1,616.52
23. Jess Lockwood, 1, 0, 1, 100.00, $7,057.14
24. Stetson Lawrence, 1, 0, 1, 85.00, $765.00
25. Tyler Pankewitz, 4, 0, 1, 67.50, $650.25
25. Jake Lockwood, 3, 0, 1, 67.50, $650.25
27. Jackson Scott, 3, 0, 0, 66.66, $642.60
28. Cole Young, 8, 0, 0, 57.50, $584.38
28. Cody Floyd, 3, 0, 0, 57.50, $584.38
30. Jordan Hansen, 3, 0, 0, 55.00, $314.16
30. Michael Lane, 1, 0, 0, 55.00, $714.00
32. Italo Aguilar Goncalves, 4, 0, 0, 52.50, $324.87
33. Silvano Alves, 1, 0, 0, 30.00, $1,657.14
34. Thor Hoefer II, 2, 0, 0, 20.00, $214.20
34. Wyatt Laughlin, 5, 0, 0, 20.00, $235.62
36. Marco Antonio Eguchi, 1, 0, 0, 10.00, $1,057.14
37. Ron Hunt, 2, 0, 0, 5.00, $0.00