PBR Canada's Monster Energy Tour Expands 2018 Schedule with Stop in Edmonton
By: Kacie Albert Tuesday, July 24, 2018 @ 11:12 AM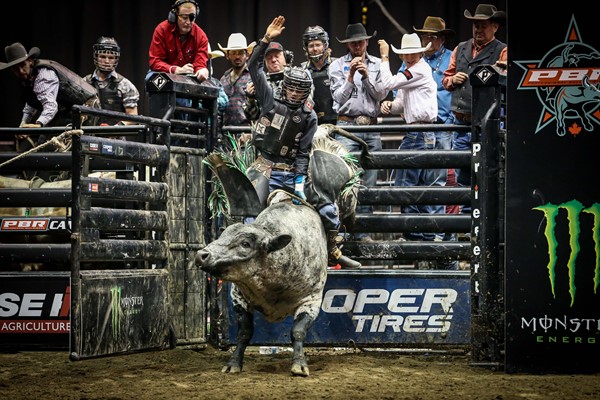 EDMONTON, Alberta – PBR (Professional Bull Riders) Canada has expanded its 2018 season in announcing that October's Edmonton Classic will now be part of the nation's premier bull riding series, the Monster Energy Tour. The Edmonton Classic on October 20 will be the final regular-season event on the Monster Energy Tour and across all levels of PBR Canada competition.
Previously a Touring Pro Division (TPD) stop, the event at the Edmonton Expo Centre will now offer competing bull riders twice as many points towards the world standings. As one of four events prior to the 2018 PBR World Finals, the augmented points bring added significance to the stop. The winner of the Edmonton Classic will now earn 120 points towards the world standings.
The Monster Energy Tour regularly features Canada's elite, alongside some of the league's top international athletes, squaring off against the rankest bucking bulls from both Canada and the United States. Fans will witness exhilarating 8-second rides and wrecks throughout the action-packed event as the PBR's courageous riders face off against their 2,000-pound opponents.
"The city of Edmonton is home to some of the most enthusiastic Western sports fans, and we are thrilled to bring them an even higher level of competition with the Monster Energy Tour," said PBR's Senior Vice President of Events Dave Cordovano. "After launching the Global Cup in Edmonton last November, we are excited to once again bring the city a significant event in the context of our season."
 Occupying this spot in the season, the Edmonton Classic will be the last opportunity riders have to earn Canadian national points to qualify for the PBR Canada Finals on Nov. 23-24 in Saskatoon, Saskatchewan where the 2018 PBR Canada Champion will be crowned.
As part of the event, the Edmonton Classic will also play host to the 2018 American Bucking Bull Inc. (ABBI) finals, where the nation's best Futurity (2-year-old) and Classic (3- or 4-year old) bulls will be crowned.
The bull riding action begins at 7:00 p.m. MT on Saturday, October 20 at the Edmonton Expo Centre. All riders will attempt one bull each in Round 1. The Top 10 will then advance to the Championship Round for one more out and a chance at the event title.
Tickets for the one-day event are on sale now. They range in price from $30 to $65, standard fees apply, and can be purchased at the Edmonton Expo Centre Box Office, online at www.Ticketmaster.ca, or by phone at 1-855-985-5000.