PBR's Monster Energy Canadian Finals Return to Saskatoon for Ninth Year on November 23-24
By: Kacie Albert Wednesday, May 2, 2018 @ 2:00 PM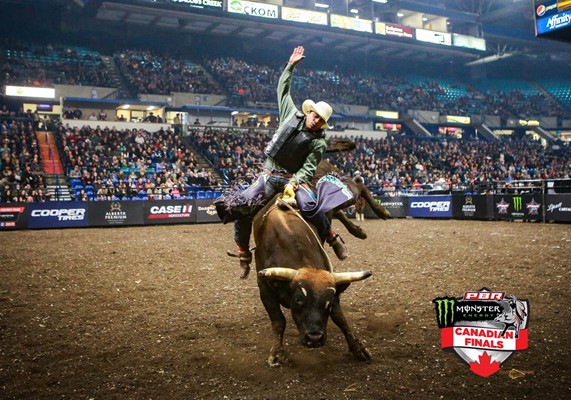 SASKATOON, Saskatchewan – For the ninth consecutive year, PBR (Professional Bull Riders) will return to Saskatoon, Saskatchewan and the SaskTel Centre for the PBR Monster Energy Canadian Finals, presented by Mac's/Circle K and Dakota Dunes Casino, where the 2018 PBR Canada Champion will be crowned.
Season long, riders have the opportunity to compete at more than 30 Monster Energy Tour and Touring Pro Division events across Canada to earn points towards the Canadian National Standings, all in an effort to be the No. 1-ranked cowboy at year's end and earn the coveted PBR Canada title. 
Inside the SaskTel Centre, riders will also be competing for the event title, crucial points towards the world standings and $30,000 available in prize money.
In 2017, fans watched the fiercest battle for the national title in recent history conclude with Zane Lambert (Ponoka, Alberta) surging from behind on the final day of the season to capture his second Canadian title.
Brock Radford (De Winton, Alberta) entered the event the No. 1-ranked rider in Canada, and expanded his lead atop the standings after winning Round 1 compliments of his 87.5-point trip aboard Minion Stuart (Skori Bucking Bulls).
Lambert, however, who trailed Radford by 504.16 points on the second day, used an 87.5-point, Round 2-winning ride aboard Crooked Nose (Vold/Prescott) to propel him to both his second PBR Canada Finals event title and PBR Canada Championship.
Collectively, Lambert recorded three event wins, 11 Top-5 and 16 Top-10 finishes en route to his second Canadian title. As the 2013 PBR Canada Champion, Lambert and three-time champion Aaron Roy (Yellow Grass, Saskatchewan), are the lone two riders to hold multiple national championships.
Other PBR Canada Champions include: Tanner Byrne (2015); Stetson Lawrence (2014); Roy (2012, 2010 and 2008); Tyler Thomson (2011); Beau Hill (2009); Tyler Pankewitz (2007); and Scott Schiffner (2006).
Lambert's surge to the title was backed by his event win at the 2017 PBR Canada Finals, which he split with Edgar Durazo (Moctezuma, Sonora, Mexico), who also went 2-for-3. The 31-year-old is now the only rider to win the event in multiple seasons, let alone in back-to-back years, after capturing the victory in 2016. 
Past PBR Canada Finals event winners include: Brady Oleson (2015); Roy (2014); Schiffner (2013); Ty Pozzobon (2012); Dusty Ephrom (2011); Harve Stewart (2011); Mike Lee (2010); Guilherme Marchi (2009); Jock Connolly (2008); Vince Northrup (2007); and Brian Canter (2006).
Historically, this season-culminating event has featured numerous Saskatchewan riders experiencing great success while competing in front of home province crowds.
Last year, three cowboys with ties to the province competed: Cody Coverchuk (Meadow Lake), Jared Parsonage (Maple Creek) and Justin Lloyd (Tisdale). Now regulars on the elite 25th PBR: Unleash The Beast, Byrne (Prince Albert) used a ninth place finish at the SaskTel Centre in 2015 to capture the season's year end national title, while Dakota Buttar's (Kindersley) runner-up effort at the Canadian Finals in 2016 helped him earn a berth to the World Finals in Las Vegas, Nevada, where there he secured himself a regular spot on the elite tour for the subsequent seasons.    
The PBR Monster Energy Canadian Finals is the eighth and final event of the 2018 Monster Energy Tour, the nation's first-ever cross-nation, nationally televised PBR series.
Now in its third season, the Canadian Monster Energy Tour began the year on a historic note in Calgary, Alberta, as the first event to sell out inside the Nutrien Western Event Centre. The tour now travels East visiting Ottawa, Ontario, followed by Québec City, Québec, for the second-ever International Major, this year set to feature a bracket-style, elimination format. The tour will then travel to the Maritimes, stopping in Halifax, Nova Scotia and Moncton, New Brunswick for the first time, before turning West for the final two regular-season events of 2018 in Kelowna and Abbotsford, British Columbia.
The Monster Energy Tour regularly features Canada's elite, alongside some of the league's top international athletes, squaring off against the rankest bucking bulls from the nation. Fans will witness exhilarating 8-second rides and wrecks throughout the action-packed event as the PBR's courageous riders face off against their 2,000-pound opponents.
The bull riding action begins at 7:30 p.m. CT on both Friday, November 23 and Saturday, November 24. All bull riders will get on one bull each in Round 1 on Friday night and Round 2 on Saturday night. The Top 10 will then advance to the Championship Round where both the event winner and 2018 PBR Canada Champion will be crowned.
Tickets for the two-day event go on sale Friday, May 4 at 10:00 a.m. CT. They range in price from $25 to $80, standard fees may apply, and can be purchased at the SaskTel Centre Box Office, online at PBRCanada.com or Ticketmaster.ca, and by phone at 1-800-970-SEAT (7328). Fans purchasing a weekend package with tickets to both shows will receive a 15% discount.