Radford Second at PBR Australia's Iron Cowboy
By: Kacie Albert Saturday, June 16, 2018 @ 9:01 AM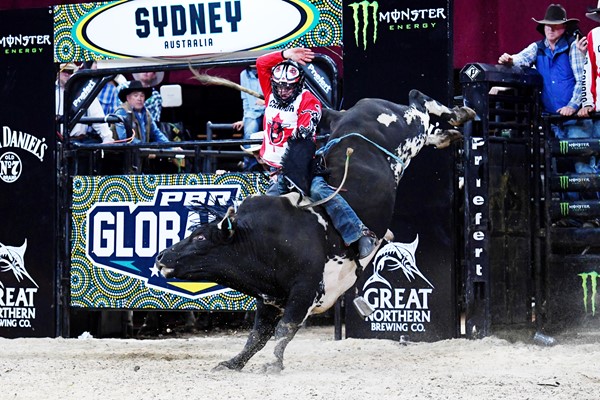 BRISBANE, Queensland – After helping Team Canada to a third place effort at the second leg of the inaugural Global Cup in Sydney, Australia, powerhouse Brock Radford (De Winton, Alberta) continued his perfect streak down under, going 3-for-3 to finish second at PBR Australia's Last Cowboy Standing.
The 23-year-old began the night sixth in Round 1 after covering Cherry Ripe (Dan Klabe) for 82.75 points in Round 1, before recording the second best marks in Round 2, making the 8 on SweetPro's Tough Task (Dunne Bulls) for 84.5 points. 
In the Championship Round, the Canadian young-gun became just the second rider to deliver a perfect performance when he rode Top Country Blossom (Brandenburg Bucking Bulls) for 86 points.
For the finish, his ninth Top-5 effort of the season, Radford earned a check for $3,782.58 in addition to 70 world points.
After cracking inside the Top 30 following his third place result at the PBR Canada Monster Energy Tour event on June 2 in Moncton, New Brunswick, Radford is now ranked a career-high No. 28 in the world. 
Cliff Richardson (Gresford, New South Wales, Australia), the only other rider to go a 3-for-3, captured the title of Australia's Last Cowboy Standing, earning $5,942.47 in addition to 120 world points.
His flawless performance, highlighted by wins in each of the three rounds, included an 86.25-point trip on Ryan's Gangster (Brian King) in Round 1, followed by an 85.75-point ride on Shots (Dittman Bucking Bulls) in Round 2, capped by an 8-second effort on Acid Rain (Robert Bunn) in the Championship Round for 88 points.
Third place went to Nathan Burtenshaw (Coonamble, New South Wales, Australia) compliments of his 84.5-point ride on Diamonds (Hall Rodeo Co.) and 82.25-point score aboard Classic Example (Peter Wallace).
The 24-year-old earned 40 world points and $2,398.03 for his seventh Top-5 finish of the season. Burtenshaw, Australia's top-ranked rider in the world standings, now sits No. 25.
Lane Mellers finished fourth, after going 2-for-3 inside the Brisbane Entertainment Center at the Monster Energy Tour event.  He earned $1,434.39 and 20 world points.  
Tied for fifth was Michael Smith (Tully, Queensland, Australia) and Alvaro Aguilar Alvarez after both riders recorded matching 83.25-point rides in Round 1, making the 8 on Silent Rage (Dittman Bucking Bulls) and Daylight (Hall Rodeo Co.) respectively.
Each of the duo leaves Brisbane with a check for $947.03 and 12.5 world points.
While Radford was the lone Canadian to record a qualified ride at the event, he wasn't the lone Canuck in the draw, joined by countryman Lonnie West (Cadogan, Alberta). The 22-year-old, however, wasn't able to advance past Round 1, bucked off by Russian Roulette (Stuart Timm/Allen) in 7.8 seconds.
PBR Australia - Monster Energy Tour – Last Cowboy Standing
Brisbane, Queensland – Brisbane Entertainment Centre
Event Leaders (Round 1-Round 2-Round 3-Event Aggregate-Australian Points-World Points-Payout)
1. Cliff Richardson, 86.25-85.75-88-260-400-120-$5,942.47
2. Brock Radford, 82.75-84.5-86-253.3-240-70-$3,782.58
3. Nathan Burtenshaw, 84.5-82.25-0-166.8-180-40-$2,398.03
4. Lane Mellers, 83-0-81.5-164.5-105-20-$1,434.39
5T. Michael Smith, 83.25-0-0-83.25-55-12.5-$947.03
5T. Alvaro Aguilar Alvarez, 83.25-0-0-83.25-55-12.5-$947.03
7T. Justin Paton, 82.5-0-0-82.5-15-1.66-$348.91
7T. Mitchel Paton, 82.5-0-0-82.5-15-1.66-$348.91
7T. Francisco Morales, 82.5-0-0-82.5-15-1.66-$348.91
10T. Braydon Wellby, 82.25-0-0-82.25-7.5-0-$58.15
10T. Jorge Valdiviezo, 82.25-0-0-82.25-7.5-0-$58.15
12. Fraser Babbington, 80.75-0-0-80.75-5-0-$0.00
Cody Heffernan, 0-0-0-0-0-0-$0.00
Jason Mara, 0-0-0-0-0-0-$0.00
Budd Williamson, 0-0-0-0-0-0-$0.00
Bailey Woodard, 0-0-0-0-0-0-$0.00
Lachlan Slade, 0-0-0-0-0-0-$0.00
Ethan Watts, 0-0-0-0-0-0-$0.00
Troy Wilkinson, 0-0-0-0-0-0-$0.00
Ky Hamilton, 0-0-0-0-0-0-$0.00
Sonny Schafferius, 0-0-0-0-0-0-$0.00
Jay Borghero, 0-0-0-0-0-0-$0.00
Roy Dunn, 0-0-0-0-0-0-$0.00
Ryan Storey, 0-0-0-0-0-0-$0.00
Francisco Garcia Torres, 0-0-0-0-0-0-$0.00
Gustavo Pedrero, 0-0-0-0-0-0-$0.00
Lonnie West, 0-0-0-0-0-0-$0.00
Aaron Kleier, 0-0-0-0-0-0-$0.00