Richardson Wins First Night of Ranchman's PBR BullBustin'
By: Ted Stovin Tuesday, July 3, 2018 @ 11:05 PM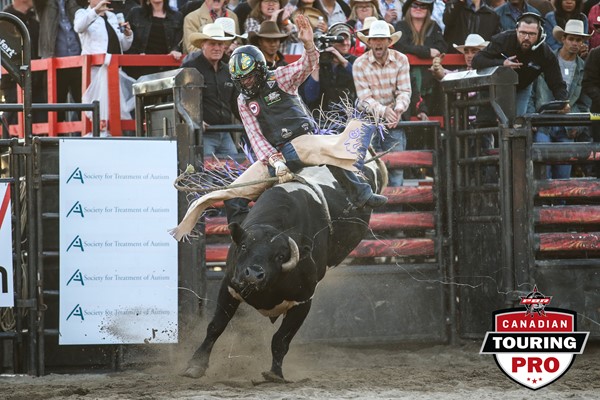 CALGARY, Alberta – On Tuesday night, Lachlan Richardson (Gresford, New South Wales, Australia) won the PBR (Professional Bull Riders) Canada Touring Pro Division's (TPD) Ranchman's PBR Bullbustin' in support of the Society for the Treatment of Autism, presented by Wolseley Canada, his first event victory of the season.
Through private donations, the 50/50 and event Calcutta, $30,000 was raised in support of the Society for the Treatment of Autism.
Richardson began the event riding Slick Cat (Outlaw Buckers Rodeo Corp.) for 83 points in Round 1, which he followed with a season-best 89.5-point effort on Willy Wonka (Girletz Rodeo Stock) in the Championship Round.  
For his effort, Richardson earned $4,743.00 CAD and 60 world points. At the beginning of the night the Australian bull rider was ranked No. 62 in the PBR's World Standings, rising to approximately No. 55 compliments of the victory.
Second overall went to Prince Albert, Saskatchewan's Tanner Byrne.
Byrne won Round 1 with an 85.5-point trip on Simple Man (Vold Rodeo). He added a matching 85.5-point ride in the Championship Round on One For The Money (Vold Rodeo) to fall just 1.5 points short of the win. Presently ranked No. 21 man in the world standings, Byrne earned $4,054.50 and 30 world points for the runner-up finish.
In his second PBR Canada event in as many nights, Matt Triplett (Columbia Falls, Montana) finished third, improving upon his finish from the night prior in Cluny, Alberta.
Triplett rode Oklahoma Blues (Girletz Rodeo Stock) for 83 points in Round 1 and took Tequila Jax (Vold Rodeo) to the 8-second whistle in the Championship Round to record a score of 86 points. The 27-year-old PBR veteran earned $2,371.50 and 20 world points. 
After beginning his season on April 28 due to reconstructive shoulder surgery, Triplett now ranks approximately No. 44 in the PBR World Standings.
Cody Coverchuk (Meadow Lake, Saskatchewan) finished third to rise to No. 3 in the PBR Canada national standings, now 499.2 points behind No. 1 Brock Radford (De Winton, Alberta).
Delivering a flawless 2-for-2 performance, the 24-year-old won $1,377.00, 15 world points and 113.3. In Round 1 Coverchuk rode Berry Creek (Vold Rodeo) for 83 points and added 84.5 points on Oz (Vold Rodeo) in the Championship Round.
Rounding out the Top 5 was Tim Lipsett (Lumsden, Saskatchewan).
Lipsett rode Just Sayin' (Vold Rodeo) in Round 1 and Wild Child (Girletz Rodeo Stock) in the Championship Round for a combined 157.5 points. The 24-year-old earned $642.60 and 10 world points. 
Mr. Sunshine (Outlaw Buckers Rodeo Corp.) was the high-marked bull of the event, scoring 44.5-points for his 2.69-second buck off Edgar Durazo in the Championship Round.
PBR Canada Touring Pro Division action continues on Wednesday July 4 in Calgary at the Ranchman's PBR BullBustin' in support of the Canadian Mental Health Association, presented by Victory Lab. Action gets underway at 7:00 p.m. MT and is being broadcasted live on RidePass.
Be sure to stay tuned to PBRCanada.com and follow the tour on Facebook (PBR Canada), Twitter (@PBRCanada), and Instagram (@PBRCanada) for the latest results.
Ranchman's PBR Bullbustin' in support of the Society for the Treatment for Autism presented by Wolseley Canada – Calgary, Alberta – July 3rd, 2018
PBR Canada Touring Pro Division Event Results
Name, Round 1-Round 2-Aggr. Score-Total Points-Money Earned-World Points
Lachlan Richardson, 83-89.5-172.5-$4,743.00-60
Tanner Byrne, 85.5-85.5-171.0-$4,054.50-30
Matt Triplett, 83-86-169-$2,371.50-20
Cody Coverchuk, 83-84.5-167.5-$1,377.00-15
Tim Lipsett, 79.5-78-157.5-$642.60-10
Daylon Swearingen, 83.5-72-155.5-$1,002.15-5
Marco Eguchi, 83.5-0-83.5-$895.05
Dakota Buttar, 82.5-0-82.5-$214.20
Juan Carlos Contreras, 79.5-0-79.5-$0