West Wins Kinsella
By: Kacie Albert Thursday, July 12, 2018 @ 10:22 AM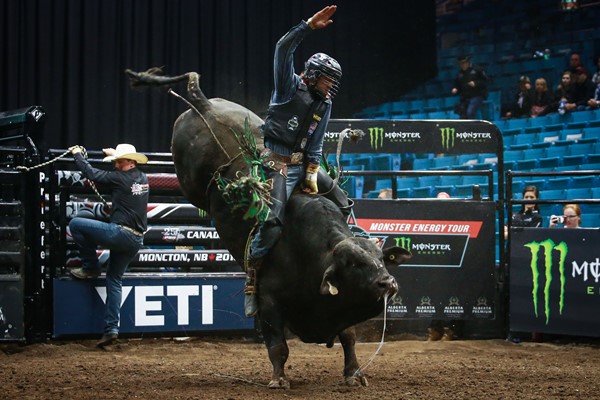 KINSELLA, Alberta – In front of a home province crowd, young gun Lonnie West (Cadogan, Alberta) went a perfect 2-for-2 to win the Kinsella Gravel Dome Bull-A-Rama, part of the PBR (Professional Bull Riders) Canada Touring Pro Division (TPD).
Marking his first PBR event since travelling to Australia for the second leg of the inaugural Global Cup, West got off to a hot start, second after Round 1 compliments of an 84-point trip on Up In Smoke (Wild Hoggs Bucking Bulls).
In the championship round, the 22-year-old made the 8 on Grey Eyes (Vold Rodeo) for 86.5 points to propel him to his third event win of the season.
For the victory, West earned $3,950.38 in addition to 60 world points.
Cody Coverchuk (Meadow Lake, Saskatchewan) finished second as the only other rider to deliver a flawless 2-for-2 performance.
After covering Dark Sarcasm (Thompson Rodeo Livestock) for 83 points in Round 1, the 24-year-old fell 0.5-point short of the win, marked 87 points on Finning Overhaul (Flying Four Bucking Bulls) in the final round.
For his fourth Top 10 finish in the month of July, Coverchuk collected a check for $3,054 and 30 world points.
Third went to Edgar Durazo (Moctezuma, Sonora, Mexico) after the former Canadian resident won Round 1 with an 85-point ride on Hello Darkness (Thompson Rodeo Livestock).
A double entry, the 26-year-old also tied for sixth after he recorded a second qualified ride in the first round for 82 points. Collectively he left the Kinsella Fairgrounds with $2093.97 and 22.5 world points.  
Nick Tetz (Calgary, Alberta), another double entry, finished both fourth and tied for sixth, riding Morning Wish (Wild Hoggs/Trish Streeter) for 83 points, and White Owl (Vold Rodeo) for 82 points.
For his two Top 10 finishes, the home province rider collected $1,292.85 and 17.5 world points.
Rounding out the Top 5 was Klayton Lakevold (Provost, Alberta), earning $464.10 and 10 world points for his 82.5-point ride on Ray's Last Jump (Girltez Rodeo Stock).
PBR Canada's Touring Pro Division next travels to Lloydminster, Saskatchewan on Friday, July 13 for the Canadian Extreme Bulls & Bikes at the Lloydminster Exhibition. Action gets underway at 6:00 p.m. MT.
Kinsella Gravel Dome Bull-A-Rama – July 11, 2018
Kinsella, Alberta – Kinsella Fairgrounds
PBR Canada Touring Pro Division Event Results
Event Leaders (Round 1- Round 2 -Aggr. Score- Money Earned-World Points)
1. Lonnie West, 84-86.5-170.5-$3,950.38-60
2. Cody Coverchuk, 83-87-170-$3,054-30
3. Edgar Durazo, 85-0-85-$1,823.25-20
4. Nick Tetz, 83-0-83-$1,022.12-15
5. Klayton Lakevold, 82.5-0-82.5-$464.10-10
6T. Nick Tetz, 82-0-82-$270.73-2.5
6T. Edgar Durazo, 82-0-82-$270.72-2.5
8. Kale Marks, 81-0-81-$154.70-0
9. Brock Radford, 80.5-0-80.5-$0-0