Dakota Buttar Finishes Seventh at PBR's Jack Daniel's Music City Knockout, presented by Cooper Tires
By: Kacie Albert Sunday, August 25, 2019 @ 7:17 PM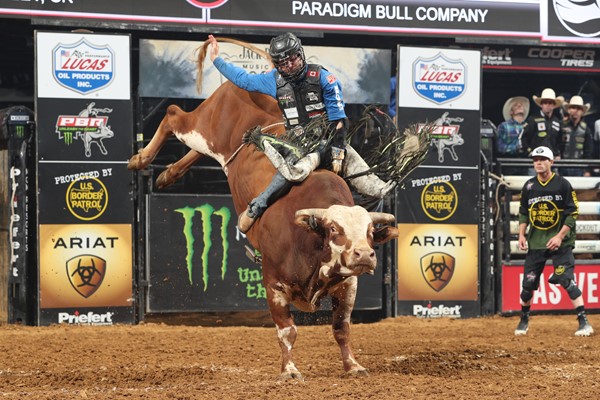 NASHVILLE, Tennessee – In front of a record-setting crowd inside Bridgestone Arena for the final Major of the 2019 season, two-time Glen Keeley Award winner Dakota Buttar (Kindersley, Saskatchewan) captured his fourth Top-10 finish of 2019 PBR Unleash The Beast season, going 2-for-4 to finish seventh.
After becoming the first rider to reach the 8-second whistle on Saturday night in Nashville, marked 85.5 points on Newsom (D&H Cattle Co./444 Bucking Bulls) in Round 1, the 26-year-old continued the momentum in Round 2. He punched his ticket to the Top 8 and sealed a position in Round 3 when he covered Heavy D (Paradigm Bull Company) for 87.5 points.
Despite bucking off Ain't Easy Being Me (D&H Cattle/Craig Moore) in 4.75 seconds, the Saskatchewan man advanced to Round 4 via his standing in the aggregate.
His event then came to a heartbreaking end when he narrowly missed the whistle atop Soup in a Group (Dakota Rodeo/Chad Berge/Slay Struve/Wilks Ranch), bucked off in 6.77 seconds.
Buttar left the Music City event with a check for $2,221.62 in addition to 55 world points. He rose from No. 31 to No. 27 in the world standings.
The draw also featured three additional Canadians: Shay Marks (Sunnybrook, Alberta), Brock Radford (De Winton, Alberta) and Lonnie West (Cadogan, Alberta).
All three were dispatched prior to the whistle in Round 1, ending their appearance at the Major event early. Marks was bested by Red Snapper (Dakota Rodeo/Chad Berger/Clay Struve) in 4.81 seconds, Radford dispatched by Jay Slinger (Rickey West Bucking Bulls) in 6.87 seconds and West bucked off by Cha Ching (D&H Cattle Co./Buck Cattle Co.) in 5.28 seconds.
2018 PBR (Professional Bull Riders) World Finals event winner Marco Eguchi (Poa, Brazil) delivered a 3-for-5 performance to win the Unleash The Beast's Jack Daniel's Music City Knockout, presented by Cooper Tires.
After riding Milky Chance (TNT Bucking Bulls/Hart Cattle Co.) for 87.75 points to tie for second in Round 1 on Saturday night, the surging Brazilian continued his momentum in Round 2 Saturday afternoon.
Facing re-ride draw Quick Fire (Dakota Rodeo/Chad Berger/Clay Struve/Heald Pro Bulls), Eguchi punched his ticket to Round 3 when he covered the bovine athlete for an 86.5-point score.
While Eguchi was bucked off by Budakon (Hart Cattle Co./Hale) in Round 3 and advanced to the fourth round via his standing in the aggregate, he overtook the event lead when he rode Bezerk (BMC Bucking Bulls/Jenkins Cattle Co.) for 86.75 points.
The 30-year-old's first Major victory was sealed when both he and runner-up Dalton Kasel (Muleshoe, Texas) were both dispatched before the 8-second whistle in the championship round.
For his efforts, which included a marathon five outs on Sunday, Eguchi collected a check for $124,826.35, in addition to a massive 857.5 world points.
Eguchi rose from No. 24 to No. 9 in the world standings as he looks to qualify for his seventh career PBR World Finals.
Recording the high-marked ride of the event to earn a $26,000 bonus, young gun Kasel finished a career-high second in his first-ever Major.
He began the event with a Round 1 win on Saturday night, riding Kamabugu (BMC Bucking Bulls/Jenkins Cattle Co.) for 89.25 points.
Kasel remained atop the event leaderboard in Round 2 when he brought the electric crowd to a deafening roar after covering Fearless (D&H Cattle/Buck Cattle/Tommy Julian) for a monstrous, event-high 92 points.
He is now just the third rider to cover the bull in 34 outs on record.
The 90-point effort, the only one of the event, is the first of Kasel's career on the Unleash The Beast and is tied for the fourth highest-marked ride thus far in 2019 on the premier series.
Poised to record what may have been his second 90-point ride of the event, Kasel's chances of earning both his first regular-season and Major event win came to a heartbreaking end. He lost the bull rope at the 7.7-second mark aboard three-time and reigning PBR World Champion Bull SweetPro's Bruiser (D&H Cattle Co./Buck Cattle Co.) in the final round.
He left the home of the NHL's Nashville Predators with a career-best payday, earning $47,410.81.
Kasel also collected a crucial 450 world points. Currently sixth in the contentious Rookie of the Year race, the Texan rose from No. 33 to No. 21 in the broader world standings.
Third place went to three-time PBR World Champion Silvano Alves (Pilar do Sul, Brazil), netting him $21,100 and 140 world points.
Going 2-for-5 during the two-day event, Alves first rode Joker (Deer Prairie Creek Bucking Bulls) for 86.5 points in Round 1. He then won Round 3, his third round win of 2019, when he covered M.A.G.A. (TNT Bucking Bulls/Hart Cattle Co.) for 87.25 points. The rides were the 401st and 402nd of his career.
Alves remains ranked No. 20 in the world with six regular-season events remaining before the 2019 PBR World Finals in Las Vegas on Nov. 6-10 inside T-Mobile Arena.
2016 Nashville event winner Cooper Davis (Jasper, Texas) finished fourth.
His seventh Top-5 result of the year was backed by an 89.25-point ride on Marquis Metal Works Gangster's Wildside (Paradigm Bull Company) in Round 2.
Davis left the Music City with $4,383.78 and 75 world points.
He rose one spot in the PBR world standings, now ranked No. 5.
Rounding out the Top 5 was Michael Lane (Tazewell, Virgina), whose performance was highlighted by an 87.75-point ride on Heartless (Hart Cattle Co./Hale) in the opening round.
The result, a season-best on the premier series for the new father, earned him $3,475 and 67.5 world points.
While he remains outside of the Top 35, Lane did gain ground in the world title race. He rose from No. 40 to No. 37.
Atop the rankings, current world No. 1 and 2017 PBR World Champion Jess Lockwood (Volborg, Montana) distanced himself from No. 2 Chase Outlaw (Hamburg, Arkansas) and No. 3 Jose Vitor Leme (Ribas do Rio Pardo, Brazil) as the top finisher amongst the trio in Nashville.
Riding BootDaddy.com (Crescent City Bucking Bulls/Gene Owne) for 87.75 points in Round 2, Lockwood was propelled to a sixth-place finish. He collected $3,032.43 and 60 world points.
While Outlaw was bucked off by both of his draws, 2017 Rookie of the Year Leme was 10th. His 86.5-point trip aboard Crazy Doc (Paradigm Bull Co.) in Round 1 pushed him to a $1,100 payday and garnered him 15 world points.
Lockwood now leads No. 2 Outlaw by 400 points and No. 3 Leme by 498.34 points, while the points disparity between Outlaw and Leme is a mere 98.34 points.
Following the Nashville event, a new bovine athlete is atop the leaderboard in the World Champion Bull race.
Smooth Operator (Dakota Rodeo/Julie Rosen/Clay Struve/Chad Berger) collected his league-best fifth YETI "Built for the Wild" Bull of the Event honors to overtake the No. 1 position. He was marked 46.25 points for his 3.77-second buckoff of Leme in Round 2.
From eight-time Stock Contractor of the Year Chad Berger, the bovine athlete entered the event No. 2 in the world, a slim 0.03 points behind then-No. 1 Smooth Wreck (Dakota Rodeo/Chad Berger/Clay Struve/Diamond Willow). He now leads No. 2 Smooth Wreck by 0.15 points.
Smooth Operator's 46.25-point trip in Nashville is now tied for the fifth-best bull score of the year. He has now been marked 46 points or more five times in 2019.
Elsewhere in the Top 5 in the World Champion Bull race, Fearless (D&H Cattle/Buck Cattle/Tommy Julian) gained standing after he was marked 45.75 points in Round 2 when he was covered by Kasel.
While he entered the event 0.25 and 0.22 points behind the No. 1 and No. 2-ranked bulls, respectively, he now trails those positions by 0.25 and 0.1 points.
Fans can relive all the action from the 2019 Jack Daniel's Music City Knockout, presented by Cooper Tires, Monday, August 26 at 8:00 a.m. EDT on RidePass, online or via the mobile app.
Following a one week break, the PBR Unleash The Beast will next travel to Anaheim, California, and the Honda Center for the Anaheim Invitational. The event will be on Friday, September 6 at 7:45 p.m. PDT, and Saturday, September 7 at 6:45 p.m. PDT.
PBR Unleash The Beast
Jack Daniel's Music City Knockout, presented by Cooper Tires
Bridgestone Arena – Nashville, Tennessee
Event Leaders (Round 1-Round 2-Round 3-Round 4-Round 5-Event Aggregate-Event Points)
1. Marco Eguchi, 87.75-86.5-0-86.75-0-261.00-857.5 Points.
2. Dalton Kasel, 89.25-92-0-0-0-181.25-450 Points.
3. Silvano Alves, 86.5-0-87.25-0-0-173.75-140 Points.
4. Cooper Davis, 0-89.25-0-0-0-89.25-75 Points.
5. Michael Lane, 87.75-0-0-0-0-87.75-67.5 Points.
6. Jess Lockwood, 0-87.75-0-0-0-87.75-60 Points.
7. Dakota Buttar, 85.5-87.5-0-0-0-173.00-55 Points.
8. Ezekiel Mitchell, 87.25-0-0-0-0-87.25-50 Points.
9. Luciano De Castro, 87-0-0-0-0-87.00-40 Points.
10. Jose Vitor Leme, 86.5-0-0-0-0-86.50-15 Points.
11. Cody Teel, 83.75-0-0-0-0-83.75-5 Points.
(tie). Matt Triplett, 86-0-0-0-0-86.00-5 Points.
(tie). Kurt Shephard, 85.5-0-0-0-0-85.50-5 Points.
(tie). Dener Barbosa, 83.75-0-0-0-0-83.75-5 Points.
(tie). Nathan Burtenshaw, 85.5-0-0-0-0-85.50-5 Points.
Chase Outlaw, 0-0-0-0-0-0.00
João Ricardo Vieira, 0-0-0-0-0-0.00
Derek Kolbaba, 0-0-0-0-0-0.00
Daylon Swearingen, 0-0-0-0-0-0.00
Lucas Divino, 0-0-0-0-0-0.00
Cody Jesus, 0-0-0-0-0-0.00
Stetson Lawrence, 0-0-0-0-0-0.00
Claudio Montanha Jr., 0-0-0-0-0-0.00
Mason Taylor, 0-0-0-0-0-0.00
Cody Nance, 0-0-0-0-0-0.00
Brennon Eldred, 0-0-0-0-0-0.00
Alisson De Souza, 0-0-0-0-0-0.00
Rubens Barbosa, 0-0-0-0-0-0.00
Taylor Toves, 0-0-0-0-0-0.00
Eduardo Aparecido, 0-0-0-0-0-0.00
Keyshawn Whitehorse, 0-0-0-0-0-0.00
Scottie Knapp, 0-0-0-0-0-0.00
Danilo Carlos Sobrinho, 0-0-0-0-0-0.00
Dylan Smith, 0-0-0-0-0-0.00
Junio Quaresima, 0-0-0-0-0-0.00
Shay Marks, 0-0-0-0-0-0.00
Ruger Piva, 0-0-0-0-0-0.00
Lonnie West, 0-0-0-0-0-0.00
Brock Radford, 0-0-0-0-0-0.00
Fabiano Vieira, 0-0-0-0-0-0.00
2019 PBR World Standings
(Place, Rider, Events, Wins, Top 5's, Points, Total Winnings)
1. Jess Lockwood, 34, 12, 22, 4,730.00, $408,406.63
2. Chase Outlaw, 53, 9, 16, 4,330.00, $400,969.02
3. Jose Vitor Leme, 41, 7, 21, 4,231.66, $313,958.06
4. João Ricardo Vieira, 36, 4, 11, 3,357.50, $413,856.34
5. Cooper Davis, 23, 2, 10, 2,415.00, $190,255.45
6. Cody Teel, 37, 4, 11, 2,405.83, $192,418.29
7. Luciano De Castro, 28, 0, 7, 1,860.00, $96,813.01
8. Derek Kolbaba, 39, 3, 10, 1,766.66, $189,308.38
9. Marco Eguchi, 28, 2, 4, 1,652.50, $213,813.79
10. Ryan Dirteater, 27, 1, 10, 1,618.33, $114,746.18
11. Daylon Swearingen, 35, 5, 16, 1,397.50, $88,270.93
12. Lucas Divino, 33, 1, 6, 1,357.50, $78,188.04
13. Matt Triplett, 32, 1, 6, 1,272.50, $71,870.42
14. Cody Jesus, 22, 1, 6, 1,225.83, $90,990.24
15. Stetson Lawrence, 39, 0, 8, 1,218.33, $84,166.82
16. Claudio Montanha Jr., 34, 1, 4, 1,207.50, $123,438.64
17. Mason Taylor, 30, 1, 7, 1,171.66, $71,202.06
18. Aaron Kleier, 33, 4, 18, 1,145.00, $58,172.07
19. Ezekiel Mitchell, 45, 4, 7, 1,051.66, $61,344.81
20. Silvano Alves, 33, 2, 8, 1,024.16, $70,959.83
21. Dalton Kasel, 21, 2, 8, 1,000.41, $105,135.12
22. Cody Nance, 39, 2, 8, 985.00, $85,899.88
23. Joe Frost, 26, 1, 3, 904.16, $44,730.57
24. Brennon Eldred, 31, 0, 7, 895.00, $77,642.24
25. Alisson De Souza, 34, 3, 6, 874.16, $49,091.13
26. Cannon Cravens, 27, 0, 4, 850.00, $74,729.99
27. Dakota Buttar, 35, 4, 13, 802.50, $55,344.84
27. Rubens Barbosa, 39, 0, 8, 802.50, $61,290.49
29. Taylor Toves, 35, 2, 6, 792.50, $48,503.65
30. Eduardo Aparecido, 24, 0, 6, 775.00, $92,916.19
31. Keyshawn Whitehorse, 27, 1, 6, 750.00, $55,383.33
32. J.B. Mauney, 17, 1, 2, 744.16, $57,257.56
33. Colten Jesse, 18, 0, 1, 686.66, $54,716.65
34. Jared Parsonage, 33, 2, 13, 640.00, $58,198.90
35. Scottie Knapp, 33, 2, 8, 595.00, $44,907.37
36. Danilo Carlos Sobrinho, 27, 1, 3, 585.00, $38,528.35
37. Michael Lane, 26, 2, 5, 560.00, $21,191.60
38. Brady Fielder, 27, 5, 11, 552.50, $36,016.44
39. Kurt Shephard, 25, 1, 8, 527.50, $39,175.50
40. Cody Heffernan, 16, 4, 7, 522.50, $21,953.35
41. Dylan Smith, 35, 3, 6, 491.66, $30,008.51
42. Junio Quaresima, 27, 1, 4, 462.50, $31,374.11
43. Shay Marks, 44, 1, 11, 430.00, $22,045.63
44. Koal Livingston, 14, 1, 2, 428.33, $21,912.94
45. Ruger Piva, 19, 2, 2, 412.50, $27,771.41