Lonnie West Wins Coronation Royal Rumbull
By: Kacie Albert Thursday, August 22, 2019 @ 8:15 AM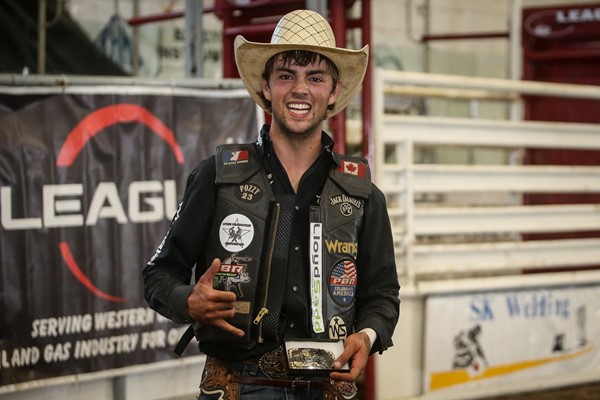 CORONATION, Alberta – Delivering a flawless 2-for-2 performance, Lonnie West (Cadogan, Alberta) captured his first PBR Canada event win of the season Wednesday night, victorious at the Coronation Royal Rumbull in Coronation, Alberta.
Competing a mere hour from his home town, the Albertan began the event on a high note, winning Round 1 with an 84.5-point effort aboard Kubota's Summer Warrior (Wild Hoggs/Chmelnyk/Bryant).
As the last man to leave the chutes in the championship round, West continued the momentum. He reached the 8 aboard OMB Legal Issues (Wilson Rodeo) for an event-best 88.5 points.
The finish came at a crucial time for West as he prepares to travel to the United States to compete at this weekend's elite Unleash The Beast event in Nashville, Tennessee on Aug. 24-25.
West entered the event having gone just 10-for-49 (20.41%) thus far in 2019, shutout in his three most recent events after recording a season-best, second-place effort in late July in Manor, Saskatchewan. His season was nearly derailed in February, when while competing for Team Canada at the PBR Global Cup USA he broke his leg.
The victory in Coronation netted West a check for $4,078.86, in addition to 350 Canadian and 60 world points.
With this season's PBR Canada Finals in Saskatoon, Saskatchewan set to take only the nation's Top 20 riders, West inched closer to securing his third qualification to the season-ending event, which is also poised to award a $50,000 bonus to this season's champion.
Previously ranked No. 36, West is now the No. 21-ranked rider in Canada, just 8.75 points outside of the Top 20.
Two-time Glen Keeley Award winner Dakota Buttar (Kindersley, Saskatchewan) finished second as his domination of 2019 Canadian competition continued.
After making his debut on Canadian soil in early June, Buttar has ridden to four event wins and six additional Top-5 finishes. He has gone 22-for-31, for an impressive 70.96% riding average.
First riding OMB Full Sleeve (Wilson Rodeo) for 83.5 points in Round 1, Buttar remained flawless in the championship round when he covered Homegrown (Eno Bucking Bulls) for 87.5 points.
Buttar left Coronation Arena with a check for $3,041.87, along with 210 Canadian and 30 world points.
The runner-up effort allowed him to surpass Shay Marks (Sunnybrook, Alberta) in the national standings. Buttar is now ranked No. 2, a mere 199.99 points behind No. 1 Jared Parsonage (Maple Creek, Saskatchewan).
Finishing third was 2017 PBR Canada Rookie of the Year Coy Robbins (Camrose, Alberta).
His finish was backed by an 83-point trip on Pretty in Prison (Flying High Rodeo Co.) in the first round. In the championship round he was called for a slap against Buck Nasty (Foley Bucking Bulls). 
Robbins earned $1,460.44, 125 Canadian and 20 world points. He is now ranked inside the Top 10 in Canada, rising from No. 14 to No. 9.
Fourth went to Kache Moosman (Price, Utah), earning the American $941.95, 95 Canadian and 15 world points for his trip to the Great White North.
His 8-second effort was also seen in Round 1, marked 82 points atop Done Talking (Eno Bucking Bulls)
Rounding out the Top 5 was current Canadian No. 1 Parsonage who covered Razed Country (Flying High Rodeo Co.) for 80.5 points in Round 1.
He maintained his Canadian No. 1 ranking, collecting $496.03, 75 Canadian and 10 world points.
PBR Canada Touring Pro Division action continues on Saturday, August 31 in Stavely, Alberta for the Glen Keeley Memorial PBR. Action begins at 7:00 p.m. MDT.
Be sure to stay tuned to PBRCanada.com and follow the tour on Facebook (PBR Canada), Twitter (@PBRCanada), and Instagram (@PBRCanada) for the latest results.
PBR Canada Touring Pro Division
Coronation, Alberta – Coronation Arena
Coronation Royal Rumbull PBR
Event Results (Round 1- Round 2 -Aggr. Score- Money Earned-Canadian Points-World Points)
1. Lonnie West, 84.5-88.5-173-$4,078.86-350-60
2. Dakota Buttar, 83.5-87.5-171-$3,041.87-210-30
3. Coy Robbins, 83-0-83-$1,460.44-125-20
4. Kache Moosman, 82-0-82-$941.95-95-15
5. Jared Parsonage, 80.5-0-80.5-$496.03-75-10
6. Lachlan Slade, 79.5-0-79.5-$350.85-30-5