Canada's Best Bull Riders Travel to Dallas for Third Leg of PBR's Inaugural Global Cup
By: Kacie Albert Tuesday, February 5, 2019 @ 9:23 AM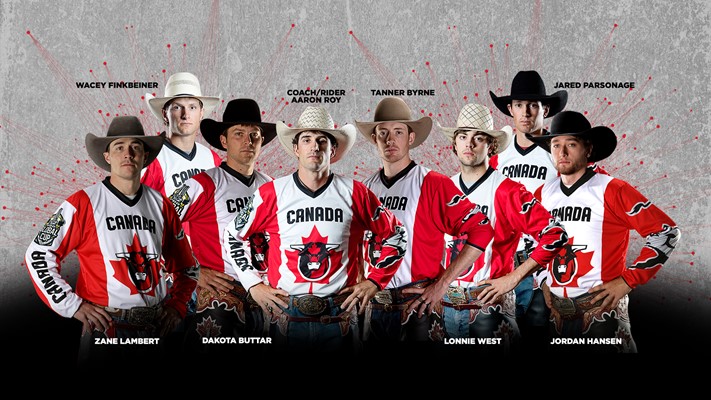 ARLINGTON, Texas – Ahead of the third edition of the PBR (Professional Bull Riders) Global Cup, the final Team Canada roster has been announced, with three-time Canadian Champion Aaron Roy (Yellow Grass, Saskatchewan) set to make history as the first athlete to both coach and ride for a competing nation.
The PBR Global Cup, the only nation vs. nation bull riding competition, will make its U.S. debut, and third stop, at AT&T Stadium in Arlington, Texas on February 9-10, 2019 with the 2019 WinStar World Casino and Resort PBR Global Cup USA, presented by Monster Energy. The new team tournament debuted in Edmonton, Alberta in November 2017 and then visited Sydney, Australia in June 2018.
The PBR Global Cup, the ultimate expression of national pride on an international stage in the sport of professional bull riding, is a five-country competition in which riders compete to become the world's top bull-riding nation.
Each night of the two-day event, all seven of Team Canada's riders will attempt one bull as assigned by the nation's coach from those bovine athletes in their section. At the conclusion of each evening's first round, the coach will then choose two riders to attempt one more bull each in the night's bonus round.
The Top 12 qualified rides from each team will be counted toward their aggregate score, with the highest being named the PBR Global Cup event winner.
In addition to riding for their piece of the $750,000 USD purse, the world's best bull riders will also be competing for the American horn from the glittering Global Cup trophy with the host nation's dirt encapsulated inside.
While, seven-time PBR World Finals qualifier Roy has coached the Canadian contingent at the past two editions of the event, with the team finishing third in both Edmonton, Alberta and Sydney, Australia, the U.S. stop will mark his first time riding as part of the roster.
Competing exclusively on Canadian soil in 2018, his first season riding since fracturing his femur during Round 1 of the 2016 PBR World Finals, Roy qualified to the team via the Canadian national standings. Last season, Roy finished No. 6 in Canada earning three event wins.
Elite tour staples Tanner Byrne (Prince Albert, Saskatchewan) and Dakota Buttar (Kindersley, Saskatchewan) will return for their third appearance on Team Canada. Currently the top-ranked Canucks in the world standings, they will travel to Texas ranked No. 28 and No. 31 respectively.
At the latest edition of the Global Cup in Sydney, Byrne led Team Canada, going a perfect 4-for-4. Overall he is 5-for-7 (55.56 percent) at the Global Cup, and his five rides is tied with 2016 World Champion and Team USA-Eagles captain Cooper Davis (Jasper, Texas) for the most in Global Cup history.
Byrne will also ride at the upcoming edition of the Global Cup with momentum at his back. The 26-year-old finished fifth on the PBR Unleash The Beast last weekend in Oklahoma City to rise more than 30 spots in the world rankings.
Also competing for the nation for the third time is Lonnie West (Cadogan, Alberta), Canada's top performing rider at the inaugural event in Edmonton. After competing at his career-first PBR World Finals in 2018 as an alternate, West has been a staple on the league's elite tour, recording his best finish in Glendale, Arizona where he was 14th.
The remainder of the team includes:
Zane Lambert (Ponoka, Alberta): As the only rider to qualify for all PBR Canada Finals in league history, Lambert capped the 2018 season with his second 90-point ride of the year propelling him to No. 5 in the nation. Lambert has ridden at just one event so far in 2019, finishing fifth at the Monster Energy Tour event in Winnipeg. He is currently No. 84 in the world having gone 1-for-2. A competitor for Team Canada in both Edmonton and Sydney, Lambert went 2-for-4 on home soil, and 1-for-2 in Australia.
Jared Parsonage (Maple Creek, Saskatchewan): Known as one of the most consistent riders in Canada, Parsonage finished 2018 No. 4 in the national standings having covered 52.38% of his draws. So far in 2019, Parsonage has been active in both Canada and the United States having gone 3-for-7 to currently be ranked No. 79 in the world. The Saskatchewan rider notably made his elite tour debut in January at the stop in Glendale. Parsonage rode at his first Global Cup in Sydney where he went a perfect 3-for-3.
Jordan Hansen (Okotoks, Alberta): Sidelined by injury for a good portion of 2018, Hansen began 2019 strong with a win on the Canadian Touring Pro Division where he recorded the nation's first 90-point ride of the season. Hansen similarly won the first event of the year in 2017 when he nearly qualified for the CFR, NFR and PBR World Finals. Overall, he is currently No. 70 in the world standings having gone 4-for-8. The PBR Global Cup USA will mark Hansen's first time riding for Team Canada.
On hand in case of injury will be alternate Wacey Finkbeiner (Ponoka, Alberta), part of the third-place Team Canada contingent that competed in Sydney.
Global Cup action gets underway at 6:45 p.m. CST on Saturday, February 9 and will conclude on Sunday, February 10 at 12:45 p.m. CST.
RidePass coverage will begin at 7:30 p.m. CST on Saturday, February 9 and at 12:30 p.m. CST on Sunday, February 10.
CBS will also televise a one-hour highlight special from the opening night's bonus round on Sunday, February 9 at 11:00 a.m. CST, check your local listing.
Tickets for the 2019 WinStar World Casino and Resort PBR Global Cup USA, presented by Monster Energy, are on sale now and start at just $10. They can be purchased at SeatGeek.com or the AT&T Stadium Box Office.
Be sure to stay tuned to PBRCanada.com for the latest event information, and follow the team's journey on Facebook (PBR Canada), Twitter (@PBRCanada), and Instagram (@PBRCanada).